Kentucky Basketball Women's Clinic returns to Memorial Coliseum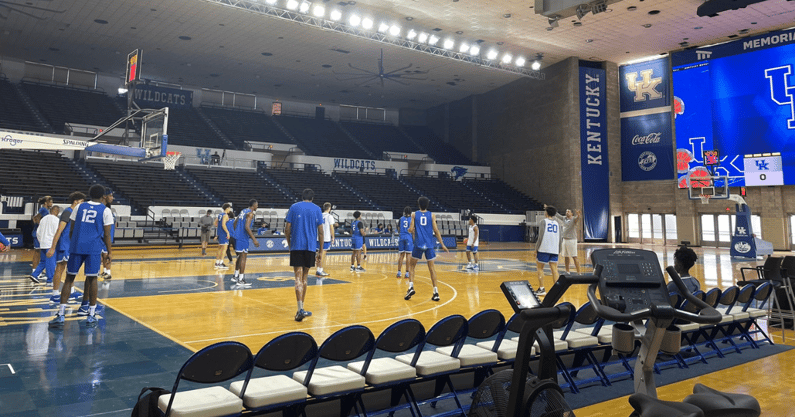 After being canceled due to COVID-19 last year, the Kentucky Basketball Women's Clinic was back and better than ever this year – and I got the awesome opportunity to be there.
The official lady of the BBN herself, Mrs. Ellen Calipari, was a co-host of this year's clinic. She wasn't the only Calipari there, of course – or even just one of two. Former player and current graduate assistant Brad Calipari was in the house as well, along with some dude named John Calipari. Before the festivities began, Brad expressed how much his mom loves this event. You could certainly tell she was having fun if you watched her big entrance.
After the introductions, the group of eager fans was split into three groups. The first stayed on the Memorial floor to ask the assistant coaches questions – and let me tell you, there were some good ones. Many were interested with the new name, image and likeness rules. Bruiser Flint even joked about TyTy's recent deal that landed him a sweet ride.
Several fans asked about the possibility of a return of the "platoon system" this season due to the depth of this year's team. Sadly for you platoon fans, all assistant coaches were pretty confident that we would not be "platoon-ing" this season.
Next, we hit the weights for a workout. Well, some ladies did (definitely not me). Rob Harris, Kentucky's fantastic strength and conditioning coach, had a special helper to show the ladies of the BBN how it's done. His daughter, Alaya, was an excellent coach…and is definitely in better shape than I am.
Last, we moved to my favorite part of the afternoon, the player panel. Let me tell you this, BBN – these guys have some personality. If basketball somehow doesn't work out for Jacob Toppin, he might have a place in broadcast news. Same for freshman phenom TyTy Washington, who was more than happy to take questions from the crowd.
Coach Cal and his squad finished out the afternoon with a little open practice. I could get into all the details, but let me just say this: this team is good. Not to get you too excited, but I think I saw TyTy miss a total of one shot.
Not only are they good, but the coaches emphasized that they are working well together. Bruiser Flint was very complimentary of how the team has worked together both on and off the court, particularly with the new NIL rules. He said Kentucky is unique in the fact that all players – even walk-ons – are benefitting from the new rules.
Overall, it was a great day filled with smiles, laughs and lots of reasons to be excited for the upcoming season. See you next year, ladies of the BBN!