Kentucky boasts three top-10 signees in final 2023 RSCI Rankings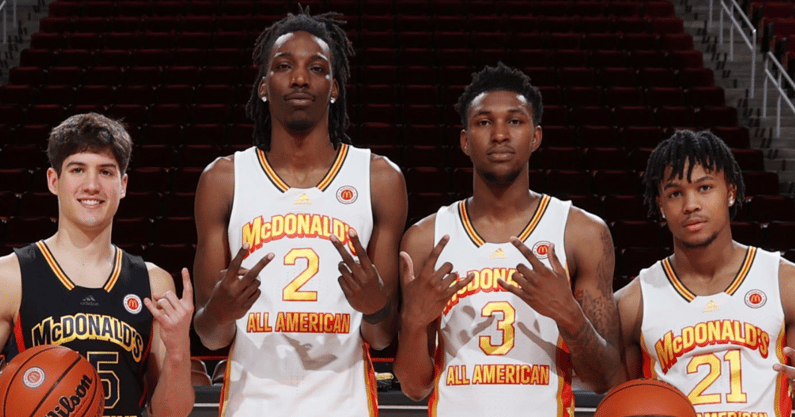 Kentucky boasts three top-10 signees and five listed inside the top 40 in the latest 2023 Recruiting Services Consensus Index (RSCI) rankings.
RSCI, which combines the rankings of all of the well-known recruiting services into a single, consensus ranking, has Justin Edwards ranked No. 3, Aaron Bradshaw at No. 4, DJ Wagner at No. 6, Rob Dillingham at No. 16 and Reed Sheppard at No. 33.
RSCI – pronounced "risky" – takes the top 100 recruiting rankings from VC, ESPN, Rivals, 247Sports, and On3 and assigns points to each player based on their position on each list. The No. 1 overall prospect is given 100 points, No. 2 gets 99 points, No. 3 gets 98, and so on all the way down to No. 100 getting one point. The service combines all five scores and sorts the players in descending order based on that overall total. Should two players have the same point total, a tie is shown in the final rankings.
In short, the RSCI final rankings are a collection of expert opinions across all major recruiting outlets, not just one.
Take a look at the future Wildcats alongside the nation's other top prospects:
1. Isaiah Collier (USC)
2. Ron Holland
3. Justin Edwards (Kentucky)
4. Aaron Bradshaw (Kentucky)
5. Cody Williams (Colorado)
6. DJ Wagner (Kentucky)
7. Matas Buzelis (G-League)
8. Ja'Kobe Walter (Baylor)
9. Stephon Castle (UConn)
10. Mackenzie Mgbako (Indiana)
11. Omaha Biliew (Iowa State)
12. Jared McCain (Duke)
13. Xavier Booker (Michigan State)
14. KJ Evans (Oregon)
15. Sean Stewart (Duke)
16. Robert Dillingham (Kentucky)
17. Caleb Foster (Duke)
17. Aden Holloway (Auburn)
17. Bronny James (USC)
20. Elmarko Jackson (Kansas)
21. T.J. Power (Duke)
22. Trentyn Flowers (Louisville)
23. Andrej Stojakovic (Stanford)
24. Jackson Shelstad (Oregon)
25. Dink Pate (G League)
26. Mookie Cook (Oregon)
26. Coen Carr (Michigan State)
28. Baye Fall (Arkansas)
29. Yves Missi (Baylor)
30. DeShawn Harris-Smith (Maryland)
31. Simeon Wilcher (North Carolina)
32. Dennis Evans (Louisville)
33. Reed Sheppard (Kentucky)
The On3 Industry Comparison is a similar system, a proprietary algorithm that compiles ratings and rankings from all four major recruiting media services. There, Edwards comes in at No. 2, followed by Bradshaw at No. 4, Wagner at No. 7, Dillingham at No. 15 and Sheppard at No. 35.
You can find those complete rankings here.
As for the complete RSCI rankings, click here.
Discuss This Article
Comments have moved.
Join the conversation and talk about this article and all things Kentucky Sports in the new KSR Message Board.
KSBoard