Kentucky boasts three top-20 commits in initial 2022 RSCI Rankings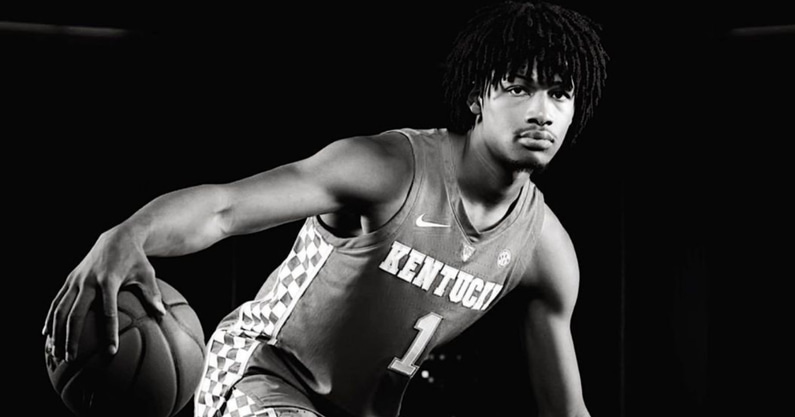 Kentucky boasts two top-six commitments and three listed inside the top 20 in the initial 2022 Recruiting Services Consensus Index (RSCI) rankings.
RSCI, which combines the rankings of all of the well-known recruiting services into a single, consensus ranking, has Shaedon Sharpe listed at No. 1, Chris Livingston at No. 6, and Skyy Clark at No. 17. UK targets Cason Wallace (No. 7) and Adem Bona (No. 16) are top-20 prospects, as well.
RSCI – pronounced "risky" – takes the top 100 recruiting rankings from VC, ESPN, Rivals, 247Sports, and On3 and assigns points to each player based on their position on each list. The No. 1 overall prospect is given 100 points, No. 2 gets 99 points, No. 3 gets 98, and so on all the way down to No. 100 getting one point. The service combines all five scores and sorts the players in descending order based on that overall total. Should two players have the same point total, a tie is shown in the final rankings.
In short, the RSCI final rankings are a collection of expert opinions across all major recruiting outlets, not just one.
Here is the entire top 30:
1. Shaedon Sharpe (Kentucky)
2. Dereck Lively (Duke)
3. Amari Bailey (UCLA)
4. Keyonte George (Baylor)
5. Dariq Whitehead (Duke)
6. Chris Livingston (Kentucky)
7. Cason Wallace
8. Kyle Filipowski (Duke)
9. Dior Johnson (Oregon)
10. Brandon Miller
11. Nick Smith
12. Yohan Traore
13. Mark Mitchell
14. Vincent Iwuchukwu (USC)
15. Jaden Bradley
16. Adem Bona
17. Jarace Walker
17. Skyy Clark (Kentucky)
19. Julian Phillips
20. Arterio Morris (Texas)
21. Kel'el Ware (Oregon)
22. MJ Rice (Kansas)
23. Jalen Hood-Schifino (Indiana)
24. Anthony Black
25. Jordan Walsh
26. Dillon Mitchell
27. Zion Cruz
28. Gradey Dick (Kansas)
28. Ernest Udeh
30. Jalen Washington (North Carolina)
For the complete RSCI rankings, click here.