Bowl Rundown: South Carolina is now in driver's seat for Pool of Six
Two weeks ago, it was Kentucky that was in the driver's seat for the SEC's "Pool of Six" selection process. That title now goes to South Carolina assuming chalk holds on Thanksgiving weekend.
The Gamecocks got a huge signature win in year two under Shane Beamer by knocking off top-five Tennessee in blowout fashion on Saturday night. Add in some other results around the league, and things sure are messy when it comes to bowl scenarios with one game left to play.
However, a win from Kentucky on Saturday could potentially get the Cats to Florida. Let's check in on where everything stands with just one week left in the 2022 regular season.
Tennessee is on the brink of falling out of the New Year's Six
One week ago, Tennessee looked like a safe bet to make it to the College Football Playoff. Now the Vols are on the edge of falling out of the New Year's Six as they now must play without star quarterback Hendon Hooker who suffered an ACL injury in the blowout loss to South Carolina.
Currently, Georgia (No. 1) is a safe bet for the playoff, and LSU (No. 5) is a safe bet for the Sugar Bowl. That should get Alabama (No. 7) into the Orange Bowl. That leaves No. 10 Tennessee who would get the Cotton Bowl draw against the American Athletic Conference champion. However, a loss could take them out of contention.
The Vols travel to Nashville on Saturday night to take on 5-6 Vanderbilt. The Commodores are likely bowling regardless thanks to what should be a high APR score. However, a third consecutive SEC upset for Clark Lea's program could drop Tennessee to the Citrus Bowl and create a bigger mess in the "Pool of Six".
For the best bowl possible, Kentucky needs Josh Heupel's team to get to 10-2 and secure a New Year's Six bid.
Gator Bowl might be more attractive to South Carolina
Assuming chalk holds this weekend and South Carolina loses another game to Clemson, that would put the Gamecocks at 7-5 (4-4) in year two under Shane Beamer. However, the Gamecocks would earn the overall top spot in the "Pool of Six" as long as Ole Miss takes care of business at home against Mississippi State to get to 9-3 and lock up a Citrus Bowl bid.
In that scenario, Carolina would get the top pick in the selection process. It is assumed that the ReliaQuest Bowl is the best destination, but the Gator Bowl (Jacksonville) is a less than five-hour drive down I-95 for Gamecock fans, and some are calling for Notre Dame to be the other team in that postseason game. That could open some things up.
After the Carolina pick is made, Kentucky at 7-5 (3-5) following a win over No. 25 Louisville would be next up. The Wildcats own the tiebreaker over both Florida and Mississippi State in this situation as the Cats have head-to-head wins over each with identical conference records. Arkansas could get to 7-5 (4-4) with a win at Missouri on Friday, but the Hogs are highly unlikely to land in Tampa again after making it there last season.
The Big Blue conceivably has a clear path to Tampa right now, but it's likely pending South Carolina's selection. If the Gamecocks pick Tampa, the Cats could be choosing between the Music City Bowl and Texas Bowl.
Game of the Week: Mississippi State at No. 20 Ole Miss
The Egg Bowl is consistently one of the top college football games on the calendar, and things usually get pretty heated between these two on Thanksgiving night. There is a lot at stake this week.
Most notably, the Auburn buzz with Lane Kiffin is very strong at this point. The fact that Ole Miss hasn't announced a contract extension for their head coach seems very telling. It's possible at this point that Kiffin could be announced as the new head coach on the Plains come Friday. Therefore, you have to worry about the focus level of Ole Miss coming off of consecutive losses to Alabama and Arkansas.
Over in Starkville, Mike Leach quietly has the Bulldogs at 7-4 (3-4) with victories over Arkansas, Auburn, and Texas A&M. State got a tune-up game last week with a blowout win over FCS East Tennessee State. A win in Oxford would get the Bulldogs to 8-4 and in the top 25.
That could be enough to get MSU into the Citrus Bowl. That would not be good for Kentucky.
In that scenario, Ole Miss would be at the top of the pecking order and could drop the Wildcats into no man's land. The Egg Bowl has a lot at stake this year.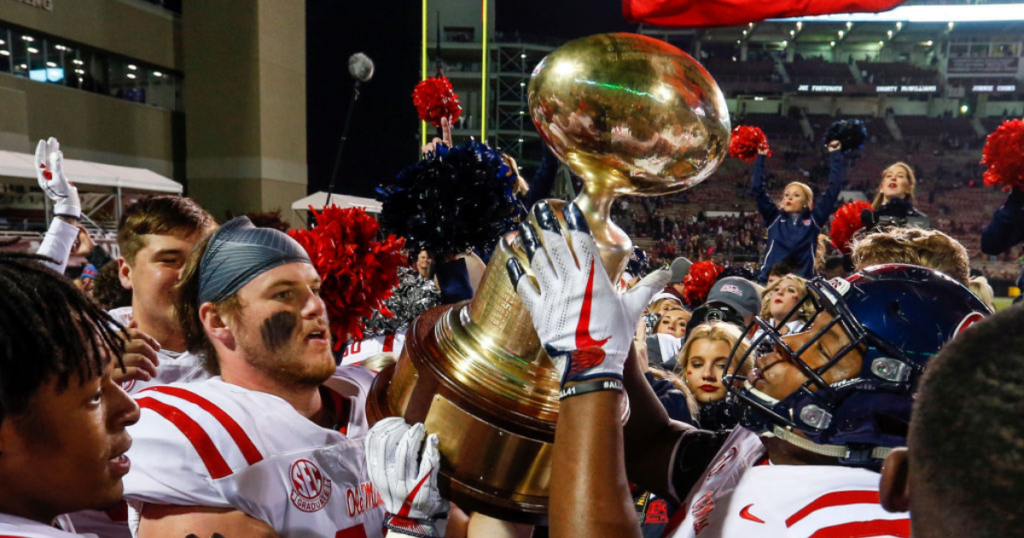 Remaining contenders
To give us a reference point for this final week of madness, I've compiled all of the records and remaining schedule for every SEC team that could be involved in the "Pool of Six". Things should become much clearer on Saturday night.
— Tennessee (10-2, 6-2): at Vanderbilt (Nov. 26)
— Ole Miss (8-3, 5-3): Mississippi State (Nov. 24)
— South Carolina (7-4, 4-4): at Clemson (Nov. 26)
— Mississippi State (7-4, 3-4): at Ole Miss (Nov. 24)
— Arkansas (6-5, 3-4): at Missouri (Nov. 25)
— Kentucky (6-5, 3-5): vs. Louisville (Nov. 26)
— Florida (6-5, 3-5): at Florida State (Nov. 25)
— Auburn (5-6, 2-5): at Alabama (Nov. 26)
— Missouri (5-6, 2-5): vs. Arkansas (Nov. 25)
— Vanderbilt (5-6, 2-5): vs. Tennessee (Nov. 26)
Projections Round-Up
Now let's see what some of the experts think. Here you can find where Kentucky is falling in some of the major bowl projections.
At this point, we all likely need to prepare ourselves for a basketball vs. football decision on New Year's Eve. Kentucky — and the rest of the SEC for that matter — is not going to want to go to the Las Vegas Bowl due to the timing (Dec. 17) and the bowl trip taking away an important official visit weekend before signing day. I am skeptical about the Gator Bowl being an option if Tampa is taken away since Kentucky just made the trip to Jacksonville in 2020.
If Kentucky wins on Saturday, it seems that a trip to Nashville could very well be the top option. It's also important to remember that Iowa is getting a lot of ReliaQuest Bowl buzz at the moment and that could take Kentucky off the table for Tampa as the bowls try to avoid repeat matchups from the previous year or two.
The real question at this point is if Mitch Barnhart is ready to open the "basketball school vs. football school" can of worms if fans have to choose between Kentucky vs. Louisville in basketball and Music City Bowl during the same time window. I wouldn't be surprised if the Cats tried to secure bids to either the Texas Bowl or Liberty Bowl at that point.
If Kentucky were to lose to Louisville and fall to 6-6, a trip to Memphis might be most likely.
Kentucky to-do list
Kentucky's game with Louisville on Saturday afternoon is very important for many reasons. A win gives the Cats more than a puncher's chance to land in Tampa. However, a loss could be the start of a very long offseason and a disappointing bowl destination.
Here's what the Cats need to happen this weekend:
Kentucky beats Louisville: Nothing really else matters outside of this. A 6-6 finish would begin a miserable offseason and a blah postseason experience with opt-outs and early transfer exits seemingly likely. Kentucky has to handle its business on Saturday.
Ole Miss beats Mississippi State: Kentucky owns the tiebreaker with Mississippi State. The Cats cannot afford for the Bulldogs to jump ahead of them. An Ole Miss win makes the picture much clearer as the Rebels will lock up a Citrus Bowl bid with their ninth victory on Thursday.
Tennessee beats Vanderbilt: The more SEC teams in the New Year's Six and playoff means the better the bowl scenario for Kentucky. The Cats need the Vols to get to 10-2 and lock up a bid to the Cotton Bowl.
Missouri beats Arkansas: This wouldn't have anything to do with Tampa but could come into play if things come down to the Gator Bowl or Music City Bowl over the Texas Bowl if UK chooses to go that route. A win gets Arkansas to .500 in league play and bumps them ahead of Kentucky. A loss as the Hogs at 6-6 and should have Kentucky ahead of them in the selection process.