Kentucky can't let Louisville's Malik Cunningham get silly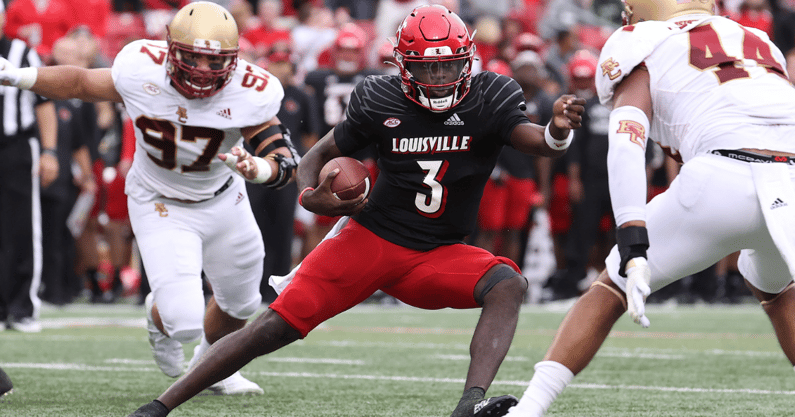 Malik Cunningham has transformed into a one-man wrecking crew for the Cardinals. Louisville's leading passer and rusher, he is playing the best football of his career entering the homestretch of the 2021 season.
"You can see that there's a confidence level that he's playing with right now; arguably the most talented offensive weapon we've seen all season. He's really dangerous," said Kentucky defensive coordinator Brad White. "To say it's a huge challenge would be an understatement."
Cunningham enters the 2021 Battle for the Governor's Cup off the best performance of his career. Against Duke he threw for 303 yards and five touchdowns, and ran for 224 yards and two scores. He became only the second FBS player to ever throw for 300+ and rush for 200+ in a single game.
"When you play a dual threat quarterback, a mobile quarterback and somebody who's electric and as elusive as Malik, it can take your stinger out a little bit and to some extent, you kind of need it out because if you go wild or willy nilly, he's gonna make it look silly, quick," said White.
Cunningham certainly made Duke look silly last Thursday, on multiple occasions.
Team Tackling is Imperative
To contain a rushing quarterback, one simply cannot play a quarterback spy. If it worked that well, everyone would do it. Playing one-on-one football is not a recipe for success.
"You have to be under control and you have to have multiple hats, that's the key. Guys have to fly around in packs on Saturday, because if you just put it all in one guy, that's not a good recipe," said White.
"He's gonna make guys miss. That's why he's a special player but you have to have guys that are there in support, hunting the football so that if he does make one miss, at least that guy made it slowed him down for guy two, three or four come in and make the play."
Controlled Pressure on Cunningham
What makes Cunningham special is that he can make a defender miss, then turn a 10-yard gain into a 20 or 30-yard gain. As much as the Wildcats want to pin their ears back to rip his head off, they must remain disciplined when rushing the quarterback.
"Compress the pocket," is how Josh Paschal described the task. "Make sure that our rush lanes are right, that we're not rushing past the quarterback and he doesn't have any lanes to step up and run through and also go up and out."
Kentucky must toe the fine line of playing disciplined football, while still aggressively attacking Cunningham to make him uncomfortable in the pocket. It worked the last time the two teams met. The Louisville quarterback was limited to just 78 yards passing on 6-of-11 attempts and only 27 yards on the ground in 2019.
Cunningham has improved in the two years since and appears to be playing his best football. You could say the same thing about the UK pass rush. The Wildcats have 12 sacks over the last three games. The more sacks for UK on Saturday, the more likely Kentucky leaves with a win. It's much easier said than done.
"We have to be very disciplined in our rush lanes and we have to change some things up," said Mark Stoops. "There are times when you have to pressure. There are times when you have to make sure we're disciplined in our rush lanes. You've got to mix up how many you bring. Whether it's three, four, five, six — seven if you have to. Bring them all. So, you've got to mix it up because he's a very talented player and we have to be very disciplined on our end."