Kentucky-Chattanooga: Numbers You Need to Know, Presented by Sword Performance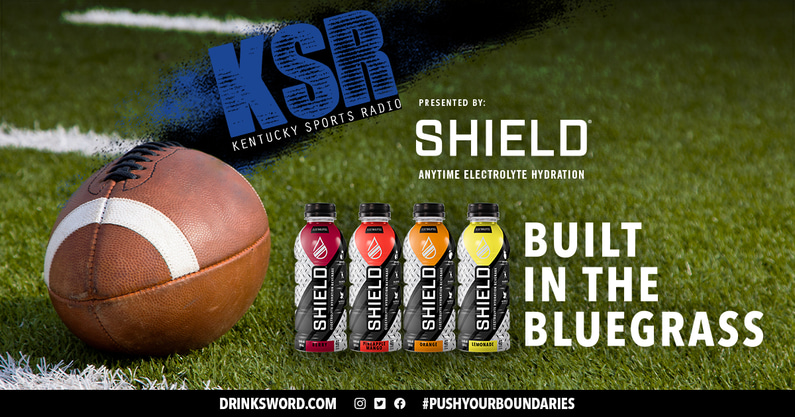 There are two great ways to get ready for kickoff. Learn numbers you need to know before UK and Chattanooga take the field, while getting hydrated with SHIELD from Sword Performance.
Life is thirsty work, but water and traditional sports drinks just don't cut it. Created in Kentucky, Sword Performance offers SHIELD, a brand-new innovation in the sports drink world. With bold fruit flavors, balanced electrolytes, and natural ingredients, SHIELD hydrates better and faster than water and quenches thirst for anyone at any time.
Go ahead, be relentless: SHIELD always has you covered. Hydrate now with a bottle of SHIELD, available at your local Kentucky convenience stores. Learn more at drinksword.com.
Built in the Bluegrass, Built by Sword Performance.
---
1 — Kentucky has only allowed one play of 20+ yards all season.
3 — The Wildcats are one of three teams in the country to rank in the top 15 in both total offense (12) and total defense (10).
5 — Games the Mocs played in the fall of 2020 and spring of 2021. They finished each shortened COVID-19 season with a 3-2 record.
6 — Passes Will Levis has completed of 30+ yards through two weeks, the most in the SEC.
7 — Times Kentucky has fumbled it in two games, according to CFB Stats, the most in the SEC. Three of them ended up in the opponent's hands. UK's -4 turnover margin is the second-worst in the SEC.
8 — FCS teams have defeated FBS teams in the first two weeks of the season.
12 — Seasons since Kentucky shut out an opponent. Kentucky has not held its opponents to a goose-egg on the scoreboard since defeating Miami 42-0 in 2009 at Paul Brown Stadium.
13 — A win over UTC would be the Wildcats' 13th-straight against a non-conference opponent. It's the third-longest streak in the FBS, trailing only Minnesota (20) and Iowa (14).
29.5 — The SP+ predicted margin of victory for Kentucky does not cover the 31-point spread.
86.3 — Wan'Dale Robinson's PFF grade is the fifth-best among all FBS wide receivers.
113 — Receiving yards per game by Wan'Dale Robinson, the second-most in the SEC. Josh Ali ranks fifth in the conference, averaging 83 yards per game.
166 — Rushing yards per game by Chris Rodriguez are the most in the SEC. C-Rod is averaging 7.22 yards per carry. He's currently on pace to rush for 2,158 rushing yards, enough to shatter the UK single-season record.