Kentucky coaches reaching out to class of 2023 high school players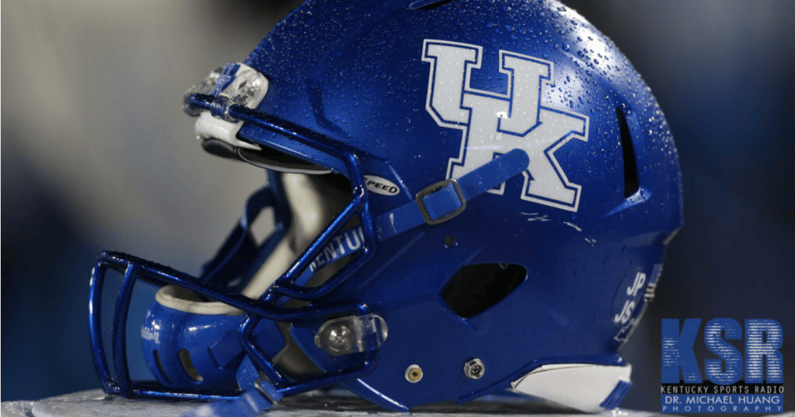 Wednesday was a big day for talented high school junior football players across the country. As of Sept. 1, college coaches can now reach out and contact athletes from the class of 2023.
So far, Kentucky Football has just one commitment from the class of 2023, Frederick Douglass defensive back Ty Bryant. But the Big Board is loaded and the Wildcat coaching staff got to work the second the clock turned over to September. Let's dive right into it.
Who Kentucky reached out to
Joe Crocker: 6-6, 315-pound OL (Nashville, TN)
A top 15 prospect out of Tennessee, Joe Crocker heard from UK offensive line coach Eric Wolford a few hours into Wednesday. Crocker's offer sheet includes heavyweights Georgia and Michigan along with other SEC schools such as Mississippi State, Tennessee, Ole Miss, and Kentucky. Crocker took an unofficial visit to Lexington in June.
Adrian Griffin: 6-4, 260-pound DL (Fairfield, AL)
Adrian Griffin is a name to know now. The defensive lineman is unranked over at 247 Sports, but a three-star with Rivals and holds offers from Tennessee and Maryland, along with Kentucky. There is a Crystal Ball currently logged in favor of Griffin landing in Lexington.
He camped at Kentucky back in June and picked up a scholarship offer shortly after. Griffin heard from Coach Wolford.
A.J. Hoffler: 6-5, 245-pound DL (Atlanta, GA)
A.J. Hoffler is already a national prospect as a high school junior, ranking as a four-star by multiple recruiting services. His offer sheet doesn't include the likes of Alabama, Ohio State, Georgia, Clemson, etc. (yet, although he did hear from Notre Dame on Wednesday), so Kentucky got in the mix early when defensive line coach Anwar Stewart offered him in May.
Brycen Sanders: 6-5, 285-pound OL (Chatanooga, TN)
Brycen Sanders is another national prospect with four-star status. Coach Wolford once again was the one to reach out. Sanders' offer sheet includes the likes of Auburn, Tennessee, Stanford, Georgia, Kentucky, and several others. UK was the second school to offer him and it's paid off so far–Sanders was in Lexington over the summer for a camp.
Ayden Bussell: 6-5, 290-pound OT (Mount Juliet, TN)
If you're beginning to sense a theme position-wise, you'd be on the right path. Kentucky continues to put an emphasis on future of the Big Blue Wall and Ayden Bussell could be a piece of that. He's a consensus three-star prospect out of Tennessee who holds offers from UT, Vanderbilt, Virginia Tech, and Kentucky. Wolford offered in April and reached out again on Wednesday.
Other recruits who were contacted
Keldric Faulk: 6-4, 235-pound DL (Highland Home, AL) 4-STAR
Elliot Washington II: 5-11, 190-pound S (Venice, FL) 4-STAR
Keith Sampson: 6-3, 285-pound DL (New Bern, NC) 4-STAR
Troy Floyd Jr.: 6-1, 235-pound DL (Savannah, GA) 4-STAR
Allen Mitchell: 5-10, 170-pound RB (St. Louis, MO) 3-STAR
Tyler Grant: 6-3, 270-pound DE (St. Louis, MO) 3-STAR
Jaxon Potter: 6-3, 170-pound QB (Rancho Santa Margarita, CA) 3-STAR
Raheim Jeter: 6-3, 220-pound QB (Duncan, SC) 3-STAR
Kevin Concepcion: 5-11, 175-pound WR (Charlotte, NC) 3-STAR
Bryce Lovett: 6-4, 320-pound OT (Rockledge, FL) 3-STAR
Brock Glenn: 6-1, 185-pound QB (Memphis, TN) 3-STAR
Collin Dixon: 6-2, 205-pound S/WR (Tallmadge, OH) UNRANKED
Jabari Mitchell: 6-2, 205-pound WR/TE (Reynoldsburg, OH) UNRANKED
Bert Kibawa: 5-10, 155-pound S/WR (Bowling Green, KY) UNRANKED
Jmaury Davis: 6-2, 190-pound ATH (Clarendon, TX) UNRANKED
Jahreece Lynch: 6-2, 185-pound ATH (Mount Airy, NC) UNRANKED
Donovan Walker: 5-11, 160-pound FS/WR (Aliquippa, PA) UNRANKED
Nathan Efobi: 6-4, 280-pound DL (Cumming, GA) UNRANKED
Malachi Wood: 6-8, 300-pound OT (Richmond, KY) UNRANKED
JT Smith Jr.: 5-9, 200-pound ATH (Cornelius, NC) UNRANKED
Sullivan Absher: 6-7, 275-pound OT (Belmont, NC) UNRANKED