Kentucky's comeback win a significant sign of growth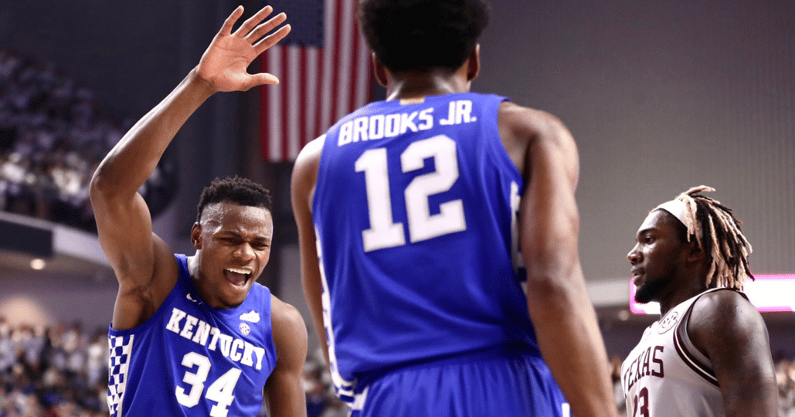 The box score from tonight isn't pretty. Kentucky had a season-high 17 turnovers, shot a season-low-tying 36.2%, and only made four threes. With several core players struggling and the largest crowd in Reed Arena history about to blow the roof off, the atmosphere was ripe for Texas A&M to pull off the upset. Instead, Kentucky turned around and won the game, 64-58.
"What'd we shoot, 38%?" A giddy John Calipari asked on Zoom. "And win? I love those games. Just absolutely love them."
After hearing the shooting percentage was even lower, Cal grinned.
"Oh, was it 36%? That's even better. Oh. That means you know you had to fight, you had to guard, you had to rebound or you had no chance of winning."
"We had four threes tonight," Davion Mintz said, echoing his coach. "We missed a ton of free throws, we turned the ball over, we just didn't get in a rhythm."
As pretty as Kentucky's 107-79 win over Tennessee was on Saturday, this one was ugly. For that reason, both Mintz and Jacob Toppin believe it means more.
"100%," Toppin said. "We walked into the locker room after the game and the first thing we said was, way to stay together. In a close game like this, the environment was crazy. For us to stay together when they went on their runs is big. It's big-time, and it just shows the type of group that we are."
"Absolutely," Mintz said. "The environment was crazy for us tonight. They came out, they played well and dislodged us early, trapping ball screens. They were way more aggressive than we thought they would be…I'm just super proud of this team to come out with a win, regardless of how ugly it was tonight. We won and that's all that matters."
Difference between first and second half? "Pride"
Kentucky trailed by 13 with 5:57 to go in the first half, the Cats' largest deficit since trailing Duke by 15 in the season opener. They slowly whittled the lead to five heading into halftime.
"I walked in [to the locker room] and said, 'Guys, we're down five with how we just played. Let's just play. Just battle,'" Calipari said.
They did. Behind Davion Mintz, Jacob Toppin, and TyTy Washington, the Cats stormed back, taking their first lead of the game, 49-48, with 9:00 left. Shots finally started to fall and Kentucky also came alive on defense, holding A&M to just 29.4% shooting and scoreless the final 2:47 of the game.
"Pride," Toppin said of the difference between the first and second half. "I don't think we took pride in our defense in the first half. We gave up a lot of straight-line drives and we had a lot of turnovers that led to layups, so that was big. We just really, in the second half, brought it all together and just played better basketball and on the defensive end, stayed connected."
"That was SEC basketball tonight," Mintz said. "It was what it was. We learned a lot about ourselves. I'm just proud of this team and how we stuck together because we struggled a lot in the last four minutes. Just to know we finally got one under our belts in a tight crunch time, that's big for us and our confidence going forward in this league."
Winning a close game "very satifsying" for returning players
This was exactly the type of game that Kentucky would have lost last year. That's why it's perfect that Mintz and Toppin, who endured so many close losses a year ago, came off the bench to play pivotal roles in the comeback. Mintz had ten points, eight rebounds, and three assists in 30 minutes. Toppin had nine points, six rebounds, two assists, a block, and a steal in 23 minutes.
"It's very satisfying," Toppin said. "Nothing against my teammates from last year but we didn't have guys who were able to make big-time plays down the stretch and win us the game."
One of those guys is freshman TyTy Washington, whose back-to-back jumpers helped Kentucky hang on to a four-point lead with 3:38 remaining.
"TyTy stepped up big for us, making two jump shots that helped us win the game," Toppin said. "It just shows the type of player he is. He has the balls to make big shots like that and we have a couple guys on this team that can do that. I feel like we have a great team where if we stay fundamentally sound, we can win any close game or any game at all."
"Collectiveness," Mintz said of the difference between last year's team and this year's team. "Guys huddling together at the end of games. Guys doing things outside of the norm. Jacob going up, rebounding balls. I'm in there trying to scrap for balls. Sahvir [Wheeler] making steals. TyTy hitting big shots and then you look at the bench, everybody's up cheering. Simple things that we didn't have last year. That's no discredit to the team we had. We were just young. We've got veterans and guys that have been in these situations and it's just really fun.
"I know it was terrible, but I really believe that was fun basketball tonight, just to see guys come together and fight for their lives."
Yes, it was. Let's do it again on Saturday.