Kentucky commit Skyy Clark will be in Lexington for Big Blue Madness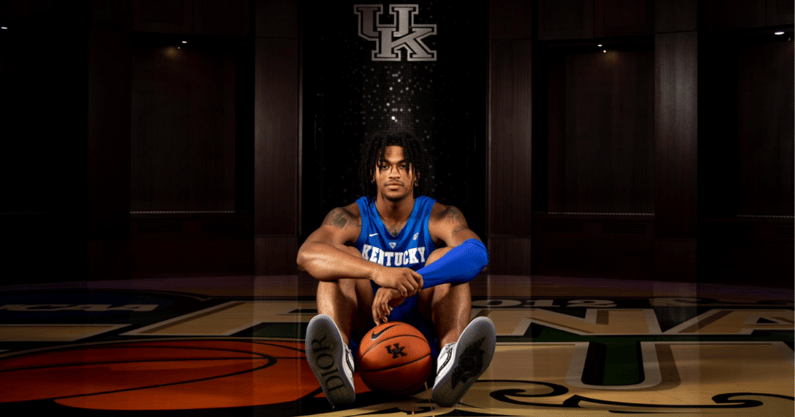 Kentucky basketball's first commitment in the class of 2022 will be in Lexington for Big Blue Madness this weekend. After taking an official visit to Kentucky back in June, five-star guard Skyy Clark will be back in town for an unofficial starting tomorrow.
Clark's father, Kenny Clark, tells KSR the future Wildcat will fly into Lexington tomorrow evening and stay through Big Blue Madness.
Clark joins the likes of DJ Wagner (2023), Mackenzie Mgbako (2023) and Reed Sheppard (2023) to attend the anticipated preseason basketball event.
"It couldn't have gone better."
"It couldn't have gone better. The trip was amazing," Clark said of his visit back in June. "Thank you to Coach Cal, the staff and the entire team for letting us come out and have an amazing time.
"… It was really good seeing him in person, Zoom was getting kind of wack [laughs]. Coach Cal, he showed his personality; he's a really funny person and a really good person, super cool. … He was talking about, 'If you come here and put in the work, you lock in for however many months you're here for, you'll get what you want.' He said he has his players' backs 110%."
Now, the future Wildcat will be back in Lexington for Big Blue Madness, just under one month before National Signing Day.
"We're still hoping to get two more."
Just last week, Clark said in a Sports Illustrated blog post that he is still pushing for two more commitments in the class of 2022. The prized targets? Cason Wallace and Adem Bona.
"Well, I told you guys a couple months back that we were gonna get two more recruits soon at Kentucky and as you can see we got it done!" Clark said in the blog post. "It's been an amazing last couple of weeks for us!
"We got who we wanted, and we're still hoping to get two more. … I'll just say me, Chris (Livingston) and Shaedon (Sharpe) are feeling pretty confident."
As for his personal growth, Clark says he's inching back to full strength after partially tearing his ACL back in July.
"My rehab has been going great," he said. "… I'm ahead of schedule! I'm not rushing anything, but I'm confident that I'll be back!"
It won't be long until Clark is back on the floor. Until then, a trip to visit his future home is a great way to pass the time.