Kentucky DB Keidron Smith named to Coaches All-SEC Second Team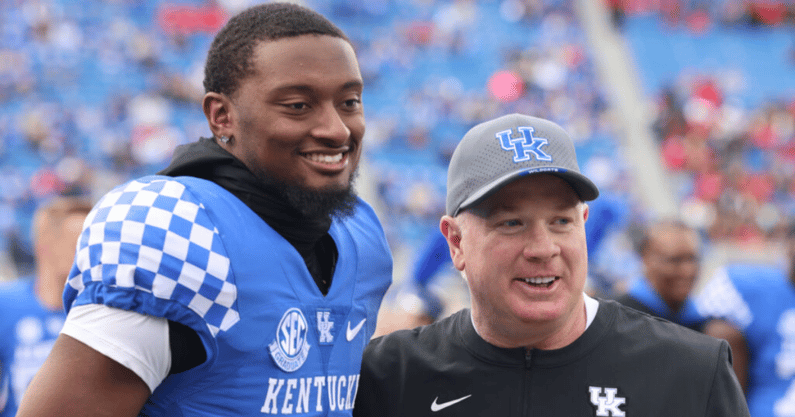 The Kentucky football freshmen have understandably earned plenty of postseason recognition, highlighted by five rookie Wildcats making Freshman All-American teams on Tuesday.
But there was plenty of veteran talent spread across the roster this season, including a graduate transfer from Ole Miss who made an impact in the Kentucky secondary from the day he arrived in Lexington. Keidron Smith, who transferred to Kentucky in April and then started 11 of 12 games in 2022 for the 'Cats, was named to the All-SEC Second Team on Tuesday afternoon by the league's coaches.
Smith registered 43 total tackles, 0.5 tackles for loss, five pass breakups, two interceptions (one returned for a touchdown), and one fumble recovery. His 65-yard pick-6 against Florida QB Anthony Richardson in Kentucky's 26-16 win over the Gators early in the season was his biggest moment in a Kentucky uniform.
Smith is expected to suit up in Kentucky's Music City Bowl appearance against Iowa, which is set for noon ET on New Year's Eve in Nashville, TN. The native of West Palm Beach, FL is the first defensive back from UK recognized by the SEC's coaches since Winston Guy did it in 2011 and the first pure cornerback to do so since Trevard Lindley in 2008.
Prior to joining the 'Cats, Smith spent four seasons at Oxford with the Ole Miss Rebels. As a three-star recruit out of high school, he made an immediate impact as a true freshman, playing all 12 games for Ole Miss including four starts. Smith became a consistent starter as a sophomore in 2019 and continued to suit up for the Rebels until he transferred earlier in the spring. He graduated from Ole Miss in May 2022.
Smith was the only Kentucky player to crack either of the All-SEC Coaches teams.