Mix of old and young could create special Kentucky defense in 2022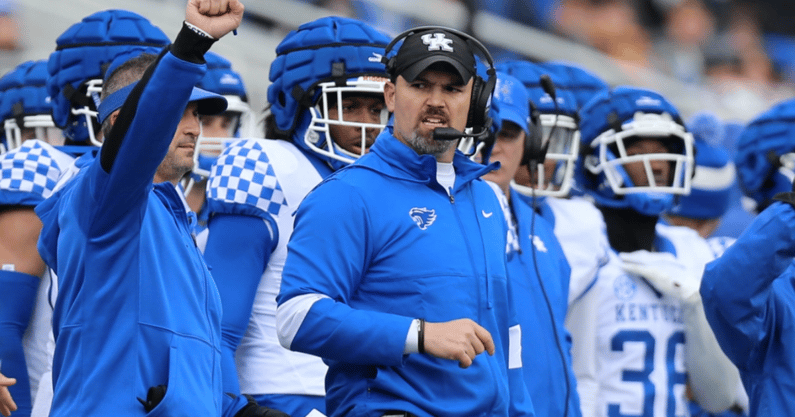 The Kentucky defense will not bring a bunch flashy star-power to the field in the fall of 2022. After all, zero players were selected to the Preseason All-SEC team. Even though outsiders may not hold the unit in high regards after losing three players to the NFL, Brad White believes it could be one of the best defenses Mark Stoops has fielded at Kentucky.
Josh Paschal was a second round selection by the Detroit Lions after finishing second in the SEC in tackles for loss. A couple of other defensive captains, Marquan McCall and Yusuf Corker, are competing to make 53-man rosters in NFL training camps. Even though the Cats lost a few leaders, White still has veterans to lean on in 2022.
Playmakers Return from Historic 2018 Kentucky Defense
"People would argue that the 2018 defense may or may not be the one of the top one or two defenses in Kentucky history. Well, we got three guys that played significant snaps on that defense in Ty Ajian, DeAndre Square and Jordan Wright," Brad White said at Wednesday's UK Football Media Day.
"To have guys that played on the '18 defense, have started as many games as they have over four years, and one of the benefits of COVID to be whole to get those guys back for an extra year. You're walking in with leaders that I was counting on heavy last year. They were great leaders and they get another go round."
In addition to those three, the Cats have a couple of other Super Seniors that were playing SEC football in 2018, just at Ole Miss. Jacquez Jones led Kentucky in tackles last year with 86, while Keidron Smith recorded 65 takedowns in Oxford. The five Super Seniors combined for 307 tackles in 2021, and Wright missed have the season with an injury.
"There are a lot of guys that can lead from the front in that room, and so I don't think the void is going to be nearly as drastic as you would think," said White. "It's not going to be this big vacuum. Where did it all go now? If you had lost all those guys, I think that would have been a bigger issue. But we're able to have essentially five super seniors on the team on the defense."
Underclassmen that can make an Impact
In addition to the old guys, there's plenty of young ones ready to step into bigger roles. Kentucky's lauded 2020 recruiting class will feature five former blue chip recruits in the defensive line rotation. Behind Square and Jones, Trevin Wallace and D'Eryk Jackson will make significant contributions. In the secondary there's been an influx of talent from the transfer portal, giving Kentucky's defensive coordinator more than one reason to be optimistic about his unit in 2022.
"This defensive unit has a chance to do something special, because we have a good mixture of old guys and young guys," said White. "The old guys have checked their egos at the door and they're pulling along young guys. There's gonna be a lot of competition. I don't know what that starting 11 is going to look like come September 3, but we got 31 days to figure that out."