Kentucky Defense still "a long way from great" entering season's second quarter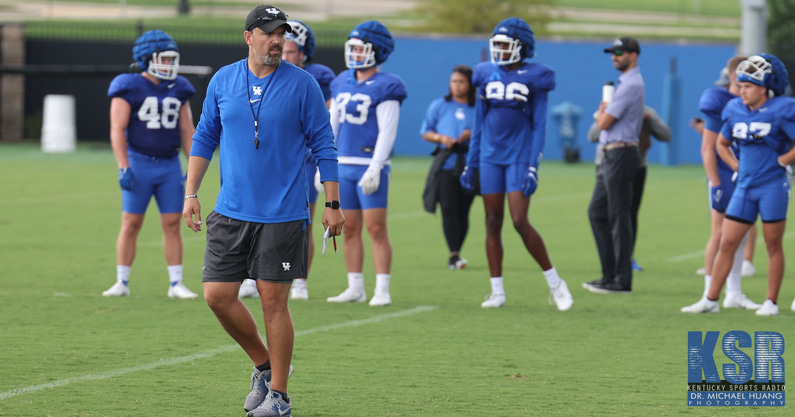 The Kentucky defense has been sharp to start the 2022 season and that is an understatement. Despite the early success, defensive coordinator Brad White is not satisfied.
"We got a lot to fix. We're a long way from great. We've had a couple of solid games at this point, but it's one quarter of the season," Kentucky's defensive coordinator said Wednesday night.
"The season is no different than a game, and that's how we equate it. You can play one good quarter, you've got three quarters left. We're just entering quarter No. 2 right now and we've got to correct the mistakes that we've made over the first three games, highlight what we've done well, try to continue to make more of those plays so we can play better football."
Alabama and Kentucky are the only two schools in the country that have yet to allow a passing touchdown. UK opponents have just one scoring drive of 50 yards or more and the Kentucky defense has lined up in the red zone only three times in three games.
Brad White is not minimizing the early success of the Kentucky defense, but he wants more. Specifically, he wants more takeaways and less explosive plays. The Kentucky defense has allowed eight plays of 20+ yards, ranking 17th in country, but White isn't letting his experienced group off the hook.
"For me personally, there's been some explosive plays that have gotten out. We need to be able to limit those. It's something we take pride in. The screen that got out (vs. Youngstown State), the first play when they had the one-on-one ball; listen, I understand, it's football. Those plays will happen, but we do not just brush it off and say listen, they just happen. We take those personal," said White.
"We go into every game trying to minimize or limit all explosive plays no matter who we're playing. We've gotta get those cleaned up. Obviously we'd still like a few more turnovers. We had our hands on a few balls, a couple didn't go our way. Again, keep giving the offense the ability to have short fields. That's our job. We need to continue to get better at that."
Hear from the Kentucky Defense
Kahlil Saunders has been a pleasant early surprise on the defensive line. The redshirt freshman is proud to see the work he put in during the offseason is paying off as he moved from defensive tackle to defensive end.
Zion Childress was a fascinating interview. He's playing both safety positions for the Wildcats. A Texas State transfer, learning multiple defensive concepts after playing primarily quarterback in high school has helped him adapt to SEC football.
Alex Afari is only a true freshman, but he's led the defense in tackles twice. Despite the early success, he's not letting it get to his head.