Kentucky Depth Chart: Late transfer additions will have big role on defense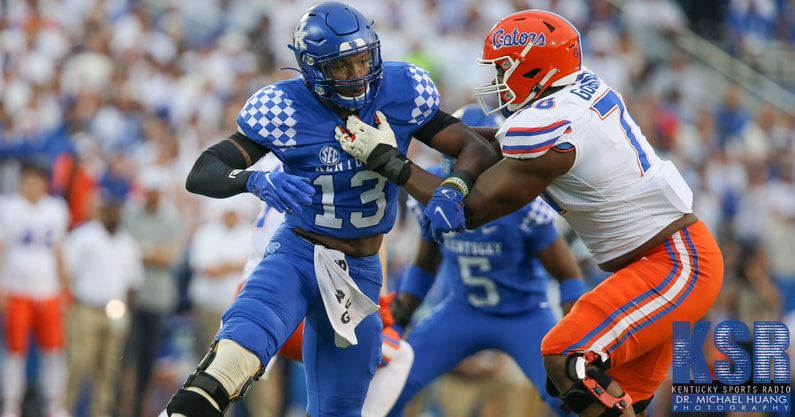 The Kentucky football program has high expectations heading into the 2022 season, but those are mostly offense driven. With a star quarterback returning to go along with some other good pieces from a top-25 unit, the Wildcats have a chance to score a lot of points this season.
Lost in most of the postseason talk has been the other side of the football. Defensive coordinator Brad White returns for his fifth year in the program, and the Wake Forest alum turned down an offer to call plays at LSU in the offseason. Keeping White in the fold was a big coup for Mark Stoops, and now the Wildcats will look to put another good defense on the field.
Since the end of spring practice, we've seen Kentucky add a couple of key transfers who could step into starting roles. After touching on offense, we're moving to the defensive side to put together a two-deep depth chart.
Let's dive in.
Nose tackle
Justin Rogers (6-3, 332, Jr.)
Josaih Hayes (6-3, 309, Jr.)
Former top-100 prospect Justin Rogers is now in year three at Kentucky, and the Detroit native will finally step into a starting role as a junior. After playing 209 snaps last year recording 17 tackles and 2.5 tackles for loss in a reserve role, Kentucky needs to see the blue-chipper take a big step forward.
Behind Rogers, fellow class of 2020 signee Josaih Hayes could be considered a co-starter. The Mississippi native played more than Rogers last season (241 snaps) and has some legitimate pass-rushing potential.
Boundary tackle
Octavious Oxendine (6-1, 281, RSo.)
Kahlil Saunders (6-5, 288, RFr.)
After flashing against both Florida and LSU, Octavious Oxendine was lost for the season with a knee injury. The Radcliff (Ky.) North Hardin product is back this year and could give Kentucky their best interior pass rush weapon since Calvin Taylor Jr. in 2019.
As a true freshman, Kahlil Saunders got to play in some big games for Kentucky while preserving his redshirt. The Alabama native is back for year two and gives the Wildcats some more length and size at this position. Saunders will have a big role this season.
Field end
Tre'vonn Rybka (6-4, 275, RSo.)
Darrion Henry-Young (6-5, 255, RSo.)
Following a big performance in the Citrus Bowl, expectations are high for redshirt sophomore Tre'vonn Tre'vonn Rybka as the Middle Tennessee native will take over a starting spot for Josh Paschal. However, we should see a platoon at this position.
Ohio State transfer Darrion Henry-Young was added in the offseason and was on campus for spring ball. The former top-150 recruit out of Cincinnati is another player on this front with some legit pass-rushing tools. Signs are pointing to an improved pass rush in Lexington.
EDGE
J.J. Weaver (6-5, 242, RJr.)
Jordan Wright (6-5, 231, Super)
Kentucky is expected to go to some more base looks this season and that will allow the Wildcats to get their two EDGE players on the field at the same time.
Louisville (Ky.) Moore product J.J. Weaver is in year four and fully healthy after recovering from ACL surgery. The weakside Jack linebacker has major tools and has produced when given opportunities in his career (7 sacks, 11 non-sack tackles for loss, 2 interceptions).
At Sam, Jordan Wright will be utilized and the South Florida native is back for year six in Lexington. The super senior has made a ton of plays in his career (7.5 sacks, 10 non-sack tackles for loss, 11 PBU/INTs, 4 forced fumbles) but also was limited by an injury last season.
There are depth questions as Kentucky could need a true freshman or two to play here, but the ceiling is very high with a healthy Weaver and Wright ready to go.
Will linebacker
DeAndre Square (6-1, 221, Super)
Trevin Wallace (6-2, 240, So.)
DeAndre Square is back for year five, and the Detroit (Mich.) Cass Tech product has started 35 consecutive games for the Wildcats. After recording career highs in tackles (81) and tackles for loss (9.5) last season, Square will be the unquestioned leader of this group in 2022.
Trevin Wallace returns for his sophomore campaign, and the South Georgia product should be ready for a bigger role in year two. The former top-100 recruit has a load of potential and must be an important part of the Kentucky defense this season. Wallace could be a real weapon in Kentucky's simulated pressure and creeper packages where his raw athleticism could be very valuable.
Mike linebacker
Jacquez Jones (6-0, 233, Super)
D'Eryk Jackson (6-1, 241, RSo.)
Kentucky got some more good news at linebacker when former Ole Miss transfer Jacquez Jones decided he would return for year two in Lexington. The Tuscaloosa (Ala.) Hillcrest product posted career highs in tackles (82) and PBU/INTs (5) last season. Jones will be a valuable piece in the middle of the defense.
D'Eryk Jackson was yet another defensive player who was limited by injuries last season after suffering an Achilles injury. The South Georgia product returned to the lineup in November flashing against both Louisville and Iowa. Jackson gives the defense another quality off-ball linebacker to use in any situation.
Medium (Nickel/Sam)
Zion Childress (6-0, 191, Jr.) or Joel Williams (6-1, 203, Jr.)
Texas State transfer Zion Childress was a late addition to the team as the Wildcats beat out TCU and Washington in May for the transfer. The Texas native recorded 135 tackles, 10 PBU/INTs, and two forced fumbles as a two-year starter in the Sun Belt. The addition was needed at the nickel spot after the Wildcats lost Vito Tisdale for the year to a knee injury.
In fall camp, Childress will be battling Joel Williams for a starting role. The junior was a significant recruiting win for Kentucky out of Louisiana, but Williams has yet to make a push for consistently playing time through two years. This position battle will be one of the biggest ones to follow during camp.
Field cornerback
Carrington Valentine (6-0, 194, Jr.)
Andru Phillips (6-0, 190, RSo.)
At cornerback, we're calling for a position change. Thanks to an additional transfer addition, Carrington Valentine will be able to slide over to field cornerback after playing nearly 800 snaps in the boundary last season. There were some growing pains for the Cincinnati (Ohio) Moeller product, but that experience will hopefully lead to better play and more ball production in 2022.
Andru Phillips enters year three, and Kentucky needs the South Carolina native to become a quality rotation player this fall. The upcoming fall camp is very important for the redshirt sophomore as Kentucky has been committed to adding depth at this position both through traditional recruiting and the transfer portal.
Boundary cornerback
Keidron Smith (6-2, 204, Super)
Jordan Robinson (6-4, 202, So.)
The improvement of Kentucky's pass defense relies heavily on production from recent transfer portal recruiting wins. Perhaps the biggest beating out Indiana, Missouri, and Virginia Tech for Keidron Smith. The Florida native played a lot of football in four years in Oxford and has experience playing multiple roles. Kentucky needs Smith the super senior to play well right away
Perhaps the biggest surprise addition from the portal was when the Division II transfer Jordan Robinson flipped from Appalachian State to Kentucky. Not much is known about the South Carolina native, but the sophomore has good size and could be a great fit in Kentucky's zone-heavy scheme.
Free safety
Jalen Geiger (6-1, 197, RJr.)
Jordan Lovett (6-2, 202, RFr.)
Yusuf Corker left big shoes to fill at free safety after the three-year starter left for the NFL. Kentucky is relying on a veteran to fill them. Jalen Geiger made a position change in the spring, and the coaching staff is hopeful that the redshirt junior builds off of a solid season in 2021 where the defensive back started a pair of games.
After a redshirt season, Jordan Lovett was one of the biggest revelations in the spring as the Radcliff (Ky.) North Hardin product flashed some big-time traits. Lovett has great size, good speed, solid ball skills, and is violent at the point of attack. Kentucky could have a future star in the young safety.
Strong safety
Tyrell Ajian (6-0, 193, Super)
Taj Dodson (6-1, 203, RJr.)
Getting Tyrell Ajian back for his super senior year could be a big win for Kentucky. The former top-200 recruit has had some very good moments as a coverage player, but the tackling does need to improve. Ajian should serve as a good safety blanket for the coaching staff.
We have not seen much of Taj Dodson through the years mostly due to injuries. However, the Greater Atlanta native has consistently flashed in practice and could be a surprise contributor as a redshirt junior. If not, don't be surprised if true freshman Kobi Albert becomes an early contributor at strong safety.
How high is the ceiling?
When looking at the two-deep on offense, Kentucky had 16 former top-500 recruits holding down spots. On defense, the Wildcats only have nine.
There are legitimate star power questions for White's unit to answer, and the secondary is banking on development and transfers to bail them out after a rough year in 2021. Kentucky should be improved, but the ceiling feels limited.
For this group to overachieve, the pass rush really needs to up the production. The Wildcats appear to have multiple players in the three-down front with pass rush tools. On the edge, both Weaver and Wright could form a dangerous havoc twosome.
How we view the defense once the season is over could come down to the volume of pass rush production. Kentucky will need a consistent pressure rate to reach its ceiling on defense.