Kentucky Derby Winner Rich Strike will NOT run in the Preakness Stakes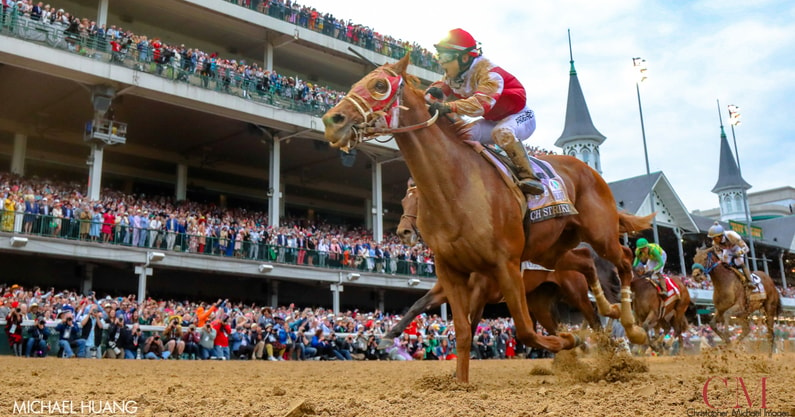 There will not be a Triple Crown winner in 2022. Rich Strike trainer Eric Reed tells the Daily Racing Forum the Kentucky Derby winner will bypass this year's Preakness Stakes to prepare for the Belmont Stakes in June.
Rich Strike did not enter the Derby field until just over 24 hours before the call to the post when Ethereal Road scratched. At 80-1, it's the second-biggest long shot to ever win the Kentucky Derby.
It's the second time in the last four years the Kentucky Derby winner did not run in the Preakness Stakes. After winning the Run for the Roses by disqualification in 2019 at 65-1, Country House retired to stud.
Bypassing Preakness Not a Huge Surprise
The day after Rich Strike's improbable win, trainer Eric Reed said he does not like to push his horses back into action too quickly. Even though they were preparing the horse to ship to Pimlico, the quote WDRB's Eric Crawford shared from the trainer should have prepared horse racing fans for today's news.
"I don't like running quick," Reed said. "This will be the first time we've had to do that if this is where it goes. But that's why he's been so fresh and getting better each race. We haven't we haven't pushed on him. I don't get these horses, 10 or 12 in your life, I get one in a lifetime so I've got to protect him. I'd like him to be here in a couple of years and not just have a few races and have something go wrong."
Rich Strike benefitted from the extra distance in the 1 1/4 miles at Churchill Downs. NBC broadcaster Larry Collmus did not even spot the horse until the final sixteenth pole. They're taking away that final sixteenth next Saturday at Pimlico.
It makes sense on paper for Rich Strike to skip the Preakness, although it's still a let-down for horse racing fans. Hopefully the extra rest and the 1 1/2 miles in the Belmont Stakes will entice its connections to run Rich Strike in the third jewel of the Triple Crown. Unfortunately, this year's Kentucky Derby winner may follow in Country House's footsteps, retiring now when its stud fee is at its highest.
Statement from Rich Strike's Owner
"Our original plan for Rich Strike was contingent on the Kentucky Derby; should we not run in the Derby we would point toward the Preakness, should we run in the Derby, subject to the race outcome and the condition of our horse, we would give him more recovery time and rest and run in the Belmont, or another race and stay on course to run with 5 or 6 weeks' rest between races.

"Obviously, with our tremendous effort and win in the Derby it's very, very tempting to alter our course and run in the Preakness at Pimlico, which would be a great honor for all our group. However, after much discussion and consideration with my trainer, Eric Reed, and a few others, we are going to stay with our plan of what's best for Ritchie is what's best for our group, and pass on running in the Preakness, and point toward the Belmont in approximately 5 weeks.

"We thank the wonderful Preakness and Pimlico folks that have reached out to us and very much appreciate the invite. We wish you all a great race!!!!"
Prior to Country House's retirement, the most recent Derby winner to bypass the Preakness was Grindstone, who suffered a leg fracture in its 1996 winning effort. According to Paulick Report, only three other Kentucky Derby winners have skipped the Preakness and raced the same year, Spend a Buck (1985), Gato Del Sol (1982) and Tommy Lee (1959).