Kentucky has eight top-100 players in the NBA, four in the top 25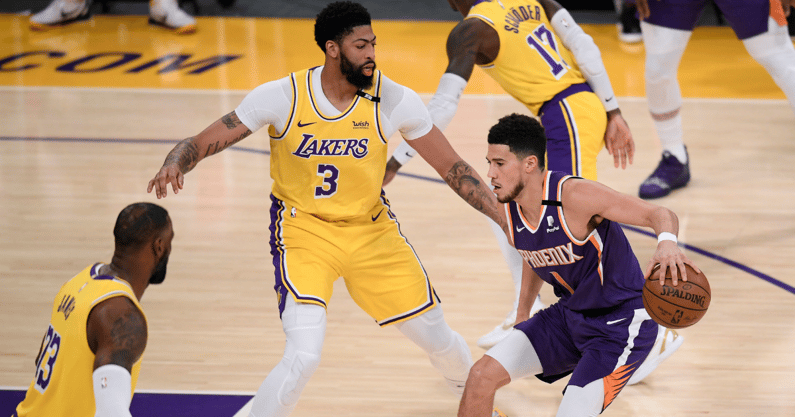 ESPN's NBArank countdown for the upcoming 2021-22 season is now complete, and as expected, it's loaded with former Kentucky stars.
In the ranking of the top 100 players in the league, former Wildcats make up eight spots, including four in the top 25, two in the top 20, and one in the top ten.
UK's highest-ranked representative? Anthony Davis at No. 9.
"When Davis was at his best in a Lakers uniform, dominating the bubble en route to the 2020 NBA title, he played close to 60% of his minutes at center during that postseason run," ESPN's Dave McMenamin said of Davis. "L.A.'s net rating with Davis playing the 5 was a sublime plus-15.8. The Lakers went out and got Dwight Howard and DeAndre Jordan to man the middle alongside Davis for this upcoming season, but recent history has shown that AD thrives in that spot when it matters most.
"It will be on head coach Frank Vogel and his staff to know how much is too much for Davis down low without risking injury, as poor health sabotaged his 2020-21."
Next up? Devin Booker at No. 15.
"After the Suns took a 2-0 lead in the Finals, Booker's championship round was a mixed bag," McMenamin said. "He struggled mightily in Game 3, scoring 10 points on 3-for-14 shooting, followed that up with back-to-back 40-point outings in Games 4 and 5, and went 8-for-22 with six turnovers as Phoenix was eliminated in Game 6.
"Booker responded with a gold-medal summer in Tokyo, with the disappointment still fresh. Can he keep up his revenge tour by helping the Suns back to the mountaintop?"
Bam Adebayo is next up at No. 21
"The freshly minted gold medalist is still just 24 years old and remains one of the most intriguing players in the game," ESPN's Nick Friedell wrote. "Adebayo's length and talent set him apart and have cemented him as a core player for a Miami team that has championship aspirations. Adebayo must continue to elevate his offensive game as his strong defensive skills should continue to blossom with a bolstered Heat roster that features hard-nosed new additions in Kyle Lowry and P.J. Tucker."
To round out former Wildcats in the top 25 is Karl-Anthony Towns at No. 24 overall.
"The question surrounding Minnesota's hyper-talented big man has never been his offense," ESPN's Kirk Goldsberry wrote. "The simple reason Towns is not higher on this list lies on the other end of the court. Centers are the most important defensive players in the NBA right now, and Minnesota had one of the worst defenses in the league last year.
"Even with their All-Star big man on the floor, the Wolves posted a woeful defensive rating of 114.7 last year. Unless Towns and the Wolves can fix their defense, they will be in the lottery once again."
Check out the complete list of former Wildcats on the list below:
9. Anthony Davis
15. Devin Booker
21. Bam Adebayo
24. Karl-Anthony Towns
34. De'Aaron Fox
36. Shai Gilgeous-Alexander
42. Julius Randle
85. John Wall
While you're at it, see where the former UK standouts stack up against the rest of the top 25, headlined by Brooklyn's Kevin Durant at No. 1 overall:
Kevin Durant
Giannis Antetokounmpo
LeBron James
Luka Doncic
Stephen Curry
Nikola Jokic
Joel Embiid
Damiian Lillard
Anthony Davis
James Harden
Bradley Beal
Paul George
Chris Paul
Jayson Tatum
Devin Booker
Jimmy Butler
Trae Young
Donovan Mitchell
Khris Middleton
Kyrie Irving
Bam Adebayo
Jrue Holiday
Zion Williamson
Karl-Anthony Towns
Rudy Gobert
You can find ESPN's complete NBArank countdown here.