Kentucky embraces upcoming challenge against top-ranked Georgia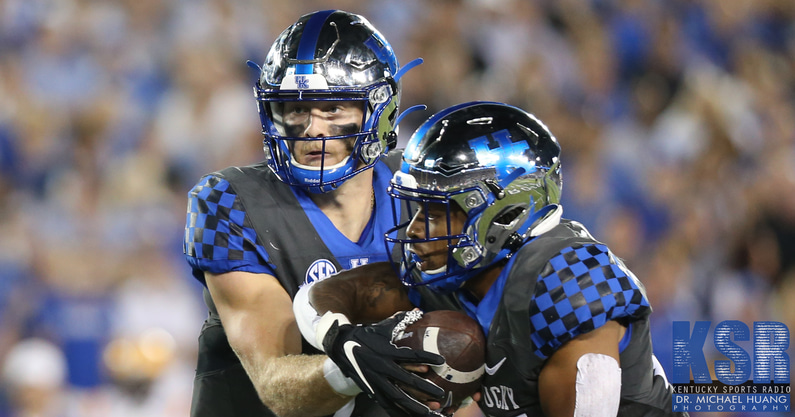 Chris Rodriguez took a little longer to leave the locker room to speak with the media following Saturday night's win over LSU. Like the reporters in the UK cafeteria, he was waiting to watch Texas A&M hit a game-winning field goal to upset No. 1 Alabama. The loss tees up Kentucky for a date with top-ranked Georgia next Saturday at Sanford Stadium.
"We know what we are playing for next weekend. We are ready," Rodriguez said minutes after rushing for 147 yards and scoring two touchdowns in the 42-21 victory over LSU.
"We got a 24-hour rule. It was a great win, but once the 24 hours is up, it's on to the next."
The next obstacle for the Wildcats is one of the final metaphorical doors Mark Stoops has yet to knock down as Kentucky's head coach. During Stoops' tenure the Wildcats have snapped losing streaks galore, defeating Florida and Tennessee at home and on the road, while creating winning streaks of their own against Missouri, South Carolina and Vanderbilt. Georgia is the last SEC East foe standing. The Wildcats will need a special performance to beat the Bulldogs for the first time since 2009.
Quick Turnaround for Kentucky
Chris Rodriguez referenced Kentucky's 24-hour rule, as did Stoops. DeAndre Square barely took 24 seconds before moving on to Georgia.
"As soon as I sat in the locker room, I was already thinking about Georgia," Square said shortly after the game. "I don't know how much time I have here left and I don't know if it's the last chance so it's a very important week. I'm already thinking about it."
Even though "it feels good to be 6-0," Kentucky has bigger dreams than bowl eligibility. The Wildcats have talked about playing for an SEC Championship in Atlanta for a long time. That was not lip-service. In 2018 the Cats were close to knocking down that door. An SEC Eastern Division Championship was at stake, yet Georgia had its way with UK in a 34-17 win in Lexington.
"I feel like we had a nice amount of star power, but I don't feel like we were ready for the moment," said the senior linebacker who was a freshman on the 2018 team. "I feel like we'll be ready for the moment. It's a big week. Guys are ready. We've been ready since the season started to attack everyday. I feel like we got a good bunch. We trust each other… I love my boys."
The first step to knocking down the Georgia door is taken Monday.
"They know. Punch the clock on Monday," said Stoops. "They need to rest up, heal up. Get some treatment and be ready to go for work."
Confidence at the Right Time for the Kentucky Offense
The Wildcats' offense clicked at the perfect time. Kentucky had 475 yards in a 42-point performance against LSU. Will Levis appears to be hitting his stride after an early-season slump, giving the Kentucky quarterback much-needed confidence before they face the Bulldog buzzsaw.
Georgia has the best defense in all of college football. The Dawgs' first team defense did not allow a touchdown until this afternoon. Scoring points between the hedges will be a daunting task, one Kentucky welcomes.
"It's awesome. This is why I came here," said Levis. "This is why you come to the SEC. It's the stuff you dream of when you make decisions like that. It's one of the environments that you think of when you think SEC football, at Sanford Stadium in Athens. I'm really excited to go down there and play the best team in the country. We're going to have a good week at practice. Hopefully we can find some ways to get the ball moving and get some points on the board against them."
Rodriguez remembers moving the ball against his home state school two years ago in a soggy Sanford Stadium. He also remembers picking up 5.4 yards per carry against the Dawgs last season. The SEC's leading rusher knows exactly what's in store for Saturday's marquee SEC matchup on CBS.
"I know you remember last year. Run pissed off, that's all I'm going to do," he said. "We know what we gotta do to win."