Kentucky fans can thank Tyler Hansbrough for getting John Wall to Kentucky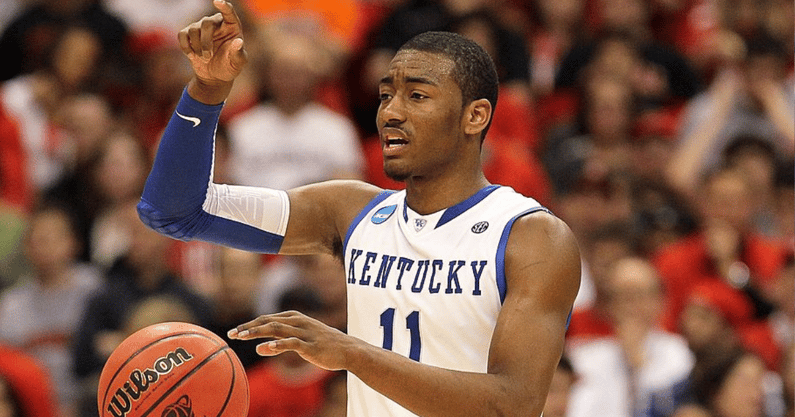 John Calipari's biggest superstar at Kentucky may have never stepped foot on campus in Lexington, if not for another superstar's misstep in Chapel Hill. John Wall recently said he wanted to go to North Carolina, until he had a fateful interaction with Tyler Hansbrough.
The former Kentucky superstar relived some of his recruitment with former North Carolina Theo Pinson on the Run Your Race podcast. While dishing with the former Tar Heel, the Raleigh native admitted he wanted to go to play college ball closer to home, but, "They ****** it up."
They is more specifically Tyler Hansbrough.
Hansbrough was college basketball royalty in 2009. The reigning National Player of the Year was the sport's biggest star as the Tar Heels pursued a National Championship. Naturally, the No. 1 high school player wanted to meet the No. 1 college basketball player during a visit to North Carolina.
"I go on the visit," Wall said. "Ty Lawson and them are there. Tyler Hansborough got his own section — him and his homeboys. I'm the recruit, I walk up and say 'what up.' He said 'I don't talk to recruits.' I was like '**** you, I ain't coming here.' That ****** it up right there."
Wall described North Carolina as a "dream school." More importantly, it was close to where his mother lived in Raleigh, who had recently suffered a brain aneurysm.
"They was the only one that could've gotten me to not play for Coach Cal," Wall said. Thanks to Hansbrough, it didn't happen.
Watch the entire clip below, and don't worry, the bad words are bleeped out.
Tyler Hansbrough, now an analyst that appears on the Field of 68 after a seven-year NBA career, disputes the story John Wall shared. You'll never believe which angle he took.
As is the case with most of these stories, the truth probably lies somewhere in the middle. There's no way Tyler Hansbrough recalls this interaction. He was probably introduced to hundreds of recruits over four years at North Carolina. Does he remember all of them? Of course not. But is one bad interaction the reason why John Wall ended up at Kentucky? No. Roy Williams was always lukewarm on Wall and the circus that surrounded him. John Calipari went all-in and had the perfect script for Wall to succeed.
Nevertheless, it's a fun story to turn back the clock and relive that rivalry between the two schools that used to play annually. Hansbrough put it on Billy G's final squad, while John Wall got revenge one year later. Now feels like the perfect time to play the hits.