The Kentucky fan's guide to the 2022 Nike Peach Jam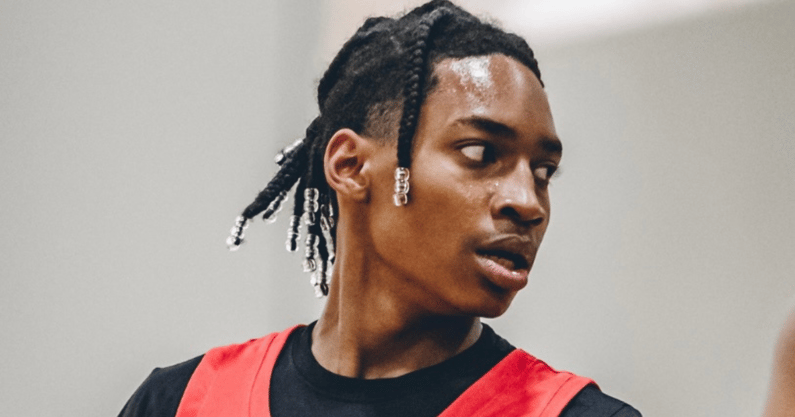 The highlight of the grassroots basketball season is off and running. On Sunday morning, the 2022 Nike Peach Jam officially got underway down in North Augusta, SC. This event is the culmination of the AAU summer circuit and will feature loads of the top talents that high school hoops have to offer.
Naturally, plenty of the prospects involved are being recruited by the Kentucky Wildcats. In fact, UK has a class of 2023 commit, Robert Dillingham, in South Carolina competing for the Peach Jam championship. The Wildcat coaching staff will surely make a few stops for the week-long event, which runs until Sunday, July 24.
But Dillingham isn't the only target the Kentucky staff will have their eyes on. A group of '23 prospects, in particular, are of the utmost importance with multiple decisions potentially coming over the next couple of weeks. Then we've also got the many '24 recruits looking to find their way onto UK's radar. A handful of them have already done so in the form of publicized offers, but there are even more that fans of the Big Blue Nation should be keeping a close eye on.
Below is KSR's complete guide for Kentucky fans interested in watching Peach Jam. All games will be streamed live through this link. Here, we'll be talking about all of the UK targets along with when they'll be playing and against which team. Let's dive right in.
Class of 2023 targets
All rankings are courtesy of the On3 Consensus.
DJ Wagner (NJ Scholars)
5-star, No. 2 overall; No. 1 CG
The recruitment of DJ Wagner is the biggest storyline of the offseason. Will he pick Kentucky or Louisville? The prized prospect has serious ties to both programs with both sides claiming to be the leader at some point in the process. A decision isn't expected to come from Wagner at Peach Jam, but all eyes (and ears) will be focused on anything he does or says this week.
Robert Dillingham (Team CP3) Kentucky commit
5-star, No. 3 overall; No. 1 PG
The lone Kentucky commit at Peach Jam this week, Robert Dillingham will look to cap off his summer with a Peach Jam title. Team CP3 is sitting on an 11-8 overall record, which is third-best at this point in the D Division. Mark all of his games on your calendar.
KJ Evans (Team Durant)
5-star, No. 4 overall; No. 2 PF
Kentucky might not be in as hot pursuit of KJ Evans as they were a few months ago, but the 6-foot-9 stretch forward is always an intriguing (and sometimes frustrating) watch. You never know exactly which version of Evans you'll see on any given game — the one who looks like a five-star or the one who looks two years away from being two years away. Arizona has established itself as the overwhelming frontrunner for Evans.
Ron Holland (Drive Nation)
5-star, No. 5 overall; No. 3 PF
The Kentucky buzz surrounding Ron Holland peaked following his official visit to Lexington and subsequent scholarship offer. However, since then, the noise has died down a bit with Arkansas and the NBA's G League Ignite making a push. That certainly doesn't mean Kentucky is out of the mix though, and we'll have close eyes on Holland throughout the week.
Justin Edwards (Team Final)
5-star, No. 10 overall; No. 2 SF
Once considered a Tennessee-lean, Justin Edwards is now trending towards the 'Cats as his recruitment winds down. A decision is expected the Monday after Peach Jam (July 25) and Kentucky appears to be the choice with eight days to go. He's arguably the top remaining wing prospect on the board.
Aaron Bradshaw (NJ Scholars)
5-star, No. 17 overall; No. 2 C
A couple of weeks ago, it felt inevitable that Aaron Bradshaw would commit to Kentucky. However, that momentum has hit a snag, although UK is still in good shape with Louisville continuing to lurk. Bradshaw's mother has put a brief pause on the recruitment to ensure that her son is evaluating all of his options. It's up in the air as to when he might make his college decision or if the G League will make a move — which could reopen his process entirely.
Class of 2024 targets
All rankings are courtesy of the On3 Consensus. Prospects not playing up an age group in U17 will be marked as such.
Tre Johnson (Team Griffin) Offered by UK
5-star, No. 2 overall; No. 2 SG
Arguably the top overall rising junior in the country, Tre Johnson was one of the first to publicize a scholarship from Kentucky once the contact period opened up on June 15. He's one I wouldn't be worried about not holding a "real" offer from the 'Cats. He's up there with fellow five-star Ian Jackson as the class' premier talents. Johnson will be one to watch this week.
Naasir Cunningham (NY Renaissance)
5-star, No. 3 overall; No. 1 SF
It's unclear right now what the level of contact is between Kentucky and Naasir Cunningham, but the two sides have been linked to each other in the past. He's also been linked to the likes of Duke and Texas. Cunningham has committed himself to the Overtime Elite league for the remainder of his high school tenure but expects to retain his college eligibility. He'll be playing up a year for the NY Rens this week.
Trentyn Flowers (Team Durant)
5-star, No. 5 overall; No. 3 SF
Teaming up with KJ Evans on Team Durant, Trentyn Flowers has shown plenty of flashes as a five-star talent this year playing up at the U17 level. Flowers doesn't hold an offer from the 'Cats but has said previously he's being recruited by Blue Blood programs such as North Carolina and Duke, along with UK.
Elliot Cadeau (New Heights Lightning)
5-star, No. 7 overall; No. 1 PG
Considered the top overall pure point guard in the class, Elliot Cadeau has impressed at the U17 level for New Heights Lightning, but it's his fellow '24 teammate who is receiving the bulk of the Kentucky interest at this moment (which we'll talk about more in a moment).
Johnuel "Boogie" Fland (PSA Cardinals U16) Offered by UK
5-star, No. 8 overall; No. 2 PG
It was just a few days ago that Johnuel "Boogie" Fland announced an offer from Kentucky, not long after he helped power Team USA to a gold medal at the 2022 FIBA World Cup in Spain. He'll return to the states to play at Peach Jam for the PSA Cardinals U16 squad.
Karter Knox (Florida Rebels U16) Offered by UK
4-star, No. 11 overall; No. 4 SF
Karter Knox, the younger brother of former Kentucky forward Kevin Knox, joins Johnson and Isaiah Elohim as prospects who announced Kentucky offers not long after the contact period opened. He'll suit up for the Florida Rebels U16 program this week.
John Bol (Mokan Elite)
4-star, No. 17 overall; No. 1 C
Playing alongside '23 five-star Omaha Biliew, John Bol has looked rather comfortable as a 7-foot-2 center playing up in age. Kentucky has expressed early interest, although it's yet to be seen how serious it is right now. Regardless, Bol is a fun watch and an intriguing prospect in general.
Amier Ali (Houston Hoops)
4-star, No. 27 overall; No. 9 SF
It's unclear if Amier Ali's publicized Kentucky offer is a take or not for the 'Cats, but there's no denying his microwave-like scoring abilities. He's been playing up an age group all year, which has shown at times, but Ali will continue to be a player that UK keeps an eye on.
Yves Missi (PSA Cardinals U16)
4-star, No. 33 overall; No. 5 C
Another U16 target, Yves Missi has seen a significant rise in his stock in recent months, jumping all the way to No. 6 overall in On3's individual rankings. Kansas, Michigan, Ohio State, and Indiana have all gotten involved already but Kentucky has shown interest. Missi was one of the stars at the Pangos All-American Camp in June, indicating he's capable of thriving against all levels of competition.
Tahaad Pettiford (New Heights Lightning) Offered by UK
4-star, No. 37 overall; No. 5 PG
It was roughly an hour after news broke of Johnuel "Boogie" Fland's Kentucky offer that Tahaad Pettiford announced his own. Teammates with Elliot Cadeau of the New Heights Lightning, Pettiford has outplayed his five-star counterpart throughout most of the circuit. He's been a big stock-riser over the last couple of months and will be someone all Kentucky fans should watch at least once this week.
2022 Peach Jam schedule for Kentucky fans
All start times are Eastern Standard Time.
Sunday, July 17
3:30 PM | Boo Williams vs. Drive Nation (Holland)
5:00 PM | Mokan Elite (Bol) vs. JL3 Elite
5:00 PM | LivOn-Fleur De Lis vs. Team Final (Edwards)
5:00 PM | Team Durant (Evans, Flowers) vs. All Ohio
6:30 PM | Team CP3 (Dillingham) vs. Indy Heat
6:30 PM | Houston Hoops (Ali) vs. Team Griffin (Johnson)
8:00 PM | Expressions Elite (Buzelis) vs. NJ Scholars (Bradshaw, Wagner)
8:00 PM | Team WhyNot vs. NY Rens (Cunningham)
8:00 PM | Oakland Soldiers vs. NH Lightning (Cadeau, Pettiford)
16U
12:30 PM | Florida Rebels (Knox) vs. The Skill Factory
12:30 PM | PSA Cardinals (Fland, Missi) vs. LivOn-Fleur De Lis
Monday, July 18
12:30 PM | UPlay Canada vs. Drive Nation (Holland)
5:00 PM | Team CP3 (Dillingham) vs. Team Final (Edwards)
5:00 PM | NH Lightning (Cadeau, Pettiford) vs. LivOn-Fleur De Lis
6:30 PM | Team Griffin (Johnson) vs. Expressions Elite (Buzelis)
6:30 PM | Team Melo/Brad Beal Elite winner vs. NJ Scholars (Bradshaw, Wagner)
8:00 PM | PSA Cardinals vs. Houston Hoops (Ali)
8:00 PM | Mokan Elite (Bol) vs. NY Rens (Cunningham)
8:00 PM | Team Durant (Evans, Flowers) vs. JL3 Elite
16U
3:30 PM | PSA Cardinals (Fland, Missi) vs. NY Rens
3:30 PM | Florida Rebels (Knox) vs. Team Takeover
Tuesday, July 19
11:00 AM | Seattle Rotary vs. Drive Nation (Holland)
5:00 PM | Oakland Soldiers vs. Team CP3 (Dillingham)
5:00 PM | Team Griffin (Johnson) vs. NJ Scholars (Bradshaw, Wagner)
5:00 PM | Team Melo/Brad Beal Elite winner vs. Houston Hoops (Ali)
6:30 PM | All Ohio vs. Mokan Elite (Bol)
6:30 PM | Team Durant (Evans, Flowers) vs. Team WhyNot
6:30 PM | JL3 Elite vs. NY Rens (Cunningham)
8:00 PM | Team Final (Edwards) vs. NH Lightning (Cadeau, Pettiford)
16U
2:00 PM | Strive For Greatness vs. Florida Rebels (Knox)
2:00 PM | Mokan Elite vs. PSA Cardinals (Fland, Missi)
Wednesday, July 20
5:00 PM | Drive Nation (Holland) vs. Nightrydas Elite
6:30 PM | Mokan Elite (Bol) vs. Team WhyNot
6:30 PM | NJ Scholars (Bradshaw, Wagner) vs. PSA Cardinals
6:30 PM | LivOn-Fleur De Lis vs. Team CP3 (Dillingham)
6:30 PM | NY Rens (Cunningham) vs. Team Durant (Evans, Flowers)
8:00 PM | NH Lightning (Cadeau, Pettiford) vs. Indy Heat
8:00 PM | Team Griffin (Johnson) vs. Team Melo/Brad Beal Elite winner
8:00 PM | Expressions Elite (Buzelis) vs. Houston Hoops (Ali)
8:00 PM | Team Final (Edwards) vs. Oakland Soldiers
Thursday, July 21
12:30 PM | Brad Beal Elite/Team Melo loser vs. Drive Nation (Holland)
5:00 PM | Team Durant (Evans, Flowers) vs. Mokan Elite (Bol)
5:00 PM | All Ohio vs. NY Rens (Cunningham)
6:30 PM | NH Lightning (Cadeau, Pettiford) vs. Team CP3 (Dillingham)
8:00 PM | Team Final (Edwards) vs. Indy Heat
8:00 PM | NJ Scholars (Bradshaw, Wagner) vs. Houston Hoops (Ali)
8:00 PM | Team Griffin (Johnson) vs. PSA Cardinals
16U
2:00 PM | Team CP3 vs. Florida Rebels (Knox)
2:00 PM | Team Final vs. PSA Cardinals (Fland, Missi)
Friday, July 22
9:30 AM | Drive Nation (Holland) vs. Team United
Saturday, July 23
12:30 PM | Drive Nation (Holland) vs. Mac Irvin Fire
5:00 PM | Peach Jam Championship – W1 vs. W2
6:30 PM | Peach Jam Championship – W3 vs. W4
Sunday, July 24 (Championship Game)
3:30 PM | W5 vs. W6