Kentucky FB moves up to No. 12 in Coaches Poll after bye week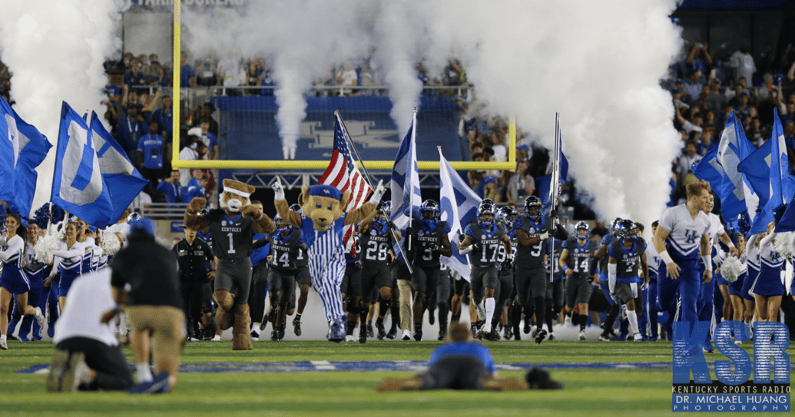 With the lone bye week of the 2021 season now in the books, Kentucky will enter the back half of the schedule ranked No. 12 overall in the latest Coaches Poll. The Football 'Cats entered the bye week ranked No. 14 following the first loss of the season to No. 1 Georgia, moving up two spots despite not playing.
Late Saturday night, ESPN released its updated Power Rankings, where Kentucky stayed at No. 14.
Kentucky will kick off the second half of the season on the road this Saturday at 7 p.m. EST on the SEC Network, heading down to Starkville for a critical matchup against the Mississippi State Bulldogs (4-3). UK has not beaten MSU on the road since 2008, losing the last five games to the home Bulldogs.
Coaches Poll Top 25
Georgia
Cincinnati (+1)
Alabama (+1)
Oklahoma (-2)
Ohio State
Michigan
Michigan State
Oregon (+2)
Ole Miss (+3)
Iowa (+1)
Notre Dame (+2)
Kentucky (+2)
Wake Forest (+2)
Texas A&M (+3)
Oklahoma State (-6)
Southern Methodist (+3)
Penn State (-9)
Baylor (+2)
Pittsburgh (+4)
San Diego State (+1)
Auburn (+1)
Texas-San Antonio (+3)
Iowa State (NR)
Coastal Carolina (-8)
N.C. State (-7)
Schools dropped out: No. 24 Clemson.
Schools receiving votes: UL Lafayette 42; Brigham Young 42; Arkansas 41; Houston 27; Arizona State 27; Virginia 23; Oregon State 13; Florida 13; Fresno State 10; Air Force 9; Appalachian State 5; Texas 3; Liberty 3; Utah 1