Kentucky FB recruits receive bumps in On3's updated player rankings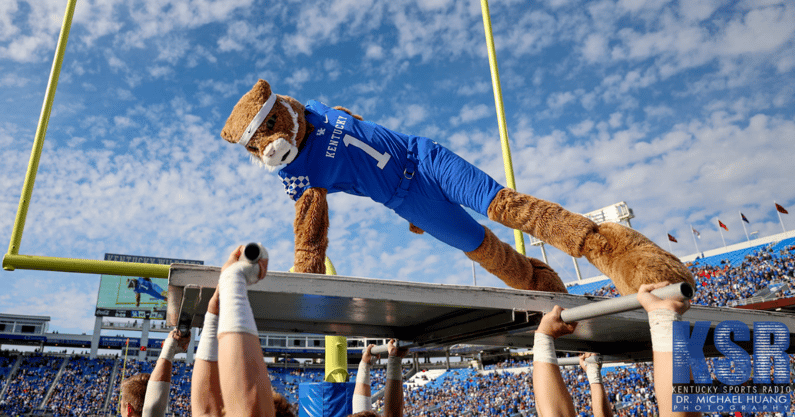 A couple of Kentucky Football's incoming recruits have seen their stock rise considerably during their senior high school seasons. Our friends over at On3 believe so, too.
On Monday morning, On3 updated its class of 2022 national football Top 300 player rankings, and the Wildcats were prominently featured. Offensive lineman Kiyaunta Goodwin, the prize of Kentucky's recruiting class, is still one of the best in the country, staying at No. 16 overall. Most notably, however, was the significant rise for offensive lineman Nikolas Hall, who jumped all the way up to No. 91 overall after not previously being ranked.
Hall, a legacy recruit out of Texas, is now considered a four-star prospect and a top-10 offensive tackle in the nation. The 6-foot-6, 310-pounder is also now the 'Cats second-best commit for 2022. Watch his film and it won't take you long to understand why.
Goodwin and Hall weren't the only two future Kentucky players to crack the Top 300, though. EDGE rusher Tyreese Fearbry remained among the bunch, coming in at No. 147 and the 14th best at his position. Wildcat cornerback Alex Afari also made his debut in the On300, coming in at No. 279 and top 10 at his position in the nation.
Kentucky wide receiver commit and Lexington native Dane Key was dropped from the On300, but he is still considered a consensus Top 300 recruit.
UK commits in On300
Kentucky currently has 17 hard commits, ranking them No. 15 in the country, according to On3.
Kiyaunta Goodwin No. 16 | 6-8, 325-pound OT (5-star)
Nikolas Hall No. 91 | 6-6, 310-pound OT (4-star)
Tyreese Fearbry No. 147 | 6-5, 210-pound EDGE (4-star)
Alex Afari No. 279 | 6-2, 195-pound CB (4-star)
UK targets in On300
Barion Brown No. 23 | 6-1, 175-pound WR (5-star)
Davison Igbinosun No. 127 | 6-2, 170-pound S (4-star)
Deone Walker No. 245 | 6-6, 360-pound DL (4-star)