Ranking Kentucky's Final Regular-Season Games By Difficulty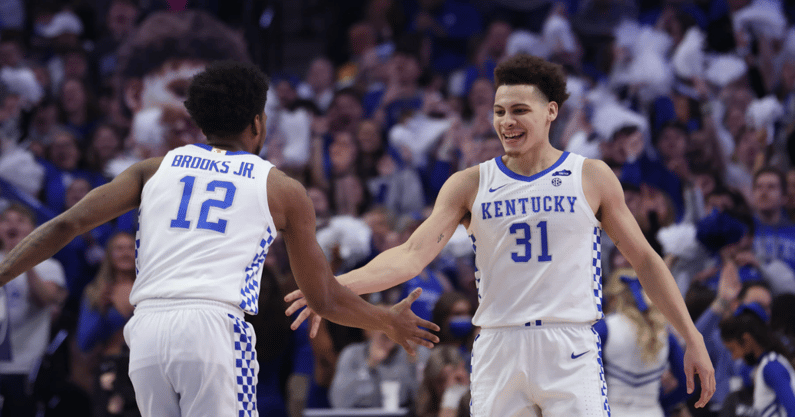 It's hard to believe there are only five games left in the regular season. All but one are in Quad 1, meaning the Cats have ample opportunity to boost their NCAA Tournament resume before the SEC Tournament.
"Our schedule to finish the year, we've got five games and all of them are ridiculously tough," John Calipari said on his radio show last night. "Gonna be hard to win, I don't care if at home or on the road. These teams play out of their minds. We don't get a game where a team doesn't play well; we don't."
How ridiculously tough are they? News is slow today, so I ranked the five remaining games in order of difficulty. I doubt No. 1 will surprise you.
1. at Arkansas (Sat., Feb 26, 2 p.m., CBS)
Arkansas took down No. 1 Auburn in Bud Walton Arena on Feb. 8. That's all you need to know. Even though they lost their next game out, falling at Alabama by one, the Razorbacks bounced back with a 76-57 win at Missouri on Tuesday. They're No. 22 in KenPom, No. 29 in the NET, and have the SEC's second-leading scorer in JD Notae, who averages 18.8 points per game. He had 28 in the upset of Auburn. Bud Walton will be rocking for the CBS Saturday afternoon showdown, making this easily the toughest game left on the schedule. If TyTy Washington sits out a few games to heal up, it'd be nice to have him back for this one.
KenPom Prediction: Kentucky 75, Arkansas 71
Sagarin Predictor: Kentucky -2
2. at Florida (Sat., March 5, 2 p.m., CBS)
Yes, Kentucky handled Florida with ease on Saturday at Rupp Arena. The return trip to Gainesville will inevitably be tougher. Florida's still on the bubble and desperately needs a big win for its resume. They've got three home games vs. ranked opponents left: No. 2 Auburn on Saturday, No. 23 Arkansas on Tuesday, and the Cats on March 5, the Gators' Senior Day. There are better opponents on this list (Alabama and LSU, certainly), but I'm putting the Florida game at No. 2 because it's on the road and they'll be desperate. Kentucky can't afford to be caught looking ahead to the postseason.
KenPom Prediction: Kentucky 73, Florida 66
Sagarin Predictor: Kentucky -5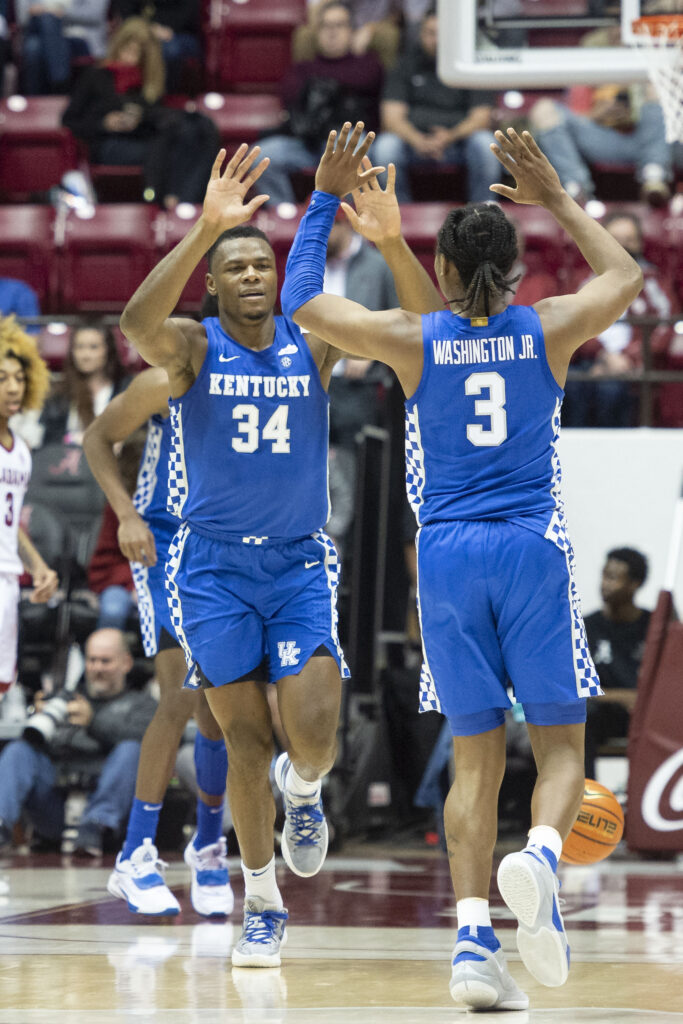 3. Alabama (Sat., Feb. 19, 1 p.m., CBS)
The Crimson Tide shot 3-30 from three in Kentucky's 66-55 win in Tuscaloosa. It's hard to imagine them shooting that poorly from the outside again. TyTy Washington had 15 points against the Crimson Tide. If he sits, the Cats will need to get that production elsewhere. Maybe it comes from Davion Mintz, who had seven points in the last outing vs. Alabama. Maybe it comes from Kellan Grady, who was quiet in the loss at Tennessee. Maybe it comes from Daimion Collins, who came out of nowhere to score 10 points vs. the Tide before. Alabama avoided an upset vs. Mississippi State last night; they'll be ready for revenge vs. the Cats, but I feel relatively comfortable about the outcome considering this one's in Rupp.
KenPom Prediction: Kentucky 83, Alabama 73
Sagarin Predictor: Kentucky -7
4. LSU (Wed., Feb. 23, 9 p.m., ESPN)
LSU's been on a roller coaster this season. The Tigers followed up the win over Kentucky in Baton Rouge with a win vs. Tennessee and a victory at Florida. Then they lost six of their next seven, including a 75-66 loss at Vanderbilt. LSU seems to be back on track, winning their last three, but their inconsistency this season is yet another reason I don't think the Cats will have too much trouble exacting some revenge next week at Rupp.
KenPom Prediction: Kentucky 73, LSU 64
Sagarin Predictor: Kentucky -5
5. Ole Miss (Tues., March 1, 7 p.m., ESPN/2)
Ole Miss is not a good basketball team. The Rebel Black Bear Landsharks are 3-10 in the SEC and currently riding a four-game losing streak. They're No. 108 in KenPom and No. 114 in the NET, meaning this game falls in Quad 3 on Kentucky's team sheet. If it was in Oxford, I'd be slightly concerned due to the "Everybody's Super Bowl" factor, but in Rupp on Senior Night? Cats got this.
KenPom Prediction: Kentucky 78, Ole Miss 60
Sagarin Predictor: Kentucky -14.5