Kentucky No. 39 in the first NET Rankings of the season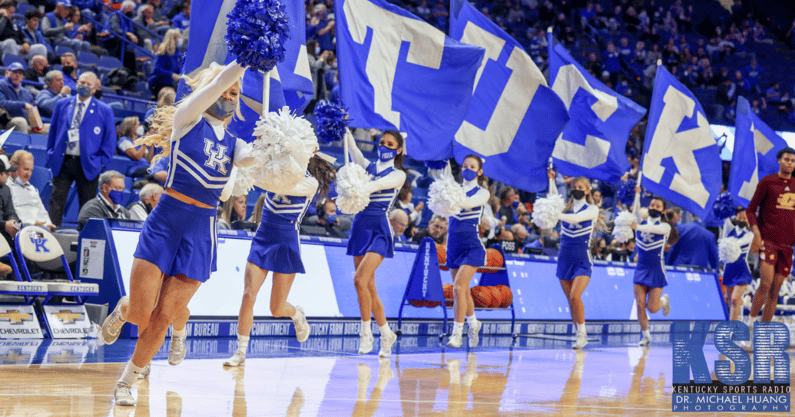 It's the most wonderful time of the year…the NET Rankings are back! This morning, the first edition of the NET Rankings, the NCAA's primary sorting tool for evaluating teams for the tournament, of the 2021-22 season dropped. As you might expect, the NET is not impressed by Kentucky's schedule thus far. The Cats are No. 39 in the initial rankings, which is behind five SEC teams: LSU (2), Tennessee (11), Alabama (15), Auburn (16), and Florida (22). Thankfully, there's plenty of room for growth. Let's dive in.
NET Top 25 – December 5
Purdue
LSU
Arizona
Houston
Villanova
Baylor
Southern California
Gonzaga
Iowa
Duke
Tennessee
Wyoming
UConn
Kansas
Alabama
Auburn
Texas
Wisconsin
Michigan State
Iowa State
Seton Hall
Florida
Wagner
BYU
Loyola Chicago
NET changes for the 2021-22 season
This is the fourth season the NCAA has used the NET Rankings as its primary metric to evaluate the strength of teams' wins and losses. This year, the formula has been tweaked. From now on, the NET will only use two components, adjusted net efficiency rating and Team Value Index (TVI), which is a result-based feature that rewards teams for beating quality opponents, particularly away from home. Win percentage, adjusted win percentage, and scoring margin are no longer used in the NET rankings.
Kentucky's First Team Sheet
Why is Kentucky so low? Look no further than the schedule. Thus far, Kentucky's average opponent's NET ranking is 249. For perspective, there are 358 teams in Division I. So, not great. The Cats have only played one Quad 1 game, vs. Duke, and FIVE Quad 4 games. Kentucky's most impressive win, vs. Ohio, is in Quad 3.
That's about to change. As you can see below, the Cats have plenty of chances to improve their standing. The game vs. Ohio State on Dec. 18 is Kentucky's next Quad 1 opportunity. Tomorrow night's game vs. Southern is Quad 4, Saturday's game at Notre Dame Quad 3. The SEC schedule is riddled with Quad 1 games.
Here's a look at the Team Sheet:
Quad 1: 0-1
Home: 1-30, Neutral: 1-50, Away: 1-75
| | | | | |
| --- | --- | --- | --- | --- |
| NET Rank | Date | Opponent | In Conference | Result |
| 2 | 01/04/2022 | @ LSU | Y | |
| 2 | 02/23/2022 | LSU | Y | |
| 10 | 11/09/2021 | Duke (@ New York, NY) | | L 71-79 |
| 11 | 02/15/2022 | @ Tennessee | Y | |
| 11 | 01/15/2022 | Tennessee | Y | |
| 14 | 01/29/2022 | @ Kansas | | |
| 15 | 02/05/2022 | @ Alabama | Y | |
| 15 | 02/19/2022 | Alabama | Y | |
| 16 | 01/22/2022 | @ Auburn | Y | |
| 22 | 03/05/2022 | @ Florida | Y | |
| 22 | 02/12/2022 | Florida | Y | |
| 28 | 12/18/2021 | Ohio State (@ Las Vegas, NV) | | |
| 44 | 02/26/2022 | @ Arkansas | Y | |
| 58 | 01/19/2022 | @ Texas A&M | Y | |
Quad 2: 0-0
Home: 31-75, Neutral: 51-100, Away: 76-135
| | | | | |
| --- | --- | --- | --- | --- |
| NET Rank | Date | Opponent | In Conference | Result |
| 49 | 01/25/2022 | Mississippi St. | Y | |
| 53 | 12/22/2021 | Louisville | | |
| 84 | 01/11/2022 | @ Vanderbilt | Y | |
| 122 | 02/08/2022 | @ South Carolina | Y | |
Quad 3: 1-0
Home: 76-160, Neutral: 101-200, Away: 136-240
| | | | | |
| --- | --- | --- | --- | --- |
| NET Rank | Date | Opponent | In Conference | Result |
| 84 | 02/02/2022 | Vanderbilt | Y | |
| 86 | 11/19/2021 | Ohio | | W 77-59 |
| 126 | 03/01/2022 | Ole Miss | Y | |
| 157 | 12/11/2021 | @ Notre Dame | | |
Quad 4: 5-0
Home: 161-357, Neutral: 201-357, Away: 241-357
| | | | | |
| --- | --- | --- | --- | --- |
| NET Rank | Date | Opponent | In Conference | Result |
| 208 | 01/08/2022 |  Georgia | Y | |
| 255 | 12/07/2021 |  Southern U. | | |
| 270 | 12/31/2021 |  High Point | | |
| 278 | 12/29/2021 |  Missouri | Y | |
| 307 | 11/16/2021 |  Mount St. Mary's | | W 80-55 |
| 329 | 11/26/2021 |  North Florida | | W 86-52 |
| 334 | 11/12/2021 |  Robert Morris | | W 100-60 |
| 335 | 11/22/2021 |  Albany (NY) | | W 86-61 |
| 345 | 11/29/2021 |  Central Mich. | | W 85-57 |