Kentucky Football 2022 Transfer Portal Tracker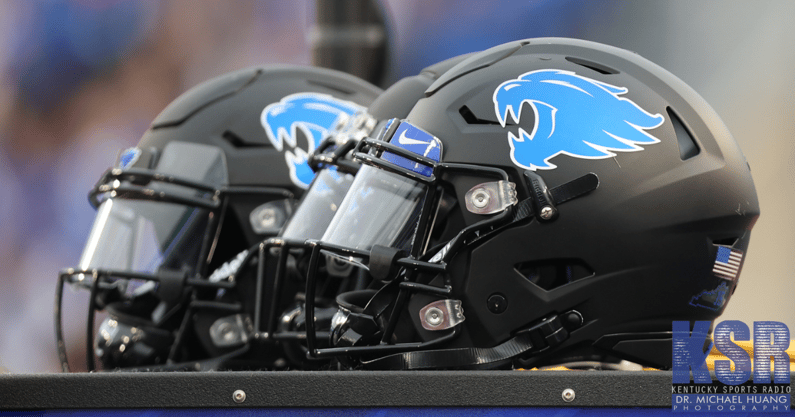 Welcome to the 2022 Kentucky football transfer portal tracker. Kentucky Sports Radio will continuously update this list throughout the offseason, sharing which players are transferring to and from Kentucky.
The transfer portal is not new to college athletics, but this year it's at a greater scale than ever before. Originally established in Oct. 2018, the new calendar cycle within the portal begins each August. There are now transfer portal windows for players to enter, opening Dec. 5 for 45 days until it closes on Jan. 18, 2023. Players can enter the portal and transfer to another school, or withdraw their name and return. Each college athlete now gets one free transfer and retains eligibility for the following year.
Last year about a dozen Kentucky football players left via the portal, with eight new arrivals for the 2022 season. KSR expects those numbers to grow this offseason.
---
Jan. 15: And then there were Five
While you were celebrating Tennessee's win over Kentucky, Kobi Albert announced his next destination. The former blue chip safety is staying in the SEC. Next year Albert will be playing in Zach Arnett's 3-3-5 defense at Mississippi State. He's the second intra-conference transfer from Kentucky this offseason, following Justin Rogers. Albert feels like a great scheme fit at Miss. State. I expect him to contribute, and possibly start, when the Wildcats visit Starkville in 2023.
Following Albert's announcement, there are only five former Kentucky Wildcats still looking for a new home: Michael Drennen, Rahsaan Lewis, Tae Tae Crumes, Adrian Huey and Kiyaunta Goodwin. The former five-star offensive tackle was spotted on Louisville's campus over the weekend.
Friday was the final day for students to enroll at UK for the spring semester. Wednesday, Jan. 18 is the final day college football players can enter the transfer portal until May.
---
Jan. 10: Kentucky is probably done… for now
School is in session at the University of Kentucky. Keeshawn Silver concluded his visit to Kentucky the day before classes began for the spring semester. Friday is the last day new students can enroll. Even though some other SEC schools will continue hosting visitors this weekend, it defeats the point for Mark Stoops if they can't enroll right away at UK. While the Cats could still seek out another offensive lineman or a quarterback, it's unlikely we'll hear any news on the transfer portal acquisition front until after spring practice.
---
Jan. 9: Multiple Visits and Beau Allen Finds a New Home
Former Wildcats are touring the country with just eight days left until the transfer portal window closes. Kavosiey Smoke visited Colorado, Beau Allen announced a transfer to Georgia Southern and Justin Rogers continued his tour of the SEC. After visiting LSU and Auburn, he teased a "secret visit" in an interview with an Auburn recruiting website. That visit will be to Alabama this weekend, reports On3's Bama Insider.
---
Jan. 8: Welcome Keeshawn Silver!
Without much warning, Kentucky hosted a five-star replacement for Justin Rogers. We learned that North Carolina's Keeshawn Silver visited over the weekend at about 1 pm on Sunday. Eight hours later he publicly committed to Kentucky.
A 6-foot-4, 315-pound defensive lineman from Rocky Mount, North Carolina, Silver was the No. 23 overall player in the 2021 recruiting class. Still a raw talent with physical traits, he picked up just four tackles in six games played.
"We are very excited about the addition of Keeshawn to our program," Stoops said. "He has unlimited and extremely high potential. He also adds great size and depth across our front line and we can't wait to get him here and get to work."
Also a high school basketball and track star, "Big Kountry" was raised by his grandmother, Queen Silver, as his mother, Cynthia, passed award during his childhood.
---
Jan. 7: Another Surprising Loss
Kobi Albert was a late flip in the 2022. The Cats snatched him from Auburn even after Albert's primary recruiter, Jon Sumrall, left for Troy. The former four-star prospect played on special teams in almost every game as a true freshman, but still decided to take his talents elsewhere. It's a shame the BBN will not get to see him develop, but such is life in the new world of college football. Ole Miss and Mississippi State are the first schools to extend Albert scholarship offers.
---
Jan 3: Justin Rogers Surprisingly Hops into the Portal
We thought the Wildcats were finished making moves in the transfer portal. Justin Rogers, once the highest-ranked UK signee of the internet era, threw his name into the ring on Tuesday. NIL reportedly played a role in his decision. A three-year player, a few powerhouse programs immediately emerged as contenders: LSU, Georgia, Colorado, Miami, Oregon, Michigan State and Louisville. He could officially visit LSU this weekend as the open recruiting period returns.
---
Dec. 21: Former Tight End Finds a New Home
Like a few other former Wildcats, Keaton Upshaw will be taking his talents to the Sun Belt. The tight end from Lima, OH will play at Georgia Southern next year.
---
Dec. 20: Big Additions Become Official
Tuesday morning the glass shattered starting the Leary 3:16 era of Kentucky football. NC State quarterback Devin Leary announced he will be taking his talents to the BBN next fall, the biggest domino yet to fall in the transfer portal. Shortly after Leary pledged his allegiance to Kentucky, Vanderbilt running back Ray Davis followed. Let the good times roll and rejoice with the KSR crew on YouTube.
The University of Kentucky started the Signing Day rollout of new players the night prior, beginning with Leary. Here's who is officially official.
Devin Leary
Tanner Bowles
Marques Cox
Jantzen Dunn
JQ Hardaway
Ray Davis
Off the Board: Dartmouth's Shane Cokes committed to Colorado, the second UK transfer portal target to choose to play for Coach Prime, following Kent State RT Savion Washington.
New Homes: Chris Lewis is having a reunion with Jon Sumrall at Troy and Chauncey Magwood is taking his talents to UCF. DeMarcus Harris will likely face off against Lewis in the Sun Belt as a member of the Marshall Thundering Herd.
---
Dec. 20: Transfer Portal Decisions May Come on Signing Day
In previous years, transfers typically announced their decision while visiting or as soon as they got home from campus. This is a whole new world. KSR has been told we may not hear the final big decisions until Wednesday. It could happen at any moment today, but I will not be holding my breath.
Even though it appears Ray Davis has been locked up for a while, we've heard the Vanderbilt running back wants to wait until the next quarterback is ready before announcing his commitment. Who will it be? KSR is still confident it will be Devin Leary. Obviously, things can change in the world of NIL, but Kentucky is the team to beat. Those two may not be the only transfer portal additions. Keep an eye on Dartmouth's Shane Cokes, a defensive lineman from nearby Dayton that visited Lexington earlier this month.
---
Dec. 19: The Waiting Game
Tiiiiiick, tick, tick, tiiiiiick, tick, tick
The wait is the hardest part. The BBN was expecting to hear from Ray Davis or Devin Leary — Luckett even put in a Kentucky prediction for the NC State quarterback — but all we got was this emoji Tweet.
We can also scratch one name off Kentucky's Big Board. The Wildcats reached out to Savion Washington when he initial entered the portal but it does not appear they ever got a visit. The former Kent State right tackle will play for Coach Prime at Colorado. The Cats could pursue another offensive tackle when the portal reopens after spring practice.
---
Dec. 18: Two Defensive Back Decisions
The Sunday started with a swing and a miss. The Wildcats got Khyree Jackson on campus but could not secure a commitment. The former top-ranked JUCO prospect that played for Alabama in the National Championship Game ultimately decided to go to Oregon.
A few hours later, the Wildcats received some good news when Jantzen Dunn announced he's coming home. The Bowling Green native and former four-star recruit transferred from Ohio State after two years in Columbus. He's bringing positional versatility to a spot that lost a pair of players this offseason.
Elsewhere, former Wildcat John Young found a new home. The Christian Academy of Louisville product will be taking his talents to Miami (OH). He's the first Kentucky football player to enter the transfer portal this offseason that's found a soft landing spot.
---
Dec. 17: More Transfer Portal Visitors
Quarterback: After officially visiting Kentucky early in the week, Devin Leary traveled to the Plains to check out Auburn. Initially, Coastal Carolina's Grayson McCall was expected to be in Alabama to visit with Hugh Freeze, but word on the street is an academic issue will prevent McCall from transferring until after the spring semester. While Leary checks out another SEC school, Kentucky is not sitting around idly. Wisconsin's Graham Mertz is in Lexington this weekend. One of the two quarterbacks will end up being a Wildcat. We should know by the start of the Early Signing Period on Wednesday.
Cornerback: Ohio State transfer and Bowling Green native Jantzen Dunn is officially visiting Kentucky this weekend. He could be the second potential cornerback addition this offseason. Even though the tea leaves looked like they were pointing Khyree Jackson to Kentucky, Justin Hopkins from On3's Scoop Duck has made a prediction for the Alabama transfer to go to Oregon.
---
Dec. 16: Kiyaunta Goodwin Departs
Kiyaunta Goodwin brought plenty of fan fare throughout his recruitment, but unlike some of his talented classmates, it did not immediately turn into production. Today the former five-star recruit entered his name into the transfer portal. He's the 11th Wildcat to leave the team this offseason.
Meanwhile, a player in the transfer portal revealed while on a visit to Kentucky that he'll announce his college decision this Sunday. Former four-star CB Khyree Jackson will pick either Kentucky or Oregon. Just connecting some dots, it feels like the Cats are going to add another big cornerback to the roster, one who played 50+ snaps in the National Championship Game last year.
---
Dec. 15: Kentucky Adds a Former 4-Star Cornerback
On the same day Kentucky lost a two-year starter at cornerback, they added a former four-star prospect from Cincinnati. JQ Hardaway almost committed to Kentucky out of high school, but the Wildcats were runner-up to the Bearcats for the No. 29 cornerback in America from Phenix City-Central (AL). Following Luke Fickell's departure, the freshman phenom joined Kentucky's talented 2022 classmates in Lexington. Including transfers, the '22 group could become something special.
---
Dec. 15: NIU transfer Marques Cox commits to Kentucky
The Big Blue Wall got a major piece for the 2023 season with the commitment of 6'6″ 310 lbs. left tackle Marques Cox. A five-year player for Northern Illinois, Cox will have just one remaining season of eligibility as a Super Senior. In his career, he has logged over 2,000 snaps at left tackle. Per PFF data, Cox has given up just three sacks in his career on 1,052 pass snaps.
At Kentucky, Cox can become a day-one starter at left tackle, allowing Kiyaunta Goodwin to continue to develop at his own pace and slide Kenneth Horsey back to his natural fit at offensive guard. A combination of Horsey, Jager Burton and Tanner Bowles is a formidable three for two guard positions. The one unknown variable is the health and stamina of Cox upon his return from injury.
In other transfer portal news, former Vanderbilt RB Re'Mahn "Ray" Davis says a decision is "coming soon," so we could be on commitment watch. Former NC State QB Devin Leary visited Kentucky's campus this week, and on Wednesday, Vince Marrow visited former Ohio State safety Jantzen Dunn, a Bowling Green native who entered the transfer portal on Tuesday. Cincinnati transfer cornerback J.Q. Hardaway was also on Kentucky's campus this past weekend for a visit.
---
Dec. 8: Tanner Bowles commits to Kentucky
For the first time this offseason, KSR's Transfer Portal Tracker is updating you on players leaving other schools to come to Kentucky. Glasgow native Tanner Bowles decided to return to his Old Kentucky Home after four seasons at Alabama. The 6-foot-5, 300-pound interior offensive lineman will add quality depth to a Big Blue Wall that needs it. Following Tashawn Manning and John Young's departure, Bowles could slide in right away and start at right guard.
Bowles shared that he made the decision after visiting Kentucky. There will be more this weekend. Northern Illinois offensive tackle Marques Cox is expected to be in Lexington for an official visit. Vanderbilt running back Ray Davis will also be in town as the Cats close in on the 1,000-yard rusher. Today the Wildcats offered another MAC offensive tackle, Savion Washington. He will be in Stillwater this weekend for an official visit to Oklahoma State, but tells KSR a visit to Kentucky "might be coming up" in the near future.
---
Dec. 6: Kentucky RB Departs
Year: Redshirt Sophomore (Class of 2020)
Hometown: Dublin, OH
Recruiting Ranking: 4-Star, No. 252, No. 46 WR
Michael Drennen brought plenty of potential to Lexington without production. Bouncing back and forth between wide receiver and running back, after the Cats force-fed him some carries in 2021, he did not play in 2022.
---
Dec. 5: Surprisingly Light Opening Day
When the new transfer portal windows were announced, I anticipated a day that would compare to National Signing Day. Of course, plenty of people hit the portal, but very little of it came as a surprise. There also were not a ton of commitments either. Most will take a day or two as to avoid any suspicion of tampering, even though back-channels have been working all across college football for months. A brief rundown of the events from Monday.
— John Young and Adrian Huey announced they will be leaving Lexington. Huey never played at Kentucky, but some will be disappointed the former four-star offensive lineman from Louisville could not find a fit on the Big Blue Wall. Hand up, I'm a big John Young fan (even though he went to CAL). This is ultimately the right move for all parties. I'm confident he'll find a college football home soon.
— Sunday night we told you to keep an eye on Ray Davis. Today the 1,000-yard rusher from Vanderbilt announced a scholarship offer from Kentucky. Right on schedule.
— Former Alabama cornerback Khyree Jackson announced he received an offer from Kentucky. Oregon and Penn State are also pursuing the former JUCO product.
— A TON of Alabama offensive linemen are in the portal. That entire room is getting flipped this offseason. I can't tell if it's because they aren't good enough for Eric Wolford, or they're trying to get away from him. Would be a real shame if the Cats got a good one out of it.
---
Dec. 2: Three More Wildcats Enter the Transfer Portal
Year: Redshirt Senior (Class of 2018)
Hometown: Lima, OH
Recruiting Ranking: 3-Star, No. 36 TE
Year: Redshirt Junior (Class of 2019)
Hometown: Louisville, KY
Recruiting Ranking: 3-Star, No. 96 WR Overall
The Butler High School product only caught one pass for 10 yards during his four years in Lexington. He is the 16th member of the class of 2019 to enter the transfer portal. Only four players from that class are still on the Kentucky football team.
Year: Redshirt Freshman (Class of 2021)
Hometown: Wetumpka, AL
Recruiting Ranking: 3-Star, No. 411 Overall
This one admittedly snuck by KSR. After hinting at it early in the week, Chris Lewis revealed on his Instagram account that he will in fact be entering the transfer portal when it opens Dec. 5. The fourth wide receiver to hop in the portal this offseason, Kentucky's exceptional recruiting in recent years at the position is pushing out others.
---
Dec. 1: Offensive AM Departures
Thursday morning two Wildcats that participated in Senior Day from Rich Scangarello's offense submitted their names into the transfer portal.
Year: Redshirt Senior (Class of 2018)
Hometown: Wetumpka, AL
Recruiting Ranking: 3-Star, No. 50 RB
The most accomplished player to enter the portal thus far, Smoke accumulated more than 1,500 yards over his five-year career at Kentucky. However, consistency and durability were never a strength for Smoke, who struggled to stay on the field at various points throughout his career. Beloved by the BBN, the running backs room is thinning, but this move has been expected for quite some time. He only had seven carries once Chris Rodriguez returned from his four-game suspension.
Rahsaan Lewis
Year: Redshirt Senior (Class of 2018)
Hometown: Orlando, FL
Recruiting Ranking: N/A
The son of Ray Lewis will be looking for his fourth college school in six years. His longest stay was for three years in Lexington after the walk-on began his career at UCF and FAU. He tallied his first career touchdown this fall against Mississippi State and made a memorable block to free up Wan'Dale Robinson's epic sprint down the sideline in the Citrus Bowl.
---
Nov. 30: KSR's Transfer Portal Preview
---
Nov. 28: Two Players Enter the Portal
Year: Sophomore (Class of 2021)
Hometown: Albany, GA
Recruiting Ranking: 3-Star, No. 82 WR
A high school quarterback, Magwood appeared in every game through his two-year Kentucky career. He caught his first pass against Tennessee, a 17-gain as a true freshman. As WR4 in 2022 he caught seven passes for 104 yards and a touchdown against Miami (OH).
Year: Junior (Class of 2019)
Hometown: Vero Beach, FL
Recruiting Ranking: 3-star, No. 209 WR
Harris had 30 receptions for 327 yards and a touchdown against Mississippi State in 2021. The veteran in the wide receivers room caught just four passes this fall, highlighted by a 58-yard gain on a screen pass against Youngstown State. He participated in Senior Day festivities ahead of the Louisville game. A redshirt in 2019, with the COVID-19 waiver he has two years of eligibility remaining.