Kentucky Football Countdown: 18 Days till Kickoff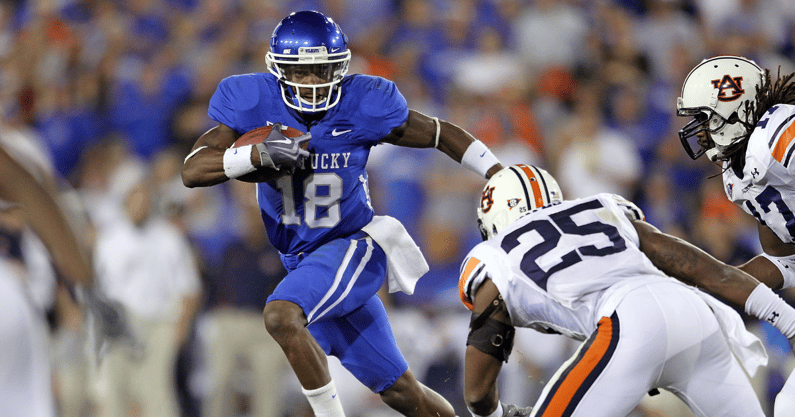 The Kentucky football countdown has reached a number of great significance in Lexington. No. 18 has been worn by some of the best athletes to ever wear blue and white for the Wildcats. This year true freshman wide receiver Brandon White will rock the iconic number. While we let the cake bake on the speedster's development, let's look back at the accomplishments of some of the best to ever wear No. 18.
Freddie Maggard
Before he was a podcasting extraordinaire, Freddie Maggard was a three-sport star for the Cumberland Redskins. A member of the Kentucky High School Hall of Fame, baseball actually might have been his best sport. Once upon a time he threw a no-hitter and hit three home runs against a top ten team in the state while the stands were filled with MLB scouts.
Fortunately for the BBN's sake, he chose to play quarterback Jerry Claiborne instead of taking his talents to the Major Leagues. In his first year as the starter, he led Kentucky to a 6-5 winning record, Claiborne's final season in Lexington. He finished his career ranked as a top ten passer in UK history with 2,566 yards.
This is my favorite photo of Freddie during his playing days, because I've seen that same look on his face countless times. Always quick to downplay his accomplishments, Freddie will forever be my favorite No. 18.
Jacob Tamme
The Danville native is the impetus for every Kentucky football fan's favorite offseason question, "Are they finally going to throw it to the tight ends this year?" In his senior season Jacob Tamme caught 56 passes for 619 yards and 6 touchdowns. Aside from James Whalen's All-American Air Raid campaign, 2007 was most prolific season ever by a UK tight end. Tamme helped Kentucky win back-to-back bowl games and in 2018 he was inducted into the UK Athletics Hall of Fame.
Randall Cobb
Before Lynn Bowden did it all, Randall Cobb was the original Kentucky football Swiss Army Knife. The Alcoa, Tn. native returned kicks, caught passes, played quarterback and ran the ball. In three seasons he collected 4,674 all-purpose yards. The statistics don't truly capture Cobb's greatness. The stats that really pop for Randall Cobb are in the win-loss column.
Cobb caught the game-winning touchdown pass to defeat South Carolina in 2010, Kentucky's first ever win over Steve Spurrier. He rushed for two touchdowns, including the go-ahead score, to defeat Georgia Between the Hedges in 2009. In that same season Cobb also scored the game-winner at Auburn with three minutes to play.
Boom Williams
Stanley "Boom" Williams lived up to his nickname at Kentucky. In three years the big play back tallied 2,511 yards, ranking ninth on the UK all-time rushing list. He saved the best for last, becoming Mark Stoops' first 1,000-yard rusher with 1,170 in 2016. Boom Williams averaged 6.91 yards per carry during his career, second only to Lynn Bowden. He tallied seven rushing touchdowns of 50 yards or more, three more than any other Wildcat, which includes a score on the first play ever at the New Commonwealth Stadium in 2015.