Kentucky Football Countdown: No. 74 David Wohlabaugh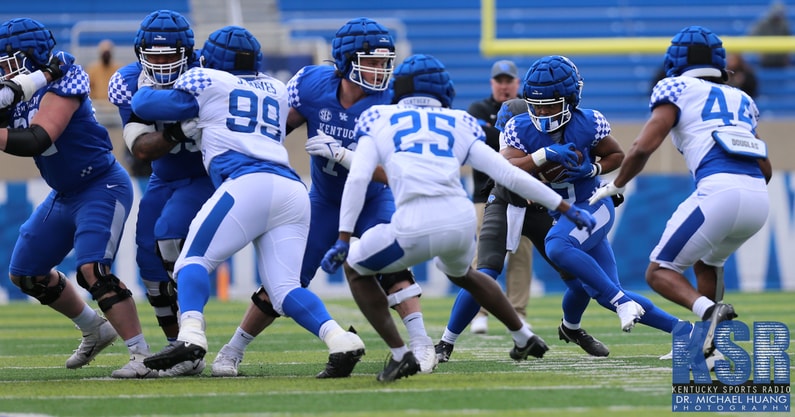 The Kentucky football team is only 74 days away from kicking off the 2022 season. Offensive lineman David Wohlabaugh doesn't get a ton of press, but No. 74 is going to play a significant role on the Big Blue Wall this fall.
About Wohlabaugh
David Wohlabaugh comes from a football family. His father, Dave, turned a successful collegiate career at Syracuse into nine years in the National Football League. He played in the Super Bowl with the New England Patriots, before signing with the Cleveland Browns to snap footballs to Tim Couch. David's older brother, Jack, recently wrapped up his career at Duke as an All-ACC honorable mention selection at center.
From the Cleveland, Ohio suburb of Stow, Wohlabaugh was a three-star recruit in the 2021 recruiting class. He enrolled early to participate in spring practice after earning All-State honors.
David Wohlabaugh Fun Fact
In addition to his accolades on the gridiron, David Wohlabaugh excelled on the ice. A two-year high school hockey letter-winner, Wohlabaugh was a head-hunter. His first love, the lessons he learned in hockey still help him on the gridiron.
2022 Forecast
David Wohlabaugh might be the only person on the Big Blue Wall that can play every position on the offensive line. He cross-trained at every spot as a redshirt freshman. This year he will prioritize left tackle, rotating in with Deon Buford, but he can also slide down to guard if need be.
Zach Yenser must replace two offensive tackles this fall. He needs more than two players to fill the two positions. Wohlabaugh will serve as the swing tackle, filling any gaps by Buford and Jeremy Flax. The redshirt freshman's versatility is a much-needed asset for the Big Blue Wall.