Kentucky Football Countdown: 30 days till kickoff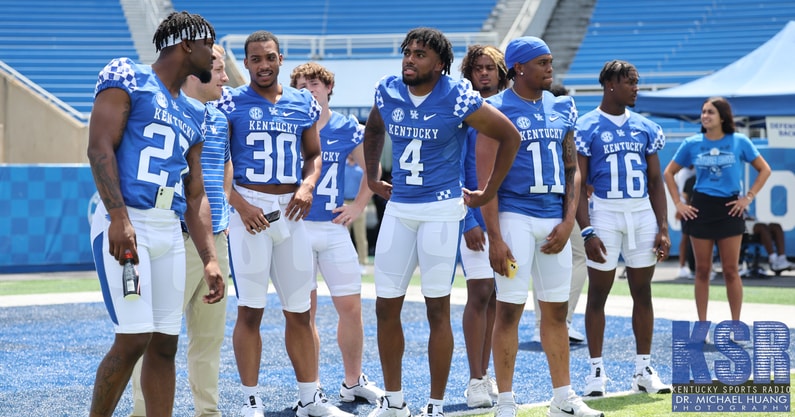 The Kentucky football season is almost 30 days away. Can you believe it? Let's continue the countdown to kickoff against Miami University, starting with a look at this year's No. 30, Taj Dodson.
Taj Dodson
Entering his fourth season on campus, injuries have prevented the defensive back from spending more time on the football field. In 2020 Taj Dodson missed six of 11 games with an injury and last season he was slow starting because of health issues. During his brief time on the field, he's flashed. As a redshirt freshman he had a crucial fumble recovery against Florida. Last year he tallied six tackles and a PBU, most near the season's end. The safety could be a valuable member of the rotation this fall. If he does not make moves during fall camp, he could get passed by underclassmen, like Jordan Lovett and Alex Afari.
Kentucky Football 30 Numbers
In 2021 Chris Rodriguez tallied four rushes of 30 yards or more. Only two SEC running backs had more.
On Sept. 30, 2007 Kentucky was ranked No. 8 in the AP Poll. My 16th birthday, it's the only time in the Wildcats have ever cracked the Top 10 of the AP Poll in my lifetime. Unfortunately, the Wildcats lost a few days later when they committed five turnovers in a Thursday night game at South Carolina.
Prior to World War II, there are a few bizarre Old-Time Kentucky Football Records. One is inconceivable. In 1934 Bert Johnson punted the ball 30 times against Washington & Lee. THIRTY punts in one game? Northwestern wishes they could punt that many footballs in one game.
The Thin Thirty
The 1962 football team gained notoriety and for all of the wrong reasons. In spite of a winning record as Bear Bryant's replacement, Kentucky squeezed Blanton Collier out in 1961. He was replaced by a former Bryant disciple, Charlie Bradshaw. To describe Bradshaw as a "hard ass" would do a disservice to hard-asses. Promising to field a team in peak physical condition, he ran his quad of 88 through a training program so rigorous that more than 50 players quit.
The leftovers became known as "The Thin Thirty." A book published in the late 90s featured a laundry list of salacious claims, from sex scandals and player mistreatment to point shaving. The '62 season was a wild ride that ended on a high when the Cats ended the season with a 12-10 win over Tennessee in Knoxville to cap off a 3-5-2 record.