Kentucky determined not to let one Georgia loss wreck special season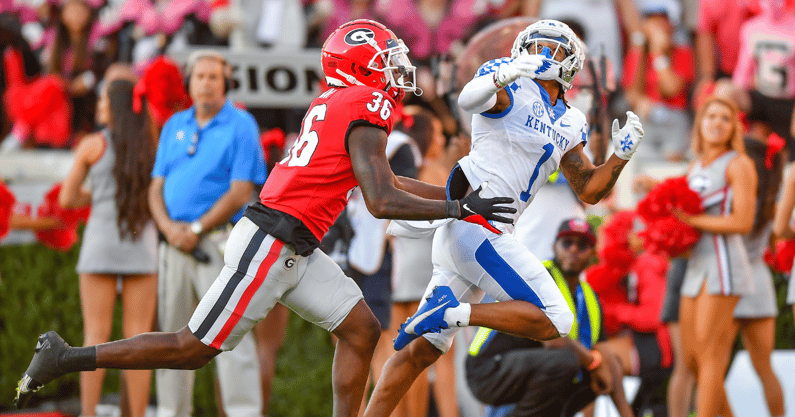 One Georgia loss can wreck a season, just ask Clemson and Arkansas. Mark Stoops does not foresee that future for his Kentucky football team.
"I really don't believe that will be the case. Our team knows we have a good football team. They know that we can compete and play better than we did today. They have a strong belief system. There's so many things we can do better. They know they belong and we have to regroup," Kentucky's head coach said after the game.
In a year where chaos seemingly reigns supreme, Georgia stands out as college football's superior team. The way in which they dominate opponents is traumatizing. D.J. Uiagalelei is still seeing ghosts from Clemson's week one loss. Arkansas is reeling from the Georgia loss, losing three straight since the Bulldogs sprinted out to 21-0 first quarter lead between the hedges.
Kentucky certainly took its lumps against the physical defense — just ask Izayah Cummings — but nobody has played Georgia better than the Wildcats, leaving room for fans to remain optimistic entering the final five games of the season.
The Wildcats had 249 total yards of offense, almost 50 more than Georgia's average. Will Levis completed 76% of his passes and threw for two touchdowns, one more than the Dawgs had previously allowed all year. Most importantly, when the game appeared to be getting out of hand, Kentucky did not give up. They picked themselves up off the mat, drove down the field and scored.
"We don't like losing. That's not something that our used to now," said Josh Paschal. "We're going to bounce back. The vibe in the locker room was that during this bye week we're going to work hard, we're going to heal our bodies up, but we're not comfortable with this loss. We're going to bounce back against Mississippi State and we're going to be hungrier team than before."
Even though the unbeaten season is over and the winning streak was snapped with the 30-13 Georgia loss, the Wildcats control their own destiny. A New Year's Six game and a ten or 11-win season remains on the table. No. 2 Iowa's loss to Purdue proves chaos remains supreme in college football. If Kentucky can regroup and continue to steadily improve, (almost) all of the BBN's wildest football dreams are still possible.
"Our team knows that we have a good football team," Stoops reiterated. "We have to get back and have good practices. We can't get too far ahead of us. On any given Saturday crazy things happen. It appeared to me there were some different things going on today as well. This is college football. It's chaos at times and we have to concentrate on ourselves, get rested a bit, but I'm not going to lay off them too far or too hard. We have to push through this. We have a chance to have a great team and do some special things."