Kentucky football expecting big group of visitors for 2023 Junior Day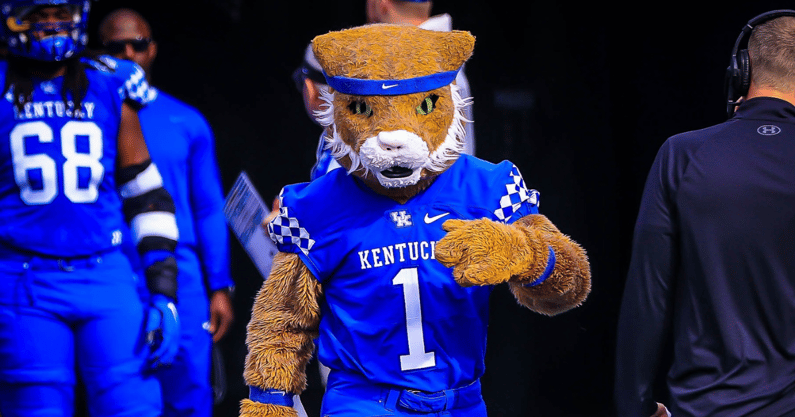 Saturday is going to be an important one for the Kentucky football coaching staff.
While National Signing Day for class of 2023 prospects is less than a week away (Feb. 1), this weekend is mostly focused on gearing up for the future. UK is expected to host dozens of nationally ranked high school sophomores and juniors for the program's annual Junior Day. With Kentucky men's basketball also hosting Kansas on Saturday night, it's going to be an important stretch for the school as a whole.
On the expected guest list are plenty of the country's best high school juniors, including an abundance of local recruits. A trio of players from Frederick Douglass (Lexington, KY) and two more from North Hardin (Radcliff, KY) will make the trip to UK, as will Aba Selm out of Simon Kenton (Independence, KY), who is arguably the most talented in-state prospect in the '24 class. Recent offensive line commit Hayes Johnson out of Taylor County (Campbellsville, KY) will be on campus, as well.
Additionally, a pair of former Kentucky residents will make the trip back to the Commonwealth, twin brothers Jacob and Jerod Smith, who are both considered four-star prospects and top 200 players in the entire country. They both now play high school football in Connecticut, but are being heavily recruited by UK and will be in attendance for Junior Day.
Also of note is the expected arrival of three impressive quarterbacks from the class of 2025 as Liam Coen begins to lay the groundwork for his future signal-caller. The most significant of the group are Cutter Boley and Ryan Montgomery, who are both considered top five QBs in the sophomore class. Boley is a name you might already know of, as he led the state of Kentucky in passing in 2022 for Lexington Christian Academy.
Meanwhile, Montgomery, who is actually rated slightly higher than Boley, hails from Ohio and is picking up big-time offers every other day right now. Boley and Montgomery will be joined by Stone Saunders out of Bishop McDevitt High School in Pennsylvania. Saunders isn't ranked like the other two QBs coming to Lexington this weekend, but that might not be the case for much longer. He picked up a West Virginia offer on Thursday and visited Nebraska on Wednesday. Saunders' teammate, four-star WR Rico Scott, will make the trip to Lexington, too.
Last but certainly not least is the news that Steve Wiltfong of 247Sports broke on Friday when he reported that Purdue '23 commit Kendrick Gilbert is making a trip to UK this weekend. The Kentucky staff has been recruiting Gilbert for a while now and didn't stop once he committed to Purdue over the summer. Wiltfong believes that it will ultimately come down to Purdue or Kentucky for Gilbert, who visited the Boilermakers last weekend.
But wait, there's more! Check out the rest of the visitor list that KSR has learned will be on UK's campus this weekend.
---
*All player rankings are courtesy of the On3 Consensus*
Class of 2023 visitors
Kendrick Gilbert (DL) 6-5, 290 | Cathedral (Indianapolis, IN) Purdue commit
4-star: No. 375 overall, No. 44 DL
Class of 2024 visitors
Jacob Smith (EDGE) 6-4, 225 | The Loomis Chaffee School (Windsor, CT)
4-star: No. 105 overall, No. 13 EDGE
Jerod Smith (DL) 6-2, 255 | The Loomis Chaffee School (Windsor, CT)
4-star: No. 189 overall, No. 16 DL
Koy Beasley (CB) 5-11, 180 | La Salle (Cincinnati, OH)
4-star: No. 271 overall, No. 28 CB
Rico Scott (WR) 5-11, 180 | Bishop McDevitt (Harrisburg, PA)
4-star: No. 302 overall, No. 26 WR
Micah Welch (RB) 5-9, 195 | Baldwin (Milledgeville, GA)
4-star: No. 340 overall, No. 34 RB
Jaheim Merriweather (ATH) 6-3, 190 | Gallatin Senior (Gallatin, TN)
3-star: No. 377 overall, No. 34 ATH
Amari Jefferson (WR) 6-1, 190 | Baylor School (Chattanooga, TN)
3-star: No. 455 overall, No. 68 WR
Jayden Coleman (CB) 6-1, 180 | Central (Phenix City, AL)
3-star: No. 517 overall, No. 51 CB
Sam Williams-Dixon (RB) 5-11, 185 | West Holmes (Millersburg, OH)
3-star: No. 605 overall, No. 23 RB
Ransom McDermott (OT) 6-7, 270 | Noblesville (Noblesville, IN)
3-star: No. 618 overall, No. 42 OT
Aba Selm (IOL) 6-4, 295 | Simon Kenton (Independence, KY)
3-star: No. 626 overall, No. 46 IOL
Darius Wiley (EDGE) 6-6, 225 | North Hardin (Radcliff, KY)
3-star: No. 658 overall, No. 41 EDGE
Jeremiah Lowe (CB) 5-11, 170 | Frederick Douglass (Lexington, KY)
3-star: No. 670 overall, No. 65 CB
Hayes Johnson (OT) 6-3, 295 | Taylor County (Campbellsville, KY) Kentucky commit
3-star: No. 696 overall, No. 45 OT
Shaun Boykins Jr. (WR) 6-1, 185 | North Hardin (Radcliff, KY)
3-star: No. 699 overall, No. 99 WR
Demeco Kennedy (IOL) 6-3, 270 | Frederick Douglass (Lexington, KY)
3-star: No. 720 overall, No. 55 IOL
Crews Law (LB) 6-1, 215 | Christ Presbyterian Academy (Nashville, TN)
3-star: No. 779 overall, No. 71 LB
Cameron Frazier (ATH) 5-11, 160 | KIPP Columbus (Columbus, OH)
Jay Harper (CB) 6-0, 170 | Valley (Valley, AL)
Terrion Hicks (CB) 5-11, 170 | Fredrick Douglass (Lexington, KY)
Jaylin Lackey (CB) 6-0, 180 | South Gwinnett (Snellville, GA)
William Lufiau (RB) 5-11, 200 | Wyoming Seminary Upper School (Kingston, PA)
Jacobi Oliphant (CB) 6-4, 170 | St. Louis University (St. Louis, MO)
Caleb Redd (EDGE) 6-4, 215 | DeSmet (St. Louis, MO)
Class of 2025 visitors
Ryan Montgomery (QB) 6-5, 210 | Findlay (Findlay, OH)
4-star: No. 43 overall, No. 3 QB
Cutter Boley (QB) 6-5, 205 | Lexington Christian Academy (Lexington, KY)
4-star: No. 46 overall, No. 4 QB
Stone Saunders (QB) 6-2, 205 | Bishop McDevitt (Harrisburg, PA)