Kentucky football extends several offers over the last week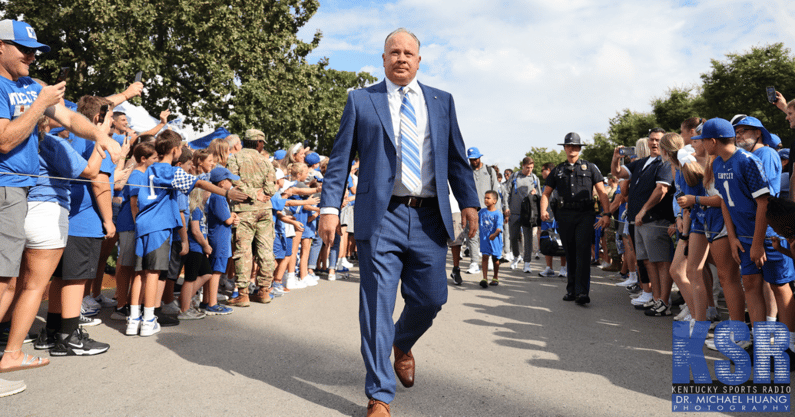 Time for our weekly recruiting update presented by our friend Andy Luedecke at MyPerfectFranchise. Andy is a huge college sports fan and franchise veteran, having owned multiple franchises and businesses. Using his expertise, he helps others find their American Dream through a very thorough consultation and evaluation process.
---
Another week has come and gone, which means it's time to dive into the many scholarship offers that were dolled out by the Kentucky football staff over the last six-to-seven days. This might have been the first week in a long time where no new 2023 prospects were to be found, which could be a sign that the staff is beginning to move on to the '24 kids as the '23 class comes to a close. Looking at the high school juniors who were offered this week, there's plenty of talent out there.
Let's jump right into the recruits who announced offers from the Kentucky Wildcats this past week.
Class of 2024
Andrew Sprague (OT) 6-8, 270 | Rockhurst (Kansas City, MO)
4-star: No. 173 overall, No. 9 OT
The most established prospect offered by Kentucky over the last seven days was easily Andrew Sprague, a four-star offensive lineman out of Missouri. Standing at a massive 6-foot-8, Sprague is already considered a top 200 high school junior in the country and holds offers from schools such as Auburn, Stanford, Michigan, and most recently, Kentucky. UK offensive line coach Zach Yenser offered Sprague on Wednesday. The 'Cats might have gotten in a tad late on this recruitment compared to the other schools, but the current competition isn't anything the staff can't overcome. Nearby programs such as Kansas, Kansas State, and Missouri are also involved.
Chalil Cummings (ATH) 5-11, 185 | Bradford (Starke, FL)
3-star: No. 395 overall, No. 33 ATH
One of the many Florida-based recruits offered while the staff was in the Sunshine State last weekend was Chalil Cummings. Splitting time at wide receiver and defensive back, Cummings is listed as an athlete. He was actually at The Swamp as a visitor to watch Florida lose to Kentucky on Saturday. UK defensive backs coach Chris Collins offered Cummings the morning of the game. Along with the 'Cats, Cummings also holds offers from Tennessee, Miami (FL), Florida State, South Carolina, Michigan State, Ole Miss, Cincinnati, and several other Power 5 programs.
Brandon Hood (RB) 5-10, 185 | Eagle's Landing (McDonough, GA)
Since the spring began, Brandon Hood's recruitment has seen a significant spike in interest. He went from zero Divison I offers in March to eight as of mid-September. Those offers include Michigan State, Penn State, Georgia Tech, Pittsburgh, Boston College, Kansas State, Kansas, and now Kentucky. UK defensive backs coach Chris Collins was the one who reached out to Hood with the offer on Wednesday.
Terrance "TJ" Moore Jr. (WR) 6-4, 190 | Tampa Catholic (Tampa, FL)
Similar to Chalil Cummings, Terrance Moore is another Florida-based prospect who received an offer from Kentucky ahead of Saturday's win against the Gators. UK inside linebacker coach Mike Stoops extended the scholarship, adding to a long list of Power 5 offers. Moore has already picked up offers from the likes of Auburn, West Virginia, and Pittsburgh since the beginning of August.
Aba Selm (OT) 6-4, 295 | Simon Kenton (Independence, KY)
We mentioned Aba Selm earlier this week after it was reported by Steve Wiltfong of 247Sports that Selm would visit Lexington this weekend for the matchup against Youngstown State. It was only a few days before that news broke that UK associate head coach Vince Marrow extended Selm his second-ever Divison I scholarship, the first coming from Eastern Kentucky. The in-state product is also receiving interest from the likes of Louisville, Cincinnati, Purdue, Ohio State, and West Virginia.
Class of 2025
Jaime Ffrench Jr. (WR) 6-2, 175 | Mandarin (Jacksonville, FL)
4-star: No. 27 overall, No. 5 WR
The lone high school sophomore to announce an offer from Kentucky this week was Jaime Ffrench Jr., who debuted on the On3 2025 Watch List (as did in-state QB Cutter Boley at Lexington Christian Academy). Ffrench earned his offer from the 'Cats the morning of UK's road win over Florida last Saturday, which is the home state of Ffrench. Along with Kentucky, the top-ranked wide receiver has also received scholarships from the likes of Alabama, Michigan, Tennessee, Florida, Ohio State, Georgia, Texas A&M, Penn State, and several others. His older brother, Maurice Ffrench, holds the Pittsburgh single-season record for catches in one season with 96 in 2019.
---
Learn more about Andy Luedecke and franchise ownership through these resources:
Andy's Story
Why a Franchise
Service Based vs Brick and Mortar
Semi Absentee Ownership
The Process and How It works
Book time with Andy: Andy's Calendar