Reminder: Tomorrow is Fan Day -- Weather Permitting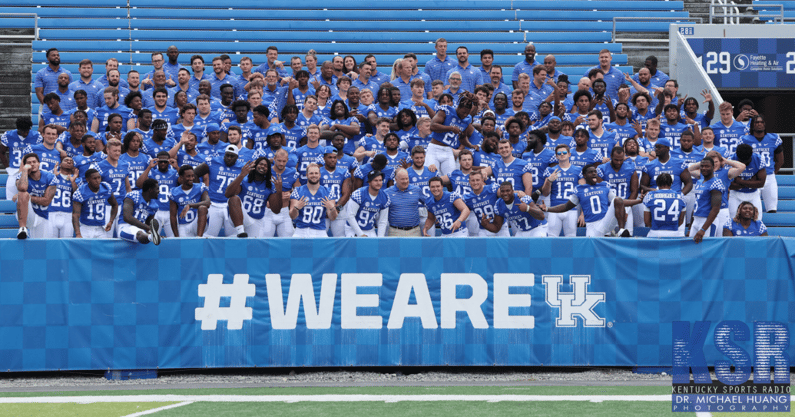 Is Mother Nature in the mood for some football? That's the question we'll be asking tomorrow. Kentucky Football Fan Day is scheduled to take place on the practice fields outside the Joe Craft Football Training Center, with fans invited to watch the team practice from 11 a.m. to 1 p.m. In the case of inclement weather, the event will be canceled. Right now, the forecast is calling for about a 50% chance of thunderstorms:

Kentucky will announce whether or not the event is happening tomorrow on UKathletics.com and the @UKathletics Twitter. We, of course, will pass the news along here as well.
If Fan Day does happen, free parking will be available in the blue lot at Kroger Field. Fans can begin entering the facility at 10 a.m. at the practice field gate in the plaza outside Gate 12 of Kroger Field.  Fans will be asked to stay behind the rope line on the perimeter of the practice field, which will be controlled by UK event management staff.
Free Kentucky football schedule posters will be available and the UK Bookstore will be on hand to sell UK merchandise in the plaza. Fans can take photos with UK's trophies from the Wildcats' four consecutive bowl game victories, plus the Governor's Cup throughout the day.
Those in attendance are reminded to consider the latest health and safety protocols on the UK campus. Prizes will be awarded throughout the event. Players and coaches will also have the opportunity to throw mini footballs and other prizes to those in attendance at the conclusion of practice. UK's ticket sales staff will be on hand to discuss ticket packages for the 2022 season with interested  fans. UK concessions will sell pre-packaged snacks and bottled water.
Donations being accepted for flood relief
The event will also give fans an opportunity to donate to the Red Cross to support people affected by the floods in Kentucky. Signs with QR codes to the donation page will be posted throughout the facility. Let Quintin Wilson and Dane Key — Nos. 60 and 6, I see what they did there — tell you all about it: