KSR's Kentucky Football Fan Day Open Practice Live Updates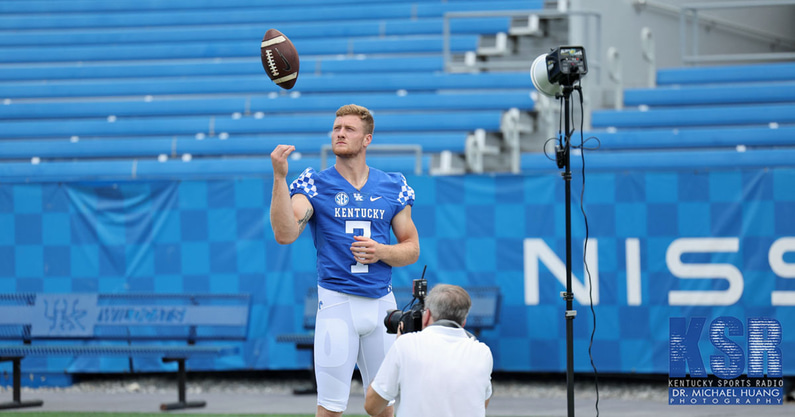 It's football time in the Bluegrass, as the Kentucky Wildcats are set to take the field for open practice at Fan Day.
Between 11 a.m. to 1 p.m. ET, fans are invited out to the practice fields at the Joe Craft Football Training Center to get their very first look at the 2022 football team.
KSR is on hand to take in all the action, with live updates coming from start to finish. Let's get started, shall we?
---
Luckett (10:54): Pre-practice has started on the practice fields at Kentucky. Great crowd and beautiful weather. Redshirt freshman Jager Burton is currently getting some work at centers with the twos.
Roush (11:08): Some folks were concerned when Trevin Wallace was not present for the LB position picture at UK Football Media Day. No. 32 is suited up for practice today.

Luckett (11:15): Tayvion Robinson was first up to field punts as Kentucky gets some special teams work done. The transfer was one of the top returners in the country at Virginia Tech.
Roush (11:20): In our first 11v11 period, Kentucky starts in 11 personnel. Sam Houston State transfer Ramon Jefferson gets the first carries at running back, with Brenden Bates at tight end. Jefferson caught a pass on the second snap. Dane Key, Tayvion Robinson and DeMarcus Harris are the first receivers on the field.
Luckett (11:35): We've also got some NFL personnel here today. A scout for the Seattle Seahawks is here taking in practice.
Roush (11:39): Deone Walker is a unit. The freshman from Detroit will start his career learning nose.
Also of note on the D-Line, Justin Rogers is moving well. He looks light on his feet, in shape and ready for a full season.
Roush (11:46): We got our first Barion Brown sighting. He turned on the jets and caught a 40+ yard go route in one-on-ones.

Roush (11:53): We are getting a HEAVY dose of tight ends in the team run period. Whether it's two backs and three tights, one back and two, Coach Rich is running all of the personnel groupings. Love the way C-Rod read one wide zone cut-back with three tight ends leading the way.

Roush (12:05): Carrington Valentine picked off a pass during 7-on-7s. He's been active all day. Andru Phillips also made a nice play on a ball, but the interception slipped off his fingertips.

Roush (12:19): Fan Day ends early with inclement weather moving the team inside. We got a few fireworks before it ended. Chris Rodriguez made a STUPID one-handed catch and the Big Blue Wall got fired up when Kenneth Horsey beat JJ Weaver in one-on-ones.