Polygraph test, search warrants among new details about Kentucky football fraternity fight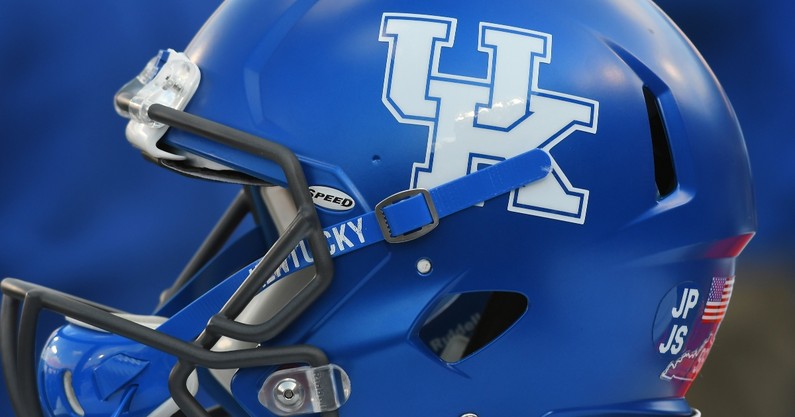 Six Kentucky Football players are facing first-degree burglary charges stemming from an incident at an off-campus fraternity party in March, including Vito Tisdale, who is also charged with wanton endangerment for allegedly brandishing a firearm. Former Louisville Police Homicide Sergeant and Kentucky State Legislator Denny Butler called into KSR for the second straight day to discuss new details from the case after meeting with RJ Adams, JuTahn McClain, Andru Phillips, Earnest Sanders, Joel Williams, Vito Tisdale, and their families. Among the findings Butler shared are that Tisdale passed a polygraph stating he did not have a gun at the party, search warrants were issued for 12 players' phones in April, and racial slurs sparked the altercation.
Vito Tisdale passed a polygraph test on Saturday
"I was called in to help over concern for one of the players, Mr. Tisdale, and the allegation of him having a gun," Butler said on KSR today. "The coach that called me felt like he was telling the truth and they didn't know where to turn. They just saw that the stories weren't adding up and when he called me, I asked if he would be willing to talk to me and we went and had a conversation and I too felt like Mr. Tisdale was telling the truth so he agreed to take a polygraph on Saturday and took one from a retired FBI agent. He passed the polygraph confirming he did not have a gun."
Tisdale's polygraph will not be admissible in court, but the fact that he was willing to take one impressed Butler.
"I'm confident he didn't have a gun," Butler said.
If not for the allegation that Tisdale had a gun, we may never have heard about this incident. After speaking with Tisdale and the players and seeing how the story was portrayed in the media, Butler wanted to help.
"I think that plays a role in it," Butler said of the gun allegation. "Obviously, one of the main elements of burglary first is being armed with a deadly weapon. Then watching media reports where they referred to this as a home invasion and they refer to it as a drive-by. It started bothering me and when I talked to Mr. Tisdale, I had the same gut instinct that he was telling the truth. We had to figure out how to get out in front of this and show that he is telling the truth. He agreed to take a polygraph. He took one and he passed it."
GoFundMe set up to hire attorneys for Tisdale and others
Last Wednesday, all six players pleaded not guilty to first-degree burglary charges and waived their right to a preliminary hearing in Fayette District Court. The case will now go to a grand jury. Butler and a group formed to fight wrongful convictions set up a GoFundMe page to hire representation for two or three players that cannot afford it, including Tisdale. The page, "Defense fund for 6 innocent UofK football players," went live this morning. The goal is to raise $250,000 for attorney's fees for the players. Any remaining money will be donated to the 22 Oats Strong GoFundMe for Chris Oats' rehabilitation.
Players detail what happened at fraternity party
So, what exactly happened at the fraternity party? Butler spoke to all of the players involved and relayed this account.
"It appears there was a fraternity party, a lot of alcohol involved. Words were exchanged and then a fistfight broke out and the party ended. In talking to the players, all of them confirmed they didn't have a gun. They didn't see a gun."
The UK Office of Student Conduct reviewed the incident and cleared the players in June; however, charges were filed on August 19. In the days that followed, three students who were at the party spoke anonymously with WDRB, claiming that when the football players returned, they "just came in and started throwing punches at guys, girls, it did not matter who."
"I think a fraternity party happened," Butler said when asked about the WDRB report. "I think some players showed up, I think there were words exchanged. As they were leaving, I think an altercation took place. Who was hit, when they were hit — I can only imagine that it was a mess."
Butler claims one of the players charged — whom KSR is hearing is JuTahn McClain — never even left the car.
"One of the players involved in this, his only involvement was driving by the house."
Racial slurs allegedly sparked the fight
There has been speculation that racial slurs triggered the fight; after his discussions with the players, Butler believes that is true.
"I do," he said. "Just having conversations with the players. It just makes sense. The way the story evolves."
The GoFundMe page includes a detailed account of the slurs in a timeline of events from March 6.
Two UK freshman football players were invited to the party and decided to attend

Shortly after arriving, an intoxicated female in the house stated " who let the n*****s in"

One player was confronted inside by an intoxicated male trying to smooth things over

Both players could hear racial slurs like "Get out n****r" and threats like "Let's beat their a**" from other rooms in the house. The threats and slurs became louder and more intense.

Concerned for their safety, a player summoned help from other freshman football players and an altercation ensued on the property. A few party attendees suffered minor injuries.

Lexington Police were notified and a report taken

"Defense fund for 6 innocent UofK football players," GoFundMe
Search warrants issued for 12 players' phones in April
According to Butler, the people in the off-campus house used a UK Football roster to identify the players involved, whittling the list from 20 to 10 to six. Today, Butler said Lexington Police issued search warrants on 12 players' phones in April. According to the GoFundMe timeline, Lexington Police also served a search warrant on Tisdale's dorm room on March 29.
Denny Butler's connection to Kentucky Football
During his time on the LMPD, Butler helped exonerate several wrongfully convicted individuals, including Edwin Chandler, who spent nine years in prison for a crime he did not commit. Last summer, Mark Stoops asked Butler and Chandler to speak to the team about the shooting of Jacob Blake and police reform. Yesterday, Stoops mentioned Butler in his press conference while defending his players.
"During the summer we brought in a speaker, Denny Butler, who spent time exonerating wrongfully convicted people, and Edwin Chandler, who spent time on death row, was in there with us and talked to our team. It was very powerful. Really appreciate Chief Weathers, Chief Monroe. They were there as well. Very supportive and very comforting to our players to know it's not always personal. There are flaws in the system sometimes and we have to trust that system and we will.
"I also stand by our players until I have the evidence that tells me otherwise. So, I hope to have all the players out there but I don't know; that's out of my hands. We'll see what happens. We'll go from there."
When asked if he believes so much that his players were wrongfully charged that he is considering reinstating them, Stoops hesitated.
"I've got to be careful in how I say it. I want to. I want to. But we'll see."
"It's hard for me. I have to respect the system and I do. I completely trust our prosecutors, I completely trust our Chief. They're not responsible for the investigation. This went on in March. March 3? I don't know. It's hard. I've got to bite my tongue. I just know what's been done to our players; I'm not sure what's been done to others."