Kentucky Football Friday afternoon offer roundup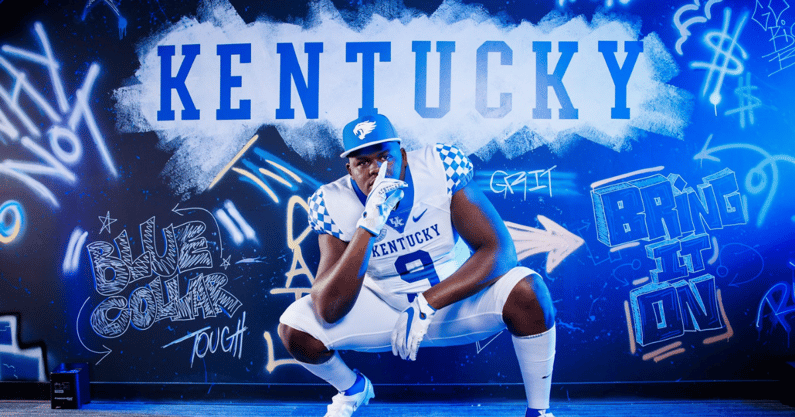 Good afternoon, folks, and welcome back to another offer roundup. The workweek is finally finished and plenty more Kentucky Football targets have popped up on the radar over the last couple of days. If you missed the midweek offer roundup, you can get up to date by clicking the link here.
Let's dive right into the latest recruits hearing from the Wildcats.
*All rankings are courtesy of the On3 Consensus.*
Class of 2023
Jordan Hall: 6-2, 225-pound LB | IMG Academy (Bradenton, FL)
4-star, No. 229 overall; No. 17 LB
Playing for the Florida-based powerhouse program IMG Academy, Jordan Hall is a well-known product as he heads into the final stretch of his recruitment. He dropped a list of his top 12 schools back in April (UK was not included) and has three upcoming official visits to Florida, Michigan State, and Auburn. Hall told On3's Chad Simmons a few weeks ago that he would like to commit by the middle of July. Kentucky inside linebackers coach Mike Stoops extended an offer to Hall on Friday.
Jamarion Wilcox: 5-10, 195-pound RB | South Paulding (Douglasville, GA)
3-star, No. 800 overall; No. 59 RB
The first of four running backs mentioned in this post, Jamarion Wilcox received his Kentucky offer on Friday from associate head coach Vince Marrow and new offensive coordinator Rich Scangarello. The three-star tailback holds additional offers from the likes of Cincinnati, Louisville, Purdue, Mississippi State, Vanderbilt, and several others.
Khalifa Keith: 6-2, 205-pound RB | Parker (Birmingham, AL)
The first SEC offer for Khalifa Keith, another running back, came by way of the Kentucky Wildcats on Thursday. Keith now holds over a dozen offers, but UK is the first Power 5 program to reach out. He's also received scholarships from Toledo, Alabama State, Arkansas State, South Alabama, Jacksonville State, and Alabama A&M during the month of May.
Zack Drawdy: 6-2, 185-pound WR | Yulee (Yulee, FL)
While he's not ranked by the On3 Consensus, Zack Drawdy is considered a low three-star by other recruiting services. He picked up an offer from the 'Cats on Friday, which came from defensive backs coach Chris Collins. Drawdy has earned scholarships this month from the likes of Georgia Southern, Western Michigan, Appalachian State, and Elon.
Nehemiah Pgouda: 6-2, 190-pound S | South Paulding (Douglasville, GA)
The very first Divison I offer extended to Nehemiah Pgouda came on Friday courtesy of Wildcat defensive line coach Anwar Stewart. Not much is known about the Georgia prospect other than he was an All-County and All-Region selection at cornerback this past season. On Thursday, Pgouda announced an offer from Miles College.
Kenari Wilcher: 6-1, 175-pound CB | Moore Haven | Clewiston, FL
The month of May has been kind to Kenari Wilcher, who has earned offers from WKU, Florida International, South Florida, Indiana, and a couple of others. Kentucky is the latest to reach out, extending a scholarship on Friday. Indiana is the school to watch early on, as Wilcher will take an official visit on June 24, according to 247Sports.
Class of 2024
Yasin Willis: 6-0, 200-pound RB | St. Joseph Regional (Montvale, NJ)
4-star, No. 245 overall; No. 17 RB
Kentucky wide receivers coach Scott Woodward went back into the New Jersey area to offer Yasin Willis, which he publicly announced on Thursday. Willis is a big-time ball carrier out of the northeast and was recently named the MVP for running backs at a Rivals camp. In addition to UK, the four-star rising junior holds offers from the likes of Louisville, Nebraska, Penn State (which he recently visited), UConn, Rutgers, Pittsburgh, Maryland, Boston College, Syracuse, Ole Miss, and West Virginia. Woodward has seen a surprising amount of success recruiting in the northeast.
Troy Stevenson: 6-0, 165-pound CB | Phillip Simmons (Charleston, SC)
4-star, No. 308 overall; No. 38 CB
A two-sport athlete in football and basketball, Troy Stevenson earned his Kentucky offer on Wednesday. The 'Cats join West Virginia, Notre Dame, Washington, Louisville, Coastal Carolina, and Virginia Tech as programs to offer since March. Ole Miss, LSU, and Penn State reached out with scholarships back in the fall to initially put him on the map.
Class of 2025
Mason Short: 6-7, 280-pound OT | Evans (Evans, GA)
Despite his status as a rising sophomore, Mason Short is already hearing from the nation's top programs — Alabama, Georgia, Ohio State, and Penn State have all offered the Peach State product. Coach Collins was the one who offered Short, doing so on Wednesday. Texas Tech and Auburn have both offered this month, as well. When rankings for the 2025 class do eventually come out, expect Short to be near the top of the offensive tackle position.
Brock Driver: 6-3, 210-pound DE | Boyle County (Danville, KY)
The Kentucky staff has returned to nearby Boyle County once again following the commitment of rising senior DE Tommy Ziesmer. This time around, Coach Marrow is looking at a rising sophomore in Brock Driver, who received his offer on Thursday, the second from a Divison I program. Brock's first scholarship came from EKU earlier this week. He appeared in 11 games during Boyle County's 4A state title run this past season, recording 12 tackles, one for a loss. He'll be one to keep an eye on moving forward.
Peyton Joseph: 6-4, 280-pound OT | Peach County (Fort Valley, GA)
Another big-time '25 offensive tackle who will earn a high ranking once those roll out is Peyton Joseph, who picked up his Kentucky offer on Wednesday. Joseph announced his offer on social media with a picture of himself wearing a UK jersey during a recent visit to Lexington. He also holds scholarships from high majors such as Florida, Auburn, Ohio State, Oklahoma, Florida State, Notre Dame, Ole Miss, and Georgia while also receiving interest from Alabama.
Jayden Gwinn: 5-9, 175-pound RB | Westerville Central (Westerville, OH)
Jayden Gwinn is cousins with fellow Westerville Central (home of former Kentucky RB Benny Snell) rising sophomore QB Jaystin Gwinn, who was also offered by Kentucky this week. Jayden is the fourth running back mentioned in this post. His offer from UK came on Thursday, his second from a Divison I program, the other being Akron. Both of Jaystin's DI offers are from Kentucky and Akron, as well.
Brandon Caesar: 6-4, 235-pound DL Cleveland Heights (Cleveland, OH)
In the last week, Brandon Caesar has received his first two Divison I offers — the first coming from UMass on May 13 and the second on Thursday from Kentucky safeties coach Frank Buffano.
Class of 2026
Julian Lewis: 6-2, 175-pound QB | Carrollton (Carrollton, GA)
Not yet a high school freshman, Julian Lewis is already being projected as an elite quarterback prospect over the coming years. His Kentucky offer came in on Thursday from Coach Stewart, one of many from Power 5 schools under his belt. Lewis has already picked up scholarships from the likes of Florida, Georgia, Ole Miss, Oregon, Penn State, and a few others.