Kentucky Football hands out 4 new offers over the weekend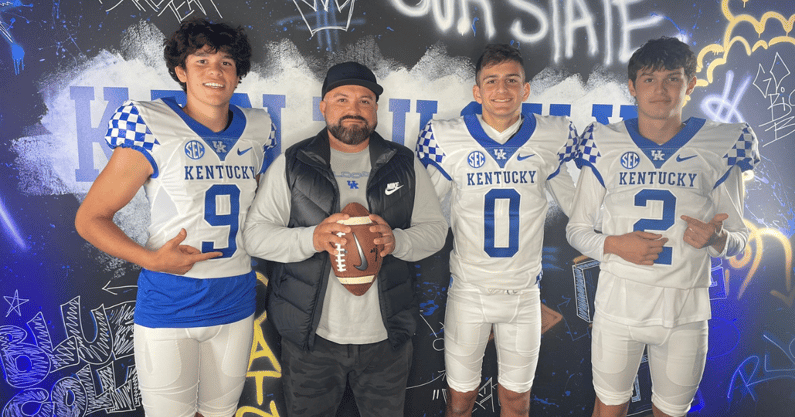 Before celebrating a 56-16 Senior Day victory on Saturday afternoon, the Kentucky Football coaching staff was putting in work for the future. UK extended four notable scholarship offers prior to kickoff: three young quarterbacks from California and a budding pass-catcher from nearby Boyle County.
Let's get to know them, starting with the Kentucky native.
WR Cole Lanter: 5-11, 180 pounds – Boyle County (KY) c/o of 2022
The name Cole Lanter will sound quite familiar if you keep up with KSR's weekly KHSAA recaps. Breaking out as one of the top wide receivers across the entire state of Kentucky in 2021, the Boyle County senior earned himself an offer from the 'Cats on Saturday.
He's up to three Division I offers now, the other two coming this month from Murray State and Eastern Kentucky. Lanter is very much a low-profile recruit, but a late growth spurt combined with an impressive season now has him on the radar.
Lanter has accumulated 1,111 receiving yards (sixth in the entire state) on 67 catches for the 12-1 Rebels in 2021. He's hauled in 19 touchdowns through the air, which is tied for the state lead. His offensive threat doesn't end there though, Lanter has rushed for 227 yards and four more touchdowns. Not to mention his 25 tackles and two interceptions on defense.
Lanter told KSR on Sunday that he first heard from the Kentucky coaching staff during the week that the 'Cats beat Florida. But the relationship truly found its rhythm after Boyle County's big 34-7 win over Frederick Douglass in late October. He caught two touchdowns for 71 yards and recorded three tackles in that victory. Lanter was also at Kroger Field when Kentucky lost to Tennessee in early November.
He's a kid that has worked incredibly hard and fully earned his offer from Kentucky.
Quarterback trio from California
In their tweets announcing an offer from Kentucky, all three of the young quarterbacks from California tagged QB coach Danny Hernandez, who works for QB Collective.
QB Collective is a private coaching organization comprised of some of the brightest football minds alive; including the likes of Mike and Kyle Shanahan, Sean McVay, Matt LaFleur, and many, many more. Hernandez is one of the private QB coaches and has trained the likes of current Alabama and Clemson quarterbacks, Bryce Young and D.J. Uiagalelei, respectively.
Hernandez brought the QB trio to Kentucky from California for a weekend visit, where all three were eventually offered.
QB Myles Jackson: 6-2, 190 pounds – Milikan (CA) c/o 2024
The oldest of the bunch, Myles Jackson is still just a high school sophomore, but projects to be a top prospect down the road. His offers include the likes of Colorado, Texas A&M, Oregon State, BYU, Arizona, San Jose State, and Nevada.
QB Wyatt Becker: 6-1, 165 pounds – Notre Dame (CA) c/o 2025
Already flexing an impressive offer sheet, Wyatt Becker added Kentucky to his list. The high school freshman has already picked up scholarships from the likes of Penn State, Georgia, Texas A&M, Miami (FL), Florida State, and Arizona. His potential is through the roof.
According to Chad Simmons of On3, Becker met with UK offensive coordinator Liam Coen before the game, where he received the offer.
"I was super-impressed with Kentucky's offensive scheme," Becker told Simmons. "The energy in the stadium and the fans all seemed great too.
"I loved touring the facility and meeting with the coaches. The hospitality and kindness I received at Kentucky were amazing."
QB Jackson Taylor: 6-1, 155 pounds – Oaks Christian (CA) c/o 2026
The offer from Kentucky is the first from a Divison I program for Jackson Taylor, who is just an eighth-grader.