Kentucky Football's History vs. No. 1 Teams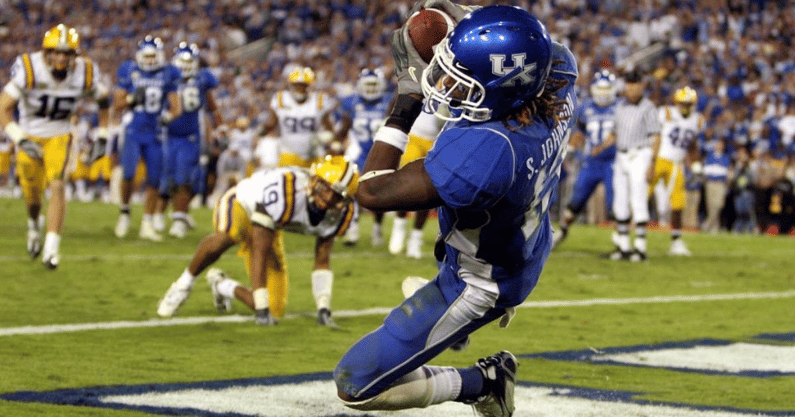 This weekend the Kentucky football team will try to do something that's only happened three times in school history: beat the No. 1 team in the country.
The Wildcats will travel to Georgia to take on the top-ranked Bulldogs between the hedges at Sanford Stadium. College GameDay and SEC Nation will be in Athens for the 3:30 pm ET kickoff on CBS. The stakes don't get much higher.
Kentucky is 3-17 all-time against top-ranked teams, most recently facing off against No. 1 Alabama last fall. Without Chris Rodriguez and a dozen others in COVID-19 protocol, the Crimson Tide cruised to a 63-3 win.
Mark Stoops is 0-4 against No. 1 teams as Kentucky's head coach. Two of those losses were moral victories of sorts. In a 34-6 loss at Alabama in 2016, future first round draft pick Jonathan Allen said it was "one of the most physical games I've played," planting the seeds for the UK offensive line to grow into the Big Blue Wall. Two years prior the BBN left a 45-31 loss to Mississippi State optimistic. UK got it within one touchdown on four different occasions and Patrick Towles went toe-to-toe with Dak Prescott, throwing for 390 yards and rushing for 76 in the losing effort.
The Last Victory over No. 1
I'm sure you remember it well. If you weren't around in 2007, you were hearing folks reminisce about the 43-37 triple overtime victory over LSU because up until Saturday, it was the Tigers' most recent trip to Lexington.
Andre Woodson completed 21-of-38 passes for 250 yards, three touchdowns and two interceptions. Stevie Johnson got loose, again, wiggling free on the double move for a wide open, game-winning touchdown in the third overtime. In addition to the score, Johnson had seven receptions for 134 yards.
The Last Road Victory over No. 1
Playing top-ranked Ole Miss at their home away from home in Jackson, Ms., Charlie Bradshaw's 1964 Wildcats trailed twice in the second half. It did not matter because the Rebels could not contain Kentucky wide receiver Rick Kestner. He caught a total of nine passes for a 185 yards and three touchdowns, setting a single-game receiving yards record that would stand until the Air Raid came to town in 1998. Kestner received All-SEC honors in consecutive seasons and was inducted into the UK Hall of Fame in 2005.
Ole Miss was not ranked No. 1 the following year when Super Bowl Champion Larry Seiple made a play so crazy, I'm obligated to share it with you now.
The First Victory over No. 1
With Babe Parilli under center, Bear Bryant's Wildcats snapped Oklahoma's 31-game winning streak with a 13-7 win in the Sugar Bowl. As you'll see in this stupendous highlight reel from New Year's Day 1951, Kentucky sprinted out to an early 13-0 lead behind two touchdowns from Wilbur "Shorty" Jamerson and never looked back in one of the greatest upsets in school history.
Kentucky's Record vs. No. 1
2020: At Alabama, Loss, 63-3
2016: At Alabama, Loss, 34-6
2014: Mississippi State, Loss, 45-31
2013: Alabama, Loss, 48-7
2011: At LSU, Loss, 35-7
2009: Florida, Loss, 41-7
2007: LSU, Win, 43-37 (3OT)
1998: At Tennessee, Loss, 59-21
1997: Florida, Loss, 55-28
1996: At Florida, Loss, 65-0
1980: Alabama, Loss, 45-0
1964: at Ole Miss, Win, 27-21
1960: Ole Miss, Loss, 21-6
1959: LSU, Loss, 9-0
1958: Auburn, Loss, 8-0
1951: At Tennessee, Loss, 28-0
1950: Oklahoma, Win, 13-7