Kentucky Football hosting plenty of recruits for this weekend's Junior Day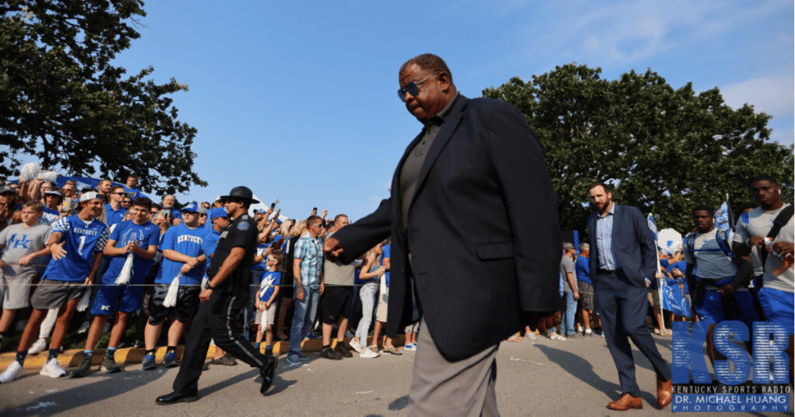 Coming off the program's second Citrus Bowl victory in four years, Kentucky Football will look to use that for some added recruiting momentum heading into the weekend. The annual Junior Day will take place this weekend on UK's campus, where the Wildcat coaching staff expects to bring in a big group of talented high school football prospects.
Junior Day is a perfect opportunity to make a pitch to local recruits. It's basically an unofficial visit for anyone that attends. All recruits will attend this Saturday's ranked basketball matchup at Rupp Arena between Kentucky and Tennessee. They'll also get a tour of the campus and take pictures of themselves in a UK uniform. There are likely to be a handful of offers handed out over the course of the weekend, as well.
KSR has learned of several noteworthy Kentucky targets who will be in Lexington for Junior Day. There are surely more out there than this small list though, and we will update this article accordingly as we learn of those names.
Let's dive right in. All of the prospects listed below are in the class of 2023 with rankings courtesy of On3's Consensus player rating database. They also all hold scholarship offers from UK.
Jeremiah Collins: 6-2, 150-pound CB – 3-star (Louisville, KY)
Louisville Male product Jeremiah Collins picked up his Kentucky offer (his second from a Divison I program) one day before the nearby Cardinals did the same. Since then, plenty others have offered, including West Virginia and Vanderbilt. Collins hears from Kentucky regularly though, especially UK associate head coach Vince Marrow and defensive backs coach Chris Collins.
Oryend Fisher: 6-6, 195-pound EDGE – 3-star (Georgetown, KY)
A local recruit for Great Crossing High School, Oryend Fisher says he hears a lot from Coach Marrow. Kentucky offered back in August, his fifth from a Divison I school. He was in Lexington for a game visit in September and also took a gameday trip to Cincinnati.
Dakota Patterson: 6-2, 190-pound WR – Unranked (Corbin, KY)
Joe Crocker: 6-6, 320-pound OT – 3-star (Nashville, TN)
After picking up his offer from UK back in April 2020, Joe Crocker returned to Lexington over the summer for an unofficial visit. Kentucky was his first Divison I offer, coming from offensive line coach Eric Wolford. That relationship has only continted to grow as well, with Crocker saying he and Wolford text everyday.
Tommy Ziesmer: 6-1, 240-pound EDGE – 3-star (Danville, KY)
Ty Bryant [COMMITTED]: 6-0, 175-pound ATH – Unranked (Lexington, KY)
Ayden Bussell: 6-4, 290-pound OT – 3-star (Mount Juliet, TN)
Another potential member of the Big Blue Wall who is being recruited by Coach Wolford is Ayden Bussell. As the staff did with Crocker, UK got on Bussell before most. Only EKU and Vanderbilt offered before the 'Cats came along in the spring of 2021. Bussell also visited Lexington over the summer and currently communicates with Kentucky everyday.
Adrian Griffin: 6-4, 260-pound DL – Unranked (Fairfield, AL)
Malachi Wood: 6-8, 290-pound OT – 3-star (Richmond, KY)
Coach Wolford is getting some help from associate head coach Vince Marrow in the recruitment of local prospect Malachi Wood. The Madison Central High School product is one of the bigger offensive lineman in the country and is slowly picking up more offers.