Kentucky football hosting plenty of talented recruits this weekend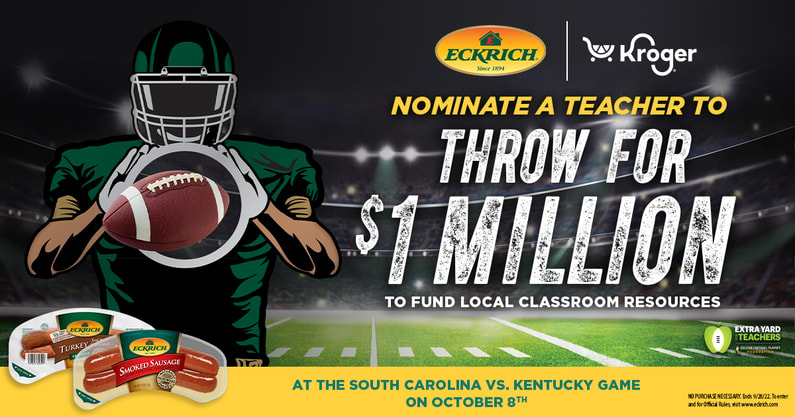 A message from Eckrich:
Eckrich is proud to present the $1 Million Challenge for Teachers! This 2022 college football season Eckrich, in partnership with Extra Yard for Teachers and Kroger, will invite a local teacher (and true hero) onto the field at the South Carolina vs Kentucky game on October 8th.
These lucky teachers, randomly selected from a list of nominations, will have a chance to throw a football through a target to win up to $1 million dollars in donations to fund local classroom projects. Nominate a teacher here for a chance to throw! Make sure to nominate your teacher by September 28th.
---
Kentucky football won't try to overlook the Youngstown State Penguins this weekend, but there will be plenty of extracurriculars going on around the game. Not only will the entire city of Youngstown, OH take over Lexington for a couple of days, but a handful of important recruits — both committed and uncommitted — will also be in town to check out the atmosphere and see what Kentucky has to offer.
Who will those important recruits be? We've got a convenient list of them all for you below. We'll be updating this article up until Saturday's noon kickoff as we learn of more visitors.
*All player rankings are courtesy of the On3 Consensus*
Class of 2023
Ja'Keem Jackson (CB) 6-0, 180 | Osceola (Kissimmee, FL) Florida commit
4-star: No. 176 overall, No. 20 CB
Ja'Keem Jackson won't be in Lexington for this weekend's game, but he will make the trip in a few weeks when Mississippi State comes to Kroger Field. Considering he's still committed to Florida, it's news we should talk about. It will be an official visit for Jackson, too. KSR first reported that Jackson planned an OV to Kentucky this season back in August.
Avery Stuart (S) 6-2, 175 | Alabama Christian Academy (Montgomery, AL) Kentucky commit
4-star: No. 232 overall, No. 13 S
The biggest out-of-state commit making the trip to Kentucky this weekend is four-star safety Avery Stuart, who is the second-highest-ranked recruit in the '23 class. Stuart has been locked in with the 'Cats since early July. Getting him on campus is a good sign that he's still solid with UK.
Class of 2024
Tayvion Galloway (TE) 6-3, 225 | Chillicothe (Chillicothe, OH) LSU commit
4-star: No. 148 overall, No. 5 TE
The most important visitor of the weekend is LSU commit Tayvion Galloway, who is widely considered a top 200 high school senior in the country and one of the premier tight ends. Kentucky was on him heavily before he ultimately committed to the Tigers, but that door hasn't been completely shut on the 'Cats.
Aaron Scott (CB) 5-11, 165 | Springfield (Springfield, OH)
4-star: No. 107 overall, No. 12 CB
According to Justin Rowland of Rivals, four-star junior Aaron Scott will be in Lexington this weekend. He's the younger teammate of current UK commit Anthony Brown, who is a top 500 prospect in his own right. Scott already holds offers from the likes of Ohio State and Notre Dame.
Aba Selm (OT) 6-4, 295 | Simon Kenton (Independence, KY)
Just a few days after picking up an offer from Kentucky associate head coach Vince Marrow (his second from a DI program), Aba Selm has plans to visit this weekend, according to Steve Wiltfong of 247Sports. The in-state product also holds an offer from Eastern Kentucky and is receiving interest from the likes of Louisville, Cincinnati, Purdue, Ohio State, and West Virginia.
Darren Junior Recruiting Source
Along with Tayvion Galloway, a few other prospects represented by the Darren Junior Recruiting Source will make the trip to Lexington. DJRS is an Ohio-based agency that helps local high school athletes through the recruiting process. Below are a handful of prospects visiting UK this weekend with DJRS.
Jaden Ball (OT) 6-3, 265 | Bloom-Carroll (Carroll, OH)
The first three scholarship offers for Jaden Ball came from Campbell, Miami (OH), and Akron. He could be on the verge of adding some Power 5 offers though. Ball camped at UK and Tennessee over the summer and has taken unofficial visits to the likes of Penn State, Pittsburgh, Ohio State, and Cincinnati, among others.
Jake Grimm (OT) 6-4, 290 | Gahanna Lincoln (Gahanna, OH)
The school of Gahanna Lincoln might sound familiar to those who follow Kentucky football recruiting closely. It's the current home of '23 defensive lineman Kamari Burns, who was being heavily recruited by the 'Cats at one point before choosing Cincinnati earlier this summer. Kentucky hasn't strayed far away from Gahanna since Burns went with the Bearcats. Jake Grimm currently has three Divison I offers from Toledo, Kent State, and Marshall with Kentucky lurking.
Taevin Brown (ATH) 5-11, 165 | Miami Trace (Washington Court House, OH)
The first full-ride scholarship offer for Taevin Brown came last month from Campbell. Brown plays out of Washington Court House in Ohio, the same town that is home to current Kentucky tight end commit Tanner Lemaster of the '23 class.
Anthony Shields (EDGE) 6-4, 215 | East (Columbus, OH)
Much like Taevin Brown, Anthony Shields also received his first offer from Campbell during the month of August.
Class of 2025
AC Walters (RB) 5-10, 175 | Alabama Christian Academy (Montgomery, AL)
AC Walters earned an offer from the Kentucky staff in the middle of July, his second D1 offer after Ole Miss reached out in the spring. Since then, Walters has picked up an additional scholarship from Maryland. He tweeted on Wednesday that he'll be in Lexington this weekend and also retweeted Avery Stuart's post stating that the Big Blue Nation wants four-star WR Karmello English to become a Wildcat. English decommitted from Auburn on Wednesday.
Class of 2026
Rocco Williams (QB) 6-0, 185 | Pickerington North (Pickerington, OH)
The youngest prospect traveling to Lexington with the Darren Junior Recruiting Source is QB Rocco Williams. He's only a freshman in high school, but he already holds a trio of DI offers from Campbell, Marshall, and Jackson State. Williams also camped at Alabama and Auburn during June. Now Kentucky is taking a closer look.