Takeaways: What Kentucky told us at Media Day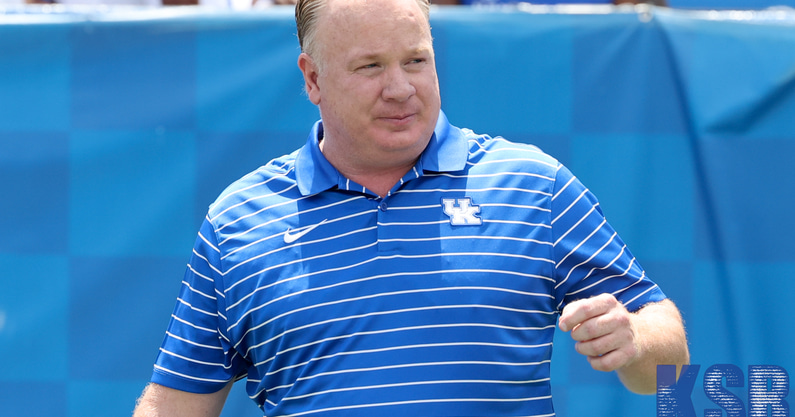 Day two of fall camp will wrap up on Thursday night with meetings at the Joe Craft Football Training Facility. On Saturday, fans will get their first chance to see the 2022 Kentucky squad at Fan Day. Football season is right around the corner.
There is still a month to get through before the opener against Miami (Ohio), but we are still unpacking items from a full day at Kroger Field on Wednesday. KSR put on a full-court press as our team was present for press conference with Mark Stoops, offensive coordinator Rich Scangarello, defensive coordinator Brad White, and quarterback Will Levis. Afterward, we talked to multiple players and are uploading videos constantly on our YouTube channel. Go smash that subscribe button.
In the meantime, we've gone back and pulled some important nuggets from those press conferences. There was much learned as we've reached the start of another football season in the Bluegrass. Let's get you caught up to speed before practice report season officially gets underway.
KSR is here with 10 takeaways as the 2022 campaign begins.
1.) Kentucky's culture and foundation creates wins
Mark Stoops has built a consistent program at Kentucky. The Wildcats rank fifth in the SEC in total wins over the last five years and have a pair of double-digit win seasons in their back pocket. Much has gone into this. The head coach is giving most of the credit to his credit to players both past and present.
"Very strong leadership on this team," Stoops said on Wednesday. "That has a lot to do with the foundation of the players in previous years. Really feel proud of the work that we've done."
Stoops elaborated on his program's culture saying it is different than climate. A climate can change quickly, but culture is everlasting. That football culture is showing up in recruiting and has helped Kentucky absorb turnover to keep things moving forward. Multiple players talked about the culture on Wednesday.
Kentucky has built a good program with a sturdy foundation. It is very reasonable to expect the winning ways to continue in Lexington this fall and in the future.
2.) Transfers will improve secondary
Following spring football, the Kentucky coaching staff realized that personnel upgrades were needed in the secondary. The staff went out and added three players to the roster before fall camp arrived. Length was a much-needed trait.
Ole Miss transfer Keidron Smith (6-2, 204) and Division II transfer Jordan Robinson (6-4, 202) are both long corners who can give Kentucky more size. The Wildcats also added those physical traits with blue-chip high school signee Alex Afari Jr. (6-2, 203).
"We definitely needed to get some length," Stoops admitted. "Really the guys we've brought in all have good length with Keidron and Jordan. Alex Afari is a guy that we're really high on too with great size. He's versatile. Just seeing some things early in him that I really like. So we really feel like we're getting the length that we're looking for there."
Stoops also believes that Carrington Valentine (6-0, 194) could be ready to elevate his game as a junior. Plus Texas State transfer Zion Childress (6-0, 191) will bring a ton of experience to the defense. White thinks the unit could surprise some folks.
"Don't think they didn't hear all the noise that everybody talks about," Kentucky's defensive coordinator said. "I have a sneaky suspicion that group's going to do a lot of great things for us this year."
3.) Kentucky has versatility at tailback
We are unsure what the availability for Chris Rodriguez Jr. will be when the season starts. The All-SEC tailback could miss some time this fall. Regardless, Kentucky likes its tailback situation.
"We feel there our some really solid players there that have a chance to break out and do some really good thing," Stoops said. "All those guys — La'Vell [Wright], JuTahn [McClain], Kavosiey [Smoke], Ramon [Jefferson], Michael Drennen. All those guys we have confidence in."
Scangarello elaborated on this position group and seems to like the versatility Kentucky could have at this position.
"I like the group, but it's unproven, and that'll be one of the big things to come out of this camp," Scangarello said. "We'll see who earns the right and the ability to touch it the most, and I imagine it'll be a little bit by committee no matter what. I'm excited about the entire group."
"They're all a little different which is what we like. You put people in situations to play to their strengths, and so we got route runners and pass catchers, we got some thumpers, we got some guys with some speed, we've got guys that'll run you over so it's a good group."
Expect multiple backs to play a big role in the offense this season. They will even be involved in the passing game.
"The big thing last year is the backs didn't catch a lot of balls," Scangarello said. "Where my background and the way we're doing things and their versatility allows us to incorporate them probably more. There's always ways to get safe catches and let guys that are good in space get YAC (yards after catch) and create for you. I feel like we got a group that can do that, and that's one of the ways we'll do it in the medium-to-short passing game with those guys."
4.) Big Blue Wall has numbers but not depth
New offensive line coach Zach Yenser has some big holes to fill on the offensive line. The Wildcats are strong on the interior but have big questions to answer at tackle. Head coach Mark Stoops believes Kentucky has guys but not depth.
"Deondre [Buford] has been very steady there," Stoops said about the tackle situation. "We have Kiyaunta [Goodwin] backing him up. Jeremy [Flax]'s done a really good job on the other side along with David. David Wohlabaugh has been a pleasant surprise and doing a really solid job. We are thin at the offensive line."
"We have the right amount of guys to play to get that rotation that we like inside and outside, but we don't have a lot of depth with some injuries and different things. So we have to continue to recruit and bring guys in."
There is quiet confidence surrounding the offensive line, but the unit remains a question mark entering the season.
5.) Defensive line has numbers and depth
Josh Paschal is now with the Detroit Lions, and the former war daddy at Kentucky leaves behind a huge statistical profile to replace. The former blue-chip recruit logged career highs in tackles (52), tackles for loss (15), and sacks (5) on his way to first-team All-SEC honors in 2021 as a redshirt senior.
Paschal leaves big shoes to fill, but Kentucky has numerous options thanks to strong recent recruiting results. The Cats will have six former top-500 recruits in the defensive line room this fall and that should lead to a balanced snap count.
"This going to be more of a rotational group, but there's talent in there. As long as we continue to build on that, keep them fresh. I think we're deeper," White said. "Maybe we don't have the headliners that we've had in the past up there, but I think we can go deeper into the rotation than we've been able to in the past."
Kentucky likely won't see any individual produce numbers that will match Paschal, but a strength in numbers approach could lead to consistent play.
6.) Will Levis and his summer of fun is not a concern
We've entered a new era in college football. With NIL available to athletes, there are more opportunities to take advantage of. Will Levis leaned into all of those opportunities this offseason.
Kentucky's quarterback went to the Kentucky Derby, Masters, Manning Passing Academy, met Tom Brady at a celebrity golf tournament, and was seen on some national ESPN shows. His face was everywhere. The coaching staff is not worried about the exposure becoming a distraction.
"I would worry about some people when the spotlight gets put on you as quickly as it has with Will," Scangarello said about his QB1. "Part of what his greatness will be and is — he's very mature, very well thought out in his decision making and he just has the makeup of what you expect the great ones to have. I think that he's level-headed, and he's got the right mindset and he's all ball right now. That's exciting for all of us."
7.) Kentucky will have a detailed pass protection plan
Will Levis is an NFL Draft prospect due to what he can do in the passing game. However, a pass rush must be negated for an offense to push the ball vertically in the throw game. With two new offensive tackles, some are concerned about keeping Kentucky's franchise QB clean.
Rich Scangarello is not one of those people. The new play-caller believes his scheme and background should give Kentucky a great opportunity for success in the passing game.
"I would say that that's the beauty of playing in a pro system and my pro background," Scangarello said when asked about pass protection. "So much of what you do in the NFL is game planning pass rushers, your weaknesses on your o-line, and having the flexibility within your protection schemes, your play-action schemes and ways to mask the issues at times if they're there. That goes for any position anywhere. Quite honestly, my experience has been the tackles are not that difficult to protect it's more than interior guys that can be a problem at times if there's an Aaron Donald across from you or somebody in the SEC I'm sure that will show up and make that tough. That's the trick, but that's also the fun part of having a pro-style scheme and have a quarterback that can be involved with it that can help with that stuff. I feel confident, and I like the guys that we have. I think our tackles are pretty good. I think they're going to surprise people.
Kentucky is showing a lot of confidence in its personnel at tackle. The offensive scheme seems to be a big reason why. Expect those guys on the edge to receive help from both tight ends and running backs in pass protection when Scangarello calls for a vertical shot play.
8.) Year two bump
There is no real way to learn how to play quarterback. You have to receive live reps to improve as a player. Will Levis went through some growing pains in his first year as a starter.
After a slow start in SEC play, the Penn State transfer saw a light come on in the last few weeks of the season. Kentucky is hopeful that will lead to more sustained success in 2022.
"Like any quarterback, the game slows down the more you play," Scangarello told reporters on Wednesday. "The Iowa last drive is something I point to. Will made some great plays under duress and pressure situations where I don't think earlier in the year he would've pulled them off. Where as in Tennessee he had an opportunity, and it was tougher. That comes from playing. That's why guys succeed at the next level, the guys that bank a lot of starts are usually the better players. I think that's where Will will ascend. You see guys like Joe Burrow, and historically guys who have gone through that are very talented like guys likes Will. We're hoping for that same kind of ascension.
The Burrow jump would be nice, but that might be a tad unrealistic. If Levis can just take his game to another tier it could open up a huge window of opportunity for the Cats. That could give Kentucky a chance at hosting Georgia on Nov. 19 with the SEC East title on the line.
Who wouldn't sign up for that right now?
9.) Players over plays
As Kentucky commits to using the Sean McVay/Kyle Shanahan offense, one staple play is the root of this scheme — wide zone. Last fall, Kentucky did not fully lean into that design deferring to the strengths of the offensive roster. The Cats went with some inside zone and more gap scheme runs to finish the year as a top-25 unit.
Scangarello and Yenser will look to make Kentucky a wide zone offense, but this will still be a group that is driven by the players.
"What we do is we're always going to play to the strength of our players and we're going to do what's right, and against any given scheme we're gonna see," Scangarello said about his offense. "We're going to have some versatility to our run scheme. In the end, the starting point will always be wide zone. To be effective in everything else we want to do, that's where we'll begin. It will be a part of what we do."
The wide zone is here to stay, but Kentucky will do what it takes to win games. Players over plays should always win out.
10.) J.J. Weaver is primed for stardom
After recording 6.5 tackles for loss as a redshirt freshman in 2020, J.J. Weaver saw his season cut short after suffering a knee injury against Florida. The Louisville (Ky.) Moore product would race back and play for Kentucky just nine months later. The outside rusher was successful recording 34 tackles, 6.5 sacks, and two interceptions but was never fully healthy.
Fast forward a few months later and Weaver is now fully healthy and playing without a knee brace. The athletic juice he brings to the field has returned, and the redshirt junior could be ready for a breakthrough season.
"You can see that twitch is back," White told reporters. "That pop he had pre-injury. Between spring, summer, first day of practice today, you see him brimming with confidence. And he's playing fast, he's communicating out there. He's a guy that's very much in control of his position right now. That's a great thing to see because even when he was playing at a really high level there in 2020 right before the injury, he didn't have the command of the position that he has now. So now you put that athleticism together with the command of the position.
The former four-star recruit has the potential to be an All-SEC producer playing into the boundary as Kentucky's weak side rusher. This is a player with an NFL future, and now the defense needs to see Weaver take the next step. That jump could happen this season.
"We need him to take that next step and be a guy-guy," said White. "He's got to be a difference maker for us on defense."