Kentucky Football Midseason Report Card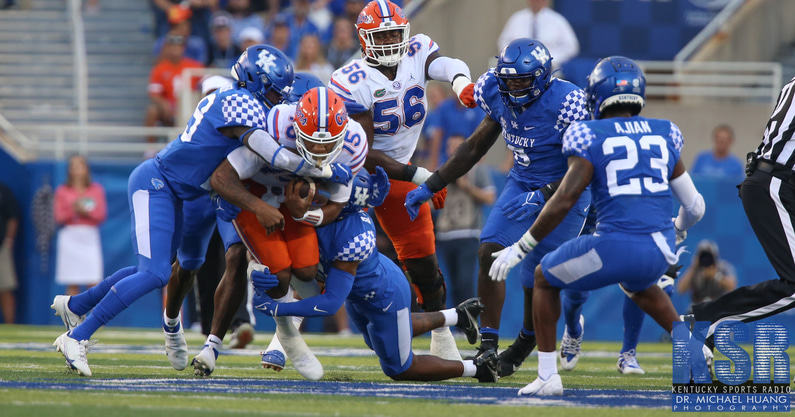 It's the bye week, the unofficial midway point of the 2021 Kentucky football season and grades are due. Mark Stoops' Wildcats are 6-1. Like all good students, they can expect a trip to get ice cream after receiving their midseason report card.
Quarterback
We'll start with the banana-eating maniac that has become an endearing member of the BBN for his antics on and off the field. Will Levis has produced a mixed bag of results, epitomizing the phrase, "You get all of the fame, and all of the blame." His game-by-game statistics are a wild roller coaster ride.

He committed at least one turnover in every single game until his five-touchdown performance against LSU. Since the big win over Coach O, Levis has really come into his own, completing 76.2% of his passes and throwing for two scores between the hedges when the entire weight of the offense was on his shoulders.
Levis has been a difference-maker and halfway through his first season as a starter he appears to be transforming into the quarterback this offense needs to obtain balance. He ranks in the top half of the SEC in quarterback rating, completion percentage, yards per attempt and touchdowns. Even so, Kentucky is still last in the SEC in passing offense. It's a confusing dichotomy to this point, but Kentucky's quarterback is definitely trending in the right direction.
Grade: B
Running Back
Chris Rodriguez gained seven yards on seven carries against Georgia and he still has 20 more rushing yards (775, 6.1 ypc.) than the next closest guy in the SEC. He may no longer be on pace to smash Moe Williams' single-season rushing record, but he is still playing like the best running back in the SEC. The only questions surrounding Chris are his health and fumbles, a problem that has seemingly been fixed since he ditched the gloves against South Carolina.
Kavosiey Smoke has taken steps forward in his development. One out of every five Smoke carries gets at least ten yards. The next step is making a defender miss and turning a few into long, home run shots. UK tried to make Smoke a pass-catcher, but that role better suits JuTahn McClain. He caught touchdown in his second game back, just scratching the surface of his potential.
Grade: A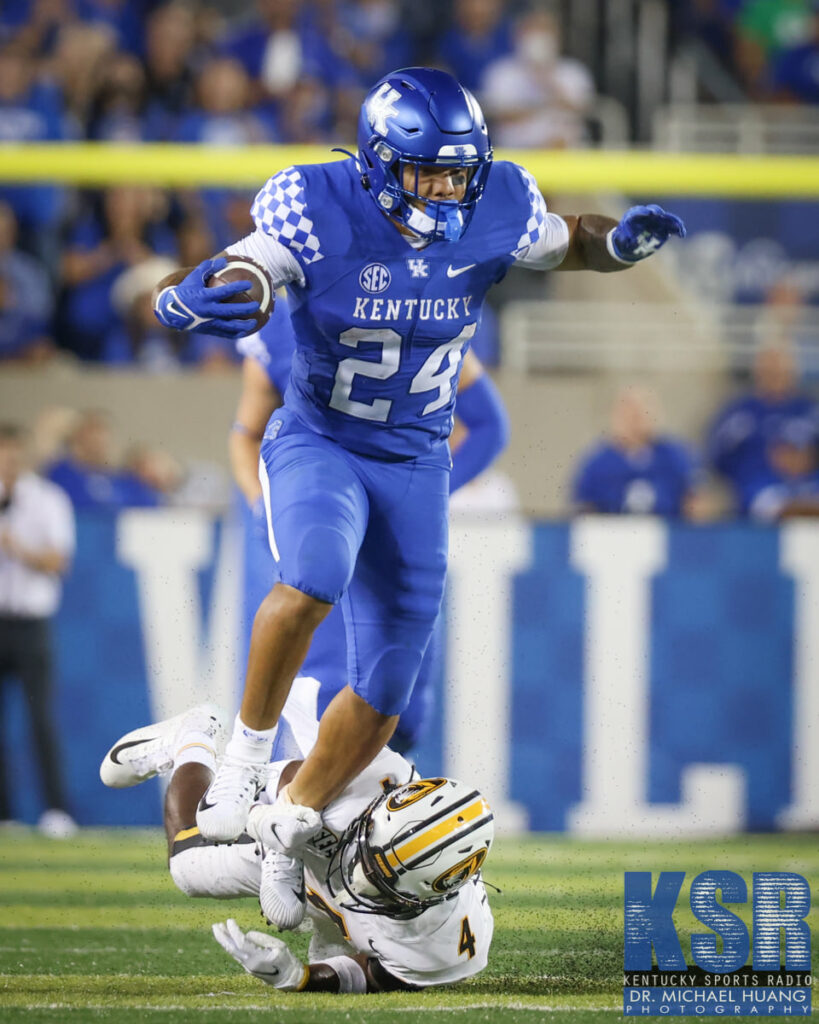 Wide Receivers
The wide receivers are receiving a report card right after failing a test. Levis had 10 incompletions at Georgia and seven of them were dropped passes. I mean, need I say more?
Kentucky went to the transfer portal to solve its passing game woes. Levis and Wan'Dale Robinson have certainly proved they are fit for the job, but Levis needs more than one Wan'Dale. Josh Ali has missed a couple of games with an injury. Isaiah Epps and DeMarcus Harris have flashed, but the drops seem to outweigh the big plays.
Wan'Dale is killing the curve. He has 49 receptions (2nd SEC) for 580 yards (3rd SEC) and 5 touchdowns (6th SEC). Nobody in the conference has more receptions of 10+ and 30+ yards. He can't do it all on his own, but he kind of is.
Grade: C
Tight Ends
The BBN wanted to see more from the tight ends in Liam Coen's offense. Even without Keaton Upshaw available, the Cats are getting it to their big guys more often. Through seven games Kentucky's tight ends have combined for 23 receptions for 229 yards and three touchdowns. In nine games last year the tight ends caught 29 passes for 357 yards and four scores. It's not a dramatic shift, but it's heading in the right direction. At times, they leave you wanting more, but the tight end screens have been effective and they've benefitted from the misdirection in Coen's offense.
Grade: B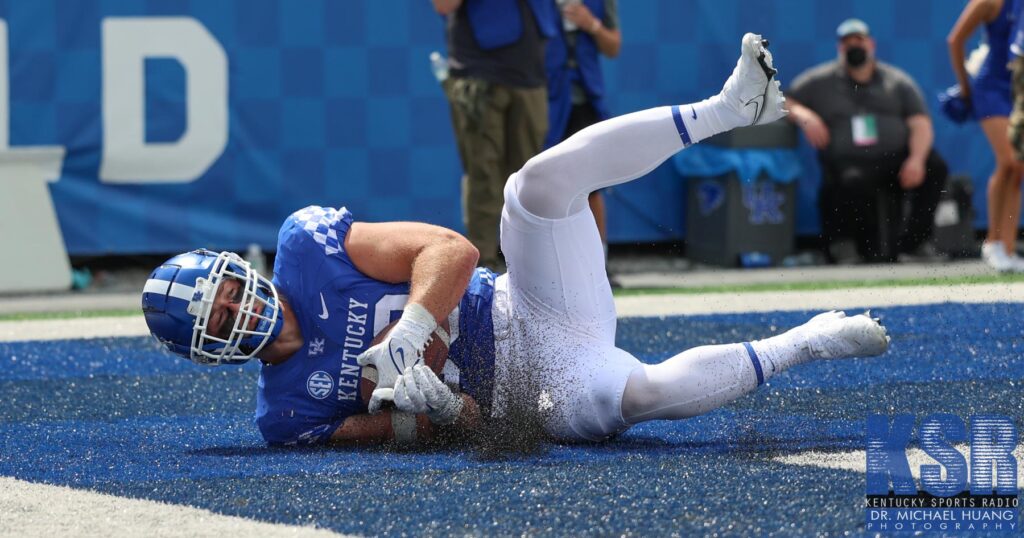 Offensive Line
The Big Blue Wall has not missed a beat in 2021. To be completely honest, I didn't realize just how efficient they've been until I checked out the numbers over at Football Outsiders.
Standard Downs: 6th
Passing Downs: 4th
Stuff Rate: 2nd
Opportunity Rate: 1st
The last two numbers pop the most. Opportunity rate quantifies how well an offensive line can move the line of scrimmage to get 0-4 yards. In Kentucky's case, when they absolutely need it, the Big Blue Wall has delivered. Only Ohio State running backs are getting stuffed at or behind the line of scrimmage less than Kentucky's.
They may have given up a few more sacks than you'd like this year, but some of those are on the quarterback. Luke Fortner has been exceptional as the center, Eli Cox is coming into his own and Darian Kinnard has continued to play like the best run-blocking right tackle in America.
Grade: A
Defensive Line
Like Wan'Dale Robinson, Josh Paschal is a report card curve-killer. The team captain is third in the SEC with 8.5 tackles for loss. He's been a constant threat, disrupting plays behind the line of scrimmage, whether he's the one recording the stat or not. He'll take on a double team to free up a blitzing linebacker, or just mow down a blocker to force the quarterback to throw the football.
Like Wan'Dale, the pieces around Paschal have not always been consistent, yet for different reasons than the wide receivers. Injuries sidelined Marquan McCall and Octavious Oxendine right when the two starters were hitting their stride. Still, Anwar Stewart's unit has been stout and applied pressure when needed. In obvious passing downs Kentucky has a sack rate of 11.7%, good enough to rank 20th nationally. UK will need the talented young players in the trenches to continue to improve as they receive more reps in the homestretch of the season.
Grade: B+
Linebackers
This group might have received an A+ before the trip to Athens. For the first time all year, Jacquez Jones and DeAndre Square did not play like veteran leaders. There was the fumble that did not get recovered, but more importantly, they popped a few gaps, leading to long Georgia runs.
Georgia game aside, they've been incredible. Square leads the team with 49 tackles and ranks 7th in the SEC in tackles for loss with 7.5. Jones has made plays in the passing game in crucial moments, wiping away multiple touchdowns with PBUs and ending the Florida game with a crucial deflection.
Injuries have impacted production on the outside. JJ Weaver has been a hell raiser while wading back into action from his ACL injury, recording 3.5 sacks and six tackles for loss. Those plays seemingly all happen in crucial moments, like his interception against Florida. Jordan Wright's impact was felt in his absence. He has three tackles for loss, a sack and five pass deflections in 4.5 games. Wright has been an exceptional open-field tackler, preventing short gains from turning into first down plays. Despite depth problems, Kentucky's linebackers have been getting it done in 2021.
Grade: A-
Secondary
Kentucky's pass defense has been one of the best in SEC, holding opponents to right around 200 yards per game. Yusuf Corker leads the SEC in PBUs with seven. Tyrell Ajian has came up big on third downs and recorded a pick six that preserved a win over Chattanooga. The problem with the secondary is that is the only interception UK defensive backs have recorded all year. The UK defense has just three total interceptions. West Virginia is the only power five defense with fewer takeaways than Kentucky.
Some growing pains were to be expected from Carrington Valentine. Now he's coming into his own, no longer the primary target of opposing offenses. No one could expect UK to replicate the insane amount of takeaways from a year ago, but the dip in interceptions is far too steep. Those pass deflections and pass break-ups need to turn into turnovers in the second half of the season.
Grade: B–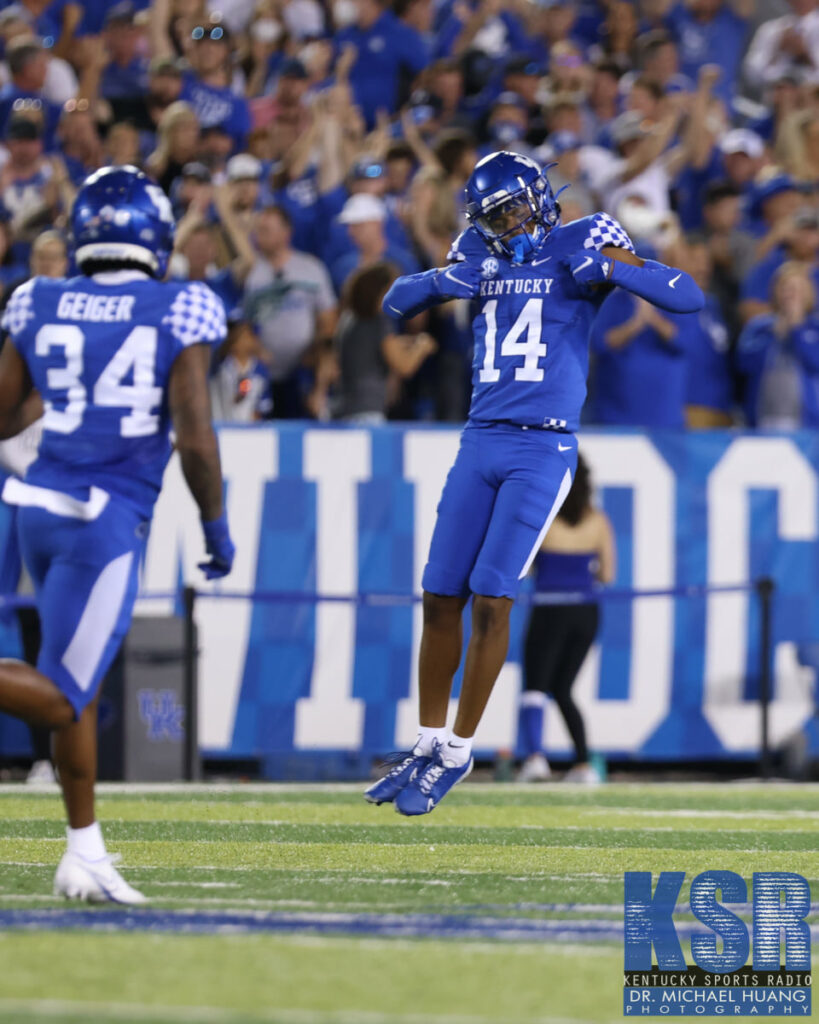 Special Teams
Josh Paschal's blocked field goal that was returned 76 yards to the end zone by Trevin Wallace is an unforgettable play that will live in Kentucky football lore forever. It's the only reason this isn't getting a big stinky F.
Four kicks have been blocked, including one against Missouri that would have given UK a two-score lead late in the fourth quarter. Unacceptable. The punting game has been wildly inconsistent, alternating between Wilson Berry and Colin Goodfellow, with the latter providing a few positives by dropping balls inside the 20. However, if Goodfellow had the hang-time, Kentucky is recovering at least one of three Kearis Jackson muffed punts Saturday. The punt returning (or lack there of) might be the most infuriating. UK loses far too many yards just by not catching punts.
Shout out to Chance Poore for blasting kickoffs into the end zone. That's something good.
Grade: D
Coaching
You can't be 6-1 without good coaching. Brad White has been more aggressive than any previous UK defense, dialing up pressures in critical situations that have landed when they absolutely needed to. The Wildcats' defense ranks 14th in defensive efficiency in the nation.
Like Levis, Liam Coen got into a little early season rut after an early offensive explosion, but he's shown an exceptional ability to game-plan and a willingness to adapt in the middle of games. Kentucky's mix of run and pass makes it difficult for opponents to scheme against the UK offense. While most fans fixated on improvements in the passing game, the biggest change in the offense are in the red zone and on third down. In 2020 Kentucky scored touchdowns on 51% of its red zone appearances, ranking 106th in the FBS. This year UK is scoring touchdowns on more than 76% of its trips to the red zone, ranked 10th nationally. Excluding the Florida game, they've also improved drastically on third down, converting right around 50% of the time.
Mark Stoops has the Wildcats in position to do things we haven't seen in Lexington in a long time, generating buzz on the coaching carousel. That buzz will not go anywhere as long as Stoops can ensure the Cats finish strong in the final five games to end an historic season.
Grade: A