Kentucky Football Notes of the Week
Kentucky secured a commitment from the top rated prospect in Michigan as secondary coach Steve Clinkscale traveled north to land four-star offensive lineman Marquan McCall. McCall is rated as a top 5 guard nationally. His recruitment proves that Stoops' out-of-state reach can go well beyond Ohio and Florida.
I'm taking some time off and this is my last post for a while. So, let's check out all the recent goings on surrounding Kentucky Football…
3 Players With The Most to Gain in the Offseason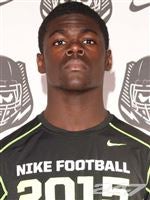 Linebacker Jamin Davis
The early enrollee was one of the spring game's standouts after recording 7 tackles and 1 tackle for loss. Davis' instincts, physicality, and character supersede his lack of experience. Summertime weight and strength gains are vital for the rookie from Ludowici, Georgia. Currently listed at 212-pounds, Davis may push for immediate playing time if he can surpass the 220 mark.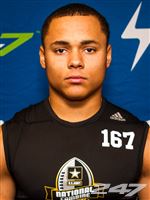 Running Back Bryant Koback
Bryan Koback suffered a season-ending injury after posting a 375-yard rushing performance early in his senior year of high school. Prior to the injury, Koback rushed 93 times for 1,096 yards and 21 touchdowns in a shortened season. The early enrollee didn't participate in spring practice while he focused on rehabilitation.
History tells us that Eddie Gran will need more than 3 running backs for 2017. Currently Gran is counting on Benny Snell, Sihiem King, and AJ Rose to carry the mail. The Wildcats need the true freshman to heal and regenerate in the offseason in order to provide a 4th option. Hopes are that he regains the speed and elusiveness that attracted Vince Marrow's eye during his days at Springfield High School.
 Linebacker Eli Brown
Brown stepped up and showed out during spring practice as his play was singled out by defensive coordinator Matt House as well as Mark Stoops. The sophomore from Bowling Green is listed at 215-pounds which is 5-10 lb's shy of a desirable weight for an inside linebacker. He's shown explosive play and sideline-to-sideline capability. But, an increase in his between-the-tackle fist fight prowess will only come with additional strength and weight gains. Brown should see a significant upsurge in playing time in 2017 and has all the tools to be special.
---
Early Signing Period
Beginning with this recruiting cycle, prospects can sign their National Letter of Intent (NLI) during an early signing period that ranges from December 20th through the 22nd. Will this 72-hour window be the end-all solution for programs such as Kentucky? I'm yet to be convinced. While in no way can it hurt, let's wait to see at least one recruiting rotation filter through the new system prior to passing judgement.
UK's Class of 2017 pledged early and stayed committed all the way through National Signing Day. Only Lynn Bowden, Yusuf Corker, and Abule Abadi-Fitzgerald came into the fold after December 22nd. The Class of 2015 was quite the opposite. It lost a portion of players from decommitment but gained eventual starters late in the process.
Will a high percentage of players sign early or will they drag out the process until February? Are 48 days between the first and final signing days enough to make a substantial difference? There's no way to accurately answer those questions. We'll see how it plays out. You can listen to three UK has-beens discuss this and more topics on the Depth Chart Podcast here.
---
KHSAA State Football Championships Moving to Kroger Field
Kroger Field will host the KHSAA state football championships beginning this December. This includes all classifications: A, 2A, 3A, 4A, 5A, and 6A. Excellent news for the University of Kentucky as well as traditional powerhouse football programs in eastern and central Kentucky.
I've either played in or attended title games at the old Cardinal Stadium, Papa John's, and those hosted by WKU. All have been hospitable sites and provided travel ease for programs within their immediate vicinities. It's now UK's time to showcase its new shiny facilities.
---
Service Trip to the Dominican Republic
CJ Conrad, Jordan Bonner, and Denzil Ware are spending a portion of their offseason on a service trip to the Dominican Republic. Not much more to say other than take a look at these inspiring and heartwarming pictures. Really proud of these guys.
This picture of Denzil Ware is priceless:
OLB Jordan Bonner's selfie game is strong:
I'll be completely off the grid starting Saturday. But, if you're in the area stop by the 6th Annual Passing for a Purpose football camp that will be held at Harlan County High School's Coal Miner Memorial Stadium. The camp starts on Saturday morning and runs from 8:00 a.m. through 3:00 p.m. Cost is $10.00 with 100% of proceeds going to Cumberland Hope Community Rehab Center.
Have a great week.
Discuss This Article
Comments have moved.
Join the conversation and talk about this article and all things Kentucky Sports in the new KSR Message Board.
KSBoard