Kentucky Football Post-Spring Depth Chart: Defense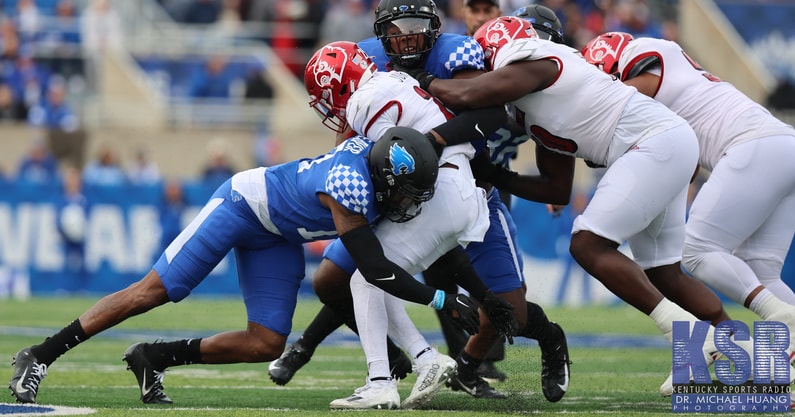 Kentucky football roster-building season appears to have come to a close. Mark Stoops wrapped up last week by announcing the addition of seven new transfers for the 2023 season. Now that the dust has seemingly settled and spring practice has concluded, it's time to see where players stand at each position. After Adam Luckett compiled an offensive depth chart, let's take a closer look at the defense Brad White will field this fall.
Defensive End
Kahlil Saunders (6-5, 288, RSo.)
Tre'vonn Rybka (6-4, 275, Jr.)
Despite missing spring practice with an injury, Kahlil Saunders has the size to set the edge and length to create separation in pass rush. Ideally, that aspect of his game could've been further developed with 15 more practices, but KSR still expects Saunders to be the primary go-to guy out of the 5-technique.
Nose Guard
Josaih Hayes (6-3, 309, Jr.)
Jamarius Dinkins (6-5, 280, RFr.)
Keeshawn Silver (6-4, 315, RSo.)
In Justin Rogers' absence, Brad White asked a lot from Josaih Hayes. This spring, he delivered. It's exactly what the group needed from the former four-star prospect as Jamarius Dinkins was sidelined by injury and Keeshawn Silver adjusted to life in the 3-4 defense at Kentucky. Attrition is common at this position. Kentucky needs all three prepared to play significant snaps in 2023.
Defensive Tackle
Deone Walker (6-17, 785, So.)
Octavious Oxendine (6-1, 285, RJr.)
Here's the dirty little secret about the defensive line depth chart: Deone Walker can and will play every position at times. His success will significantly impact his teammates' production. Walker will push the pocket into his teammates and draw attention in the form of double teams, providing opportunities elsewhere. The D-line must always take a "by committee" approach, but Walker is one exception that stands above the rest.
Jack Linebacker
J.J. Weaver (6-5, 245, Sr.)
Keaten Wade (6-5, 240, So.)
Tyreese Fearbry (6-5, 230, Fr.)
The time is now for JJ Weaver. He's been an exceptional edge setter and playmaker in the pass game, but has struggled to consistently deliver in the pass rush (10 sacks in 35 games). If he can add pass rush production to his resume, the NFL Draft will be calling next spring. The young prospects behind him have a bright future — I have a hunch Keaten Wade will have at least a game or two that he flips upside down — I'm just not exactly sure how they fit into the equation.
Mike Linebacker
D'Eryk Jackson (6-1, 241, RJr.)
Daveren Rayner ( 6-3, 205, Sr.)
Luke Fulton (6-4, 225, Sr.)
Will Linebacker
Trevin Wallace (6-2, 240, Jr.)
Daveren Rayner ( 6-3, 205, Sr.)
Martez Thrower (6-2, 224, Jr.)
Similar to nose guard, injuries are inevitable at inside linebacker. Northern Illinois transfer Daveren Rayner will be the first name called into action as LB3. Also pretty light in the shorts, the faster Martez Thrower comes along, the better.
Sam/Nickel
Alex Afari (6-2, 203, So.)
Andru Phillips (6-0, 190, Jr.)
Versatility is the name of the game at the nickel position. It's why it's the ideal fit for Alex Afari, a big-bodied defensive back that can blitz and provide run support, while also being light enough on his feet to cover slot receivers. However, he is on the larger side. There are scenarios — particularly against a team like Tennessee that will try to spread out the defense through the air — where Andru Phillips' athleticism fits best against covering the slot. I also wouldn't be surprised to see Jalen Geiger get some run in the slot in nickel and dime sub-packages.
Boundary Cornerback
JQ Hardaway (6-3, 190, So.)
Jantzen Dunn (6-0, 185, RSo.) OR Jordan Robinson (6-4, 210, RSo.) OR Avery Stuart (6-2, 175, Fr.)
If there's one thing we learned from spring practice, it's that there's no sure thing at cornerback. Kentucky hit the portal hard following Carrington Valentine's surprise departure, but neither newcomer took command of the job during the spring. Brad White believes this competition could bleed into the season, which is not ideal.
I will not pass judgment on the players who are learning a new scheme in 15 practices. They got time to figure it out before SEC play begins. The best case scenario is JQ Hardaway figures it out and becomes the guy at that position. Others are capable, but he appears to check the most boxes on the edge of the defense.
Free Safety
Jordan Lovett (6-2, 202, RSo.)
Jalen Geiger (6-1, 197, RJr.)
Strong Safety
Zion Childress (6-0, 191, Jr.)
Jalen Geiger (6-1, 197, RJr.)
Jalen Geiger began his career at strong safety. He switched to free ahead of the 2022 season and looked like one of the Wildcats' top defenders through about six quarters when he suffered a season-ending knee injury against Florida.
It did not take long for Jordan Lovett to emerge as a playmaker. By the end of the season, Zion Childress was showing big-play chops. Each has all-conference potential, so how do you integrate Geiger back into the defense? He has the experience and versatility to play a little bit of everything for the Cats, providing a new luxury for Brad White with three bonafide starters for two positions.
Field Cornerback
Andru Phillips (6-0, 190, Jr.)
Maxwell Hairston (6-1, 185, RSo.)
Andru Phillips has flashed without being asked to log a ton of snaps. Consistency is key to provide some assurance that history will not repeat itself. In 2021 the Kentucky pass defense became a liability, costing the 10-win Cats a chance to win 11 or 12 games. Maxwell Hairston was the most ball productive defensive back in spring practice, but they were high-risk, high-reward turnovers. Eradicating the big-play mistakes can provide some assurance that will allow Brad White to continuously shuffle the deck in the secondary.
Size, Versatility gives Brad White and the Kentucky Defense More Options
Kentucky had a top three defense in the SEC without a player drafted in the first six rounds of the NFL Draft. This year Kentucky actually has some star power in the middle of the defense with Deone Walker, Trevin Wallace and the triumvirate of safeties. This could be the best defense Brad White has fielded at Kentucky.
To play out that scenario, Kentucky needs the players around Walker to provide production in the trenches in the form of tackles for loss. The D-line is enormous and has natural run-stopping ability. Keep the linebackers healthy, then watch the safeties cook. The Kentucky defense coordinator said he put more on his defense this spring than any other during his tenure because they can handle it. With experienced vets, Brad White can cook up some funky pre-snap looks to confuse opponents and create havoc plays that change the game, like this one from last fall in Gainesville.
Over the last two years Kentucky has generated 28 turnovers in 26 games. The Wildcats don't need those havoc plays to be a top five defense in the country, but those game-changing plays can turn them into a top five defense in all of college football.