Eckrich wants Kentucky Football Practice Notes from the Offense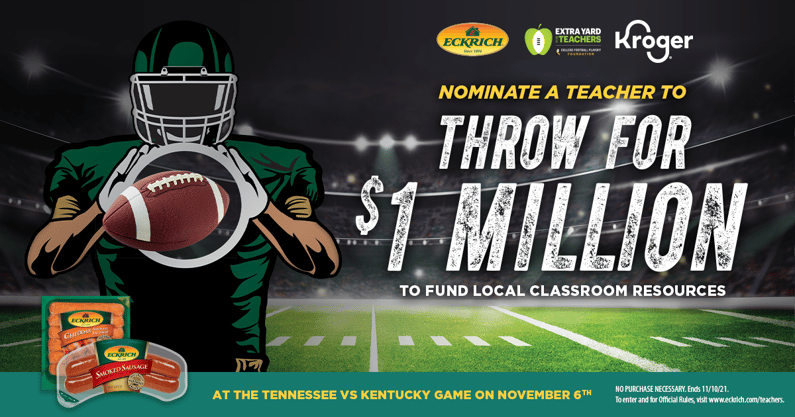 Eckrich is proud to present the the Tuesday night Kentucky football practice notes and the $1 Million Challenge for Teachers! This 2021 college football season Eckrich, in partnership with Extra Yard for Teachers and Kroger, will invite a local teacher (and true hero) onto the field at the Tennessee vs Kentucky game on November 6th.
These lucky teachers, randomly selected from a list of entries, will have a chance to throw a football through a target to win up to $1 million dollars in donations to fund local classroom projects. Nominate a teacher here for a chance to throw! Make sure to nominate your teacher by October 27th.
---
The Wildcats are on the verge of playing the best defense in all of college football. As you will tell after consuming these Kentucky football practice notes, that isn't changing how the Cats are preparing for Saturday's game. They respect Georgia, but the Dogs put their pants on one leg at a time just like everybody else.
"At the end of the day, you can't go into it thinking it's a bigger game than every other one. You kind of have to take it like all the other ones, not get out of your comfort zone and your element of how you prepare for games," said Wan'Dale Robinson. "You gotta be laser focused."
The SEC's leading wide receiver says he noticed some extra eyes on him in the secondary without Josh Ali in the lineup. That will definitely be the case this Saturday against Georgia.
Kentucky Preaches Patience
Patience is sometimes bitter, but the fruit is always sweet. Slowing down Will Levis' feet was the key to his success against LSU. It applies even more when facing a ferocious Georgia defense that flies around the field.
"You can't force anything," quarterback Will Levis said days after a five-touchdown performance vs. LSU. "I think sometimes when a couple balls aren't there, there can be a tendency to try to force something.
"It's kind of frustrating some times but it's really just keeping that even keel-ness every play, taking what they give you and understanding that they've got good players. They're going to make plays. There's going to be pass plays where people aren't open. Be smart with the ball, either throw it away or tuck it down."
"It looks like he likes to get hit early at times," offensive coordinator Liam Coen laughed. "It kind of wakes him up and gets him going in the flow of the game."
Nobody on the offense explicitly stated that Levis will be carrying the rock more against Georgia. However, some context clues lead me to believe that will play a significant role in the gameplan.
Chris Rodriguez Homecoming
The Kentucky running back, and the SEC's leader in rushing yards, is coming home one more time. Hailing from McDonough, about a 90-minute drive south of Athens, Rodriguez is expecting at least 20 family members in the stands. That's not counting other friends who have reached out to say they'll be there. He's excited to be back in his home state, and for more than one reason.