Kentucky Football ranked No. 11 in latest AP Poll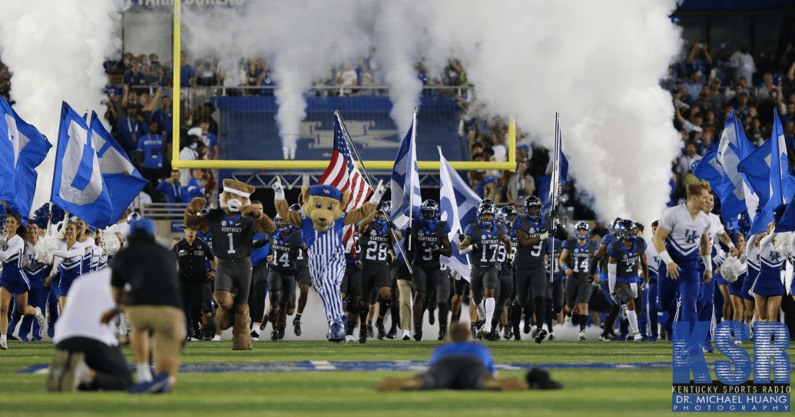 The Coaches Poll and AP Poll are in agreement: Kentucky Football is the 11th best team in the country right now.
Not long after the USA Today AFCA Coaches Poll Top 25 was updated on Sunday afternoon, where Kentucky was moved from No. 14 to No. 11, the AP Poll bumped the 'Cats up five spots from No. 16 to No. 11. The updated rankings mean Kentucky will pit its 6-0 record against the nation's new No. 1: the Georgia Bulldogs.
Head coach Mark Stoops and his Kentucky squad have set themselves up for what could be the biggest victory in the history of the program. College GameDay and SEC Nation will be in Athens to preview and hype up the game.
No. 11 vs. No. 1 with the winner in the driver's seat to steal the SEC East. It doesn't get much better than that.
Below is the entirety of the AP Top 25
Georgia (+1)
Iowa (+1)
Cincinnati (+2)
Oklahoma (+2)
Alabama (-4)
Ohio State (+1)
Penn State (-3)
Michgan (+1)
Oregon (-1)
Michigan State (+1)
Kentucky (+5)
Oklahoma State
Ole Miss (+4)
Notre Dame
Coastal Carolina
Wake Forest (+3)
Arkansas (-4)
Arizona State (+4)
Brigham Young (-9)
Florida
Texas A&M (NR)
N.C. State (+1)
Southern Methodist (+1)
San Diego State (+1)
Texas (-4)
Schools Dropped Out
No. 18 Auburn
Others Receiving Votes
Auburn 106, Clemson 63, Baylor 62, UTSA 22, Mississippi State 7, Kansas State 3, Appalachian State 2, Air Force 2, Pittsburgh 1