Lack of local blue-chip talent has not helped Kentucky's 2023 recruiting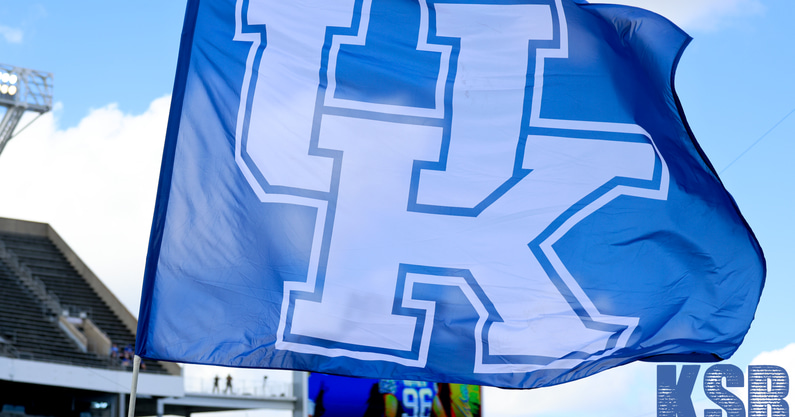 Mark Stoops and his Kentucky coaching staff have broken ceilings consistently since the former Florida State defensive coordinator was hired in Dec. 2012. A good portion of those accomplishments can be tied directly to the work done in recruiting.
The Wildcats have inked a pair of top-25 recruiting classes in the last three recruiting cycles and have gone into Ohio to create a recruiting home base. Add that in with the combination of rising in-state talent, and Kentucky has been able to hold its own recruiting against peers in the heated Southeastern Conference. Those high rankings were usually earned due to some blue-chip recruiting wins.
We've seen 10 classes sign with Kentucky during the Stoops era, and the Wildcats have inked 29 top-300 recruits in that time, per the On3 Consensus. Kentucky has signed at least one player rated that highly in every class outside of 2019. Unfortunately, that class has seen a high turnover rate.
However, most of these blue-chip prospects have come to UK from the Kentucky/Ohio home recruiting base with 20 of 29 (69%) hailing from that territory. Let's take a look at a breakdown from the past decade.
2013
— Louisville (Ky.) Trinity EDGE Jason Hatcher (No. 253)
— Frankfort (Ky.) Franklin County WR Ryan Timmons (No. 270)
2014
— Hebron (Ky.) Conner QB Drew Barker (No. 104)
— Monroe (Ga.) George Walton Academy RB Boom Williams (No. 215)
— Elizabethtown (Ky.) John Hardin DL Matt Elam (No. 228)
— Lima (Ohio) Central Catholic DB Darius West (No. 270)
2015
— Bowling Green (Ky.) High LB Eli Brown (No. 281)
2016
— Lexington (Ky.) T Landon Young (No. 29)
— Versailles (Ky.) Woodford County iOL Drake Jackson (No. 159)
— Paintsville (Ky.) High LB Kash Daniel (No. 233)
2017
— Mansfield (Ohio) Madison Comprehensive DB Tyrell Ajian (No. 194)
— Olney (Md.) Our Lady of Good Counsel EDGE Josh Paschal (No. 232)
— Youngstown (Ohio) Warren G. Harding WR Lynn Bowden Jr. (No. 248)
2018
— Oak Park (Mich.) High DL Marquan McCall (No. 156)
— Cleveland (Ohio) St. Ignatius Darian Kinnard (No. 228)
— Cincinnati (Ohio) Winton Woods LB Chris Oats (No. 261)
2020
— Oak Park (Mich.) High DL Justin Rogers (No. 44)
— Dublin (Ohio) Coffman WR Michael Drennen (No. 261)
2021
— Jesup (Ga.) Wayne County LB Trevin Wallace (No. 88)
— Lexington (Ky.) Frederick Douglass iOL Jager Burton (No. 117)
— Lexington (Ky.) Frederick Douglass WR Dekel Crowdus (No. 275)
2022
— Louisville (Ky.) Charlestown (Ind.) High T Kiyaunta Goodwin (No. 55)
— Nashville (Tenn.) Pearl-Cohn WR Barion Brown (No. 87)
— Pittsburgh (Pa.) Perry Traditional Academy EDGE Tyreese Fearbry (No. 181)
— Spring Hill (Tenn.) Summit EDGE Keaten Wade (No. 219)
— West Chester (Ohio) Lakota West DB Alex Afari (No. 246)
— Lexington (Ky.) Frederick Douglass WR Dane Key (No. 261)
— Detroit (Mich.) Cass Tech DL Deone Walker (No. 269)
In-state recruiting has created opportunities
If a player is a top-100 prospect in Ohio, that recruit typically becomes a priority target for Ohio State. If that specific prospect is in Kentucky, the Big Blue has a legitimate shot at earning a commitment.
The Wildcats have signed a pair of top-100 recruits under Stoops and brought transfer Wan'Dale Robinson home after two seasons spent at Nebraska. There have been some big losses with Alabama landing Damien Harris and Jedrick Wills, Notre Dame scooping up Michael Mayer, and Clemson getting Walker Parks out of UK's backyard. However, Kentucky has won its fair share of battles and typically does a good job of keeping blue-chip talent home.
Ohio fills the gaps
In years where there are not a ton of local options near the top of the national recruiting rankings, Vince Marrow has been able to go into Ohio and bring blue-chip talent to Kentucky.
Kentucky saw Lynn Bowden Jr. become an All-American in three seasons. Darian Kinnard did the same in four seasons. Expectations are high for true freshman Alex Afari.
Kentucky has seen nine top-300 recruits join the program from Ohio as the Wildcats have been able to consistently recruit the second-tier successfully in that fertile state.
Class of 2023 has not been a good mixture
We've entered a brand new era of college football. There is heavy conference realignment going on with both NIL and the transfer portal now running at full speed with not much oversight from the NCAA. The sport is in a huge transition period, and it feels like we are learning new things daily.
In many ways, we are in the land of the unknown when it comes to college football recruiting. Signs point to the program being behind when it comes to NIL compensation, but it's not the only reason that Kentucky is off to a slow start. The lack of top-end talent in the home recruiting base plays a significant role.
Currently, there are zero Kentucky high school prospects rank inside the top 300, and Louisville (Ky.) Male iOL William Spencer is the only player inside the top 400. In Ohio, there are just five top-300 prospects and four of them are committed to Ohio State with the other set to go to Notre Dame.
In this cycle, Kentucky's main recruiting territory is just not providing many top-end options.
In the last three classes, we've seen the coaching staff go into other areas and have success. There seems to be a pipeline building in Middle Tennessee, and Metro Detroit has been a good place for the program to find high-level defensive line talent. Kentucky has also had some one-off recruiting wins in the DMV, Pittsburgh, and South Georgia.
In the class of 2023, Kentucky went into Nashville (Tenn.) Ensworth to land wideout Shamar Porter and the Wildcats are trending for Montgomery (Ala.) Alabama Christian Academy DB Avery Stuart. Typically, landing a pair of blue-chippers in the traditional SEC footprint would set Kentucky up to have a great recruiting haul. Unfortunately, the backbone of the recruiting operation is somewhat dry this cycle when it comes to top-end talent.
There is time to find some other solutions, but it's not unfair to say this class should have a lower ceiling simply because Kentucky does not have any top-of-the-line prospects in its backyard. There appears to be a NIL situation to figure out, but the recruiting board could be smaller this year due to the lack of options available locally.