Where Kentucky stands after issuing official written offers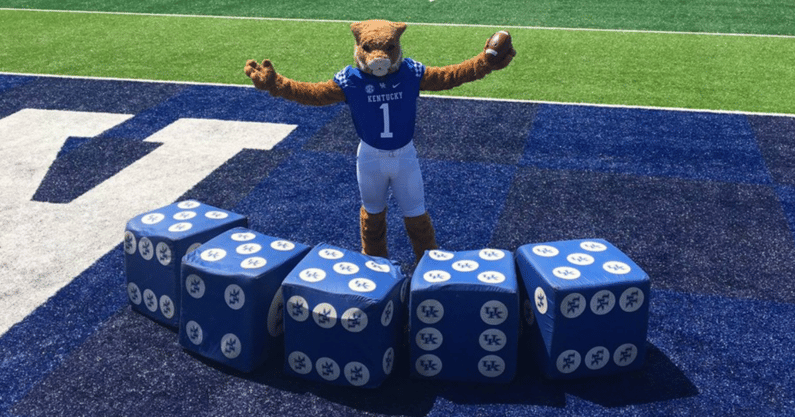 As a dead period begins on Aug. 1, college football recruiting refuses to stop. That same day is also the time when schools can issue official written offers to senior prospects. On Twitter this week, we saw both commits and uncommitted players share both videos and graphics that Kentucky sent out with a signed letter from head coach Mark Stoops.
In recruiting, verbal offers are given out by coaching staffs and play a huge role in the process. These are quite often non-binding and can sometimes be reported incorrectly. Just because a player has an offer doesn't mean he is a take for a program. Every cycle, Kentucky issues hundreds of verbal offers when the program will only sign 20 or so high school recruits in a single class.
Official written offers are also technically non-binding, but they serve as a good refresher just four months until signing day. These offers show where schools are with certain prospects and who the true competition is at this point of the calendar. This week much was learned about Kentucky's current 2023 recruiting operation.
We've tracked social media activity this week regarding the Kentucky offers. Let's dive into the new intel.
Known prospects
For this exercise, we won't touch on the 14 current commitments in Kentucky's 2022 class. We know those players have committable offers, and most have completely shut down their recruitment. For now, we're focusing on the prospects that are being pursued.
There were many written offers issued for some prospects of note.
— Naquil Betrand (6-6, 320): The mid-three star offensive tackle out of the Mid-Atlantic is scheduled to announce on Saturday. Auburn, Kentucky, Syracuse, and Texas A&M all issued official offers. The Aggies are trending in this recruitment after hosting Betrand for an unofficial visit last weekend.
— Stanquan Clark (6-1, 210): A top-500 recruit at Miami (Fla.) Central, Clark took an unofficial visit to Kentucky in June. Per his Instagram story, the Wildcats issued a written offer. Auburn, Florida Atlantic, Louisville, NC State, and Rutgers did the same. The off-ball linebacker is fresh off an unofficial visit to Louisville to end the July recruiting period. The ACC program consistently recruits South Florida well and could score a big win again.
— Tavion Gadson (6-5, 265): Kentucky hosted the three-star defensive lineman from Savannah (Ga.) Jenkins for two unofficial visits this offseason. The prospect has three official visits remaining after making trips to Florida State and Minnesota in June. Those two programs along with Auburn and Tennessee issued written offers this week. Don't be surprised if this is a late rankings riser as we inch closer to signing day.
— Kendrick Gilbert (6-5, 292). The four-star defensive lineman out of Indianapolis (Ind.) Cathedral went on official visits to Iowa, Kentucky, LSU, and Purdue in June. Each of those programs issued official offers. The Boilermakers and Cats are the two programs trending as an announcement seems imminent. Both programs hosted the prospect for an unofficial visit the last weekend of July in an attempt to close the deal.
— Ja'Keem Jackson (6-0, 180): The top-200 prospect committed to Florida last week, but this recruitment seems far from over. Jackson published offers from Auburn, Florida State, Georgia, Kentucky, Ole Miss, Penn State, and Tennessee. The blue-chip cornerback has two official visit opportunities remaining, and Kentucky should have a great shot at getting one of those visits in the fall.
— Kenton Kirkland (6-1, 176): The high three-star defensive back out of Jacksonville (Fla.) Raines took an unofficial visit to Kentucky last week as defensive backs coach Chris Collins has the Wildcats in the mix. Florida State was the only other school to issue a written offer.
Surprising developments
— Jmaury Davis (6-0, 190): The Texas tailback has been committed to Texas Tech since February but was an early Kentucky target. Running backs coach John Settle is still pursuing the three-star prospect for the Wildcats. Kentucky was the only offer reported by Davis other than Texas Tech.
— TJ Harvison (6-0, 189): An unranked prospect from the outskirts of Atlanta, Harvison received a written offer from Kentucky and tagged offensive coordinator Rich Scangarello in the tweet. Another running back target could be emerging. Harvison also received official offers from Appalachian State and Georgia Southern.
— Branden Palmer (6-4, 205): The unranked EDGE prospect out of North Carolina camped at Kentucky in June and earned a verbal offer. However, not much has been heard since. That changed on Monday as UK was the only school to have a reported offer for Palmer with defensive coordinator Brad White leading the charge.
— Chris Parson (5-11, 208): Kentucky hosted the Metro Nashville quarterback for a camp workout and unofficial visit last summer, but Parson quickly committed to Florida State. However, the top-500 recruit backed out of that commitment one year later. Kentucky hasn't appeared to make a serious run yet at the prospect in recent weeks. Mississippi State and TCU both issued officials while Vanderbilt has been trying to make a push for the local QB.
— Marcellius Pulliam (6-3, 215): Kentucky hosted the linebacker for an unofficial visit in June, and was emerging as a legitimate player in this recruitment. However, Pulliam did not report an offer from the Wildcats. Auburn, Indiana, and Miami have all issued written offers to the Georgia native.
— Jamarion Wilcox (5-6, 190): Kentucky hosted the mid three-star tailback for an unofficial visit in June and issued an official offer this week. Memphis, Troy, and Vanderbilt did the same. Kentucky appears to still be looking for running backs despite having two currently committed in the class.
Current recruiting outlook
Kentucky sits at a good spot heading into fall camp with 14 commitments in the class. Now the coaching staff can focus on positions of need while targeting some reasonable higher ranked prospects that the program can make a strong run at.
At this point, it's clear that running back remains a position of need while Kentucky still needs to add a defensive lineman to the class. Scangarello appears to be in no rush at finding a quarterback choosing to stay patient. Kentucky will likely go all-in on the transfer portal after the season.
The early written offers are just a start but can serve as a helpful reminder of where teams stand going into the season. Kentucky has some work to do, but there are some clear targets that the coaching staff will try to close on soon.