Key recruiting targets have big official visits scheduled this weekend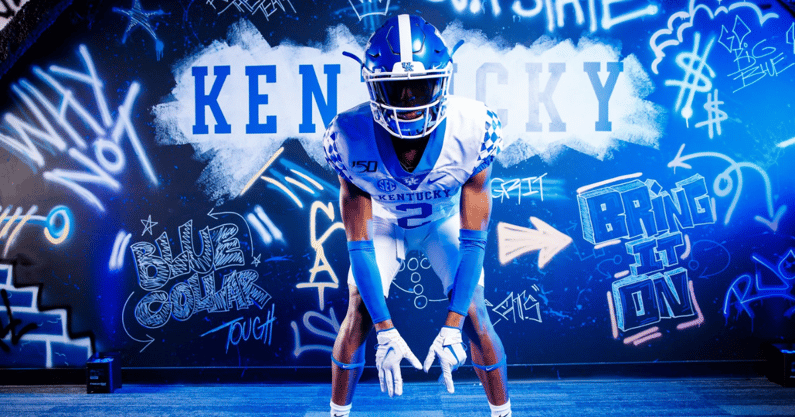 As June comes to a conclusion, college football programs are attempting to get one last batch of official visits completed before this live recruiting period ends. These are very important as July is historically one of the bigger announcement months during each recruiting cycle.
Kentucky has hosted a pair of consecutive huge official visit weekends and it appears that the staff could be laying low to close out the month. That won't be the same for other programs around college football.
There will be nine major Kentucky targets taking in visits somewhere else this weekend. Let's take a dive in at these upcoming officials and dig into the significance of each.
Kentucky vs. Tennessee
Bowling Green (Ky.) South Warren defensive back Cristian Conyer has been a popular recruit this summer as the in-state prospect has Kentucky and Tennessee fighting tooth and nail for his services. The three-star prospect has taken three visits to Lexington over the last three months with his official visit wrapping up last weekend. While on campus, it seems that Vince Marrow made a big push as Kentucky went from a slight underdog to a favorite in this recruitment.
However, Tennessee cornerbacks coach Willie Martinez is not going down without a fight. The former Georgia defensive coordinator under Mark Richt has spent 15-plus years in the SEC and has been in many recruiting battles. Conyer will be making his third trip to Rocky Top in the last three months this weekend for his official visit to Tennessee.
The in-state product is a priority recruit for both programs, and this weekend will go a long way in determining the winner. Conyer is scheduled to announce his decision on the Fourth of July weekend.
Ja'Keem Jackson is another three-star defensive back who has seen recruiting interest pickup recently. Kentucky hosted the prospect in June for a multi-day unofficial visit, but Jackson took official visits to both Auburn and Penn State. Tennessee is set to host the prospect for an official this weekend, and a final decision is set to occur in July.
The Cats and the Vols are battling for the same secondary prospects.
A third contender emerges
Florence (Ala.) Mars Hill Bible School offensive lineman Koby Keenum took consecutive official visits to Kentucky and Louisville in June as it looked like a head-to-head Governor's Cup battle could be occurring on the recruiting trail between new offensive line coaches Nic Cardwell and Zach Yenser. However, another coach has a longer relationship with the three-star prospect.
After spending four seasons in the SEC at Ole Miss (2017-19) and Auburn (2020), Jack Bicknell Jr. moved to Louisville but left after one year to join Mack Brown's staff at North Carolina. During that time, he has been building a relationship with Keenum. The Tar Heels will get the last official visit and may just be the favorite in this recruitment due to the long relationship with Bicknell.
Michigan is back
Last summer, Michigan emerged as summer official visit stops for both Kobi Albert and Dane Key. Each would pick Kentucky in the end, but the Wolverines are often swimming in the same waters as the Wildcats. We're seeing that again play out in this cycle.
After Auburn and Kentucky hosted four-star wideout Karmello English for official visits, the prospect will head north to Michigan for one final official before making a decision on Fourth of July weekend.
Auburn appears to have some momentum, but English's social media accounts would seem to point to Kentucky being a major player here. Michigan will look to close some ground as this English's first visit to Ann Arbor after making multiple trips to the other contenders.
At the end of the day, this still feels like an Auburn and Kentucky battle.
One more visit for key defensive line recruit
Indianapolis (Ind.) Cathedral defensive lineman Kendrick Gilbert has had a busy month. The four-star prospect has completed official visits to both LSU and Kentucky with a trip to Iowa scheduled for this weekend. The Wildcats appear to be in great shape here.
Quietly, Gilbert might be one of the biggest targets in the class as the prospect has multi-positional ability to go along with great length. Kentucky has not recruited Greater Indianapolis very often but this could be a big score.
Get out of Iowa City without much buzz, and the Wildcats could be the winners here.
Big weekend in Tallahassee
Mike Norvell and Florida State will be hosting eight players on campus this weekend for official visits, and two of them have emerged as Kentucky targets.
Four-star defensive back Avery Stuart has a list of finalists that include both the Wildcats and the Seminoles. After taking an official visit to Lexington to begin June, the Alabama native will head to Florida State this weekend for his second official. Safeties coach Frank Buffano is attempting to record a significant recruiting win as Kentucky chases after the top-250 prospect.
Tavion Gadson is a three-star defensive line prospect out of Georgia, and secondary coach Chris Collins go the prospect to Lexington for an unofficial visit last weekend. However, Gadson is hitting the road again for an official visit to Florida State for his second official after visiting Minnesota two weeks ago.
Florida State and Kentucky could have some head-to-head battles in the class of 2023.
Key SEC visits
Both Jaden Robinson and Robert Stafford are four-star recruits from Florida that Kentucky was able to quietly get on campus in June for an official visit. However, each is visiting a school they have a very long relationship with this weekend.
Robinson is headed to South Carolina for the third time since January this month as Shane Beamer's program looks to be in an excellent position. Stafford is heading to Arkansas after official visits to Kentucky and Oregon. The top-200 cornerback will be making his fourth trip to Fayetteville since November.
Kentucky has some ground to makeup, but the recruiting staff is grinding here for the pair of defensive prospects.