Kentucky Football Recruits: How Did They Do This Weekend?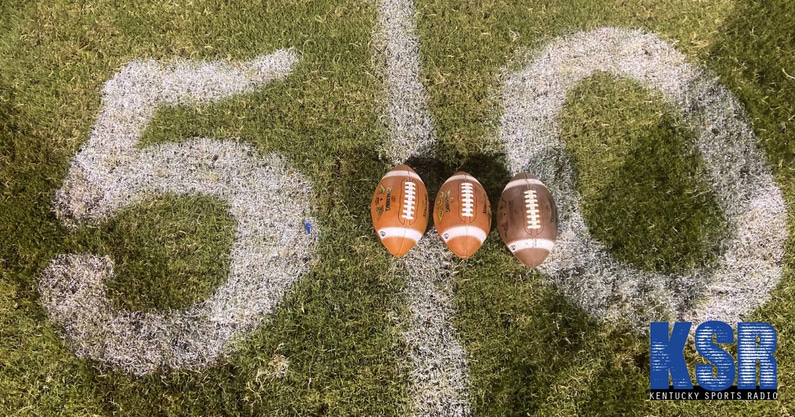 Whichever way you want to look at it, Kentucky football is 4-0 in 2021. While the Wildcats were busy in Columbia, their incoming recruits were busy on the preps gridiron the last few days.
Here's how future Kentucky football stars spent their weekend:
Kiyaunta Goodwin: 5-Star OT, Charlestown (IN)
Charlestown won their fourth-straight game Friday night with a 38-0 victory over Scottsburg. Behind Indiana's No. 1 OT, his team rushed for 332 yards in the shutout to improve to 4-2 on the season.
Tyreese Fearbry: 4-Star Edge Rusher, Perry Traditional Academy (Pittsburgh, PA)
Perry Traditional Academy dropped to 1-3 after losing to Brashear 32-18. Fearbry — and the rest of the Commodore defense for that matter — were run all over on Friday night. They gave up 269 yards of Brashear's 299 total on the ground.
Keaten Wade: 4-Star LB, Summit (Spring Hill, TN)
The Wade twins helped lead Summit to a 39-7 victory against Beech Friday night, improving to 5-0 on the season. Keaten Wade's defense held their opponents to 52 passing yards and 3.6 yards per play.
Wade also had one catch for 28 yards and two rushes four eight yards for a touchdown.
Destin Wade: 4-Star ATH, Summit (Spring Hill, TN)
Destin Wade finished Friday's routing of Beech with four passing touchdowns — he only had six completions. He also rushed for 116 yards and one scores.
He's 24-41 on the season with 447 yards and seven touchdowns through the air. Wade also has 892 rushing yards (16.2 average) and 13 touchdowns. Watch him air it out to his brother for a last-second touchdown before halftime.
Grant Bingham: 4-Star OT, Johnson Central (Paintsville, KY)
Johnson Central was on their BYE week this past Friday. Last week, the Golden Eagles rushed for 195 yards and two touchdowns led by Bingham and the rest of the Pancake Platoon.
Treyveon Longmire: 3-Star WR, Corbin (KY)
Corbin enjoyed their BYE week after a 5-0 start, as well. Last week, Longmire caught two passes for eight yards.
Alex Afari: 3-Star ATH, Lakota West (West Chester, OH)
Lakota West defeated Mason 28-7 behind Alex Afari's touchdown reception from quarterback Mitch Bolden. Ohio State commit Jyaire Brown also hauled in a touchdown reception as Lakota West moved to 4-0 in GMC play and 5-1 overall.
Jordan Anthony: 3-Star ATH, Tylertown (MS)
Future Kentucky football 'Cat Jordan Anthony and the Tylertown Chiefs remained undefeated, defeating Lawrence County 26-14 Friday night.
Nikolas Hall: 3-Star OT, Akins (Austin, TX)
Kentucky football's soon-to-be second-generation Wildcat Nikolas Hall and Akins defeated Hays 44-27 on Thursday coming off their BYE week. The Eagles advance to 3-1 on the season.
Josh Kattus: 3-Star TE, Archbishop Moeller (Cincinnati, OH)
Moeller won their 500th game in program history by defeating La Salle 28-14. The future 'Cat had 11 receptions for 189 yards through the first four games of his senior campaign. In the two weeks following, Kattus hasn't been as productive.
Here's a link to the full game stream:
Tomiwa Durojaiye: 3-Star DL, Middletown (DE)
Middletown is 3-0 after defeating Appoquinimink 49-13 Friday night. Durojaiye and the rest of the defensive front only allowed 124 rushing yards on the night.
You can find the recap here.
DeCarlos Nicholson: 3-Star CB, Mississippi Gulf Coast Community College (Perkinson, MS)
MGSC suffered their first loss of the season 42-37 to Hinds Community College Thursday night. Nicholson totaled three tackles on the night.
Jackson Smith: 5-Star K/P (ProKicker.com), Boyle County (Danville, KY)
Smith was 7-7 on PAT's in Friday's 49-6 win over North Hardin to improve the Rebels to 5-1 on the season. While those points come easy for the No. 1 rated kicker in the country; he added an odd stat you wouldn't expect from your star kicker — an interception. Yes, that's right — an interception.
Ty Bryant: 3-Star ATH, Frederick Douglass (Lexington, KY)
Bryant had one reception for 19 yards in Douglass' 35-0 shutout against Scott County. He also had two rushes but finished with zero yards on the ground.