Kentucky Football Recruits: How Did They Do This Weekend?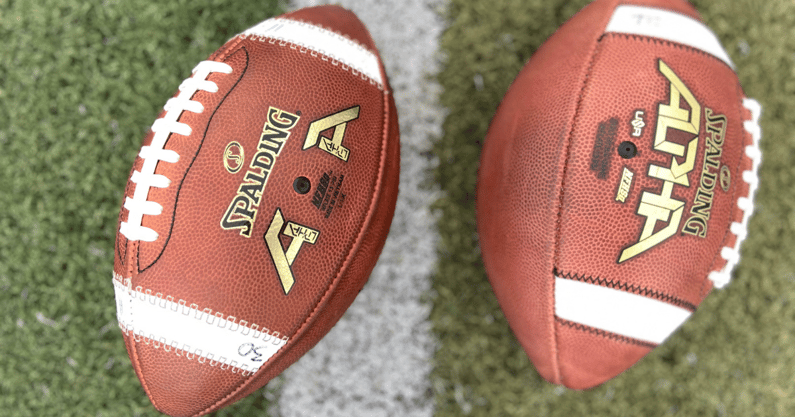 Kentucky football once again had a weekend to remember—and so did several of their 2022 and 2023 commits.
2022 Kentucky Football Commits:
Kiyaunta Goodwin: 5-Star OT, Charlestown (IN)
Kentucky football's top recruit Kiyaunta Goodwin led the Pirates' offensive line to help the rushing game amass 210 rushing yards and two touchdowns in their 24-9 victory of Salem. Since starting 0-2, Charlestown has won their last six games prior to next weeks season finale against Eastern.
Tyreese Fearbry: 4-Star Edge Rusher, Perry Traditional Academy (Pittsburgh, PA)
Fearbry and the Perry Traditional Academy defense pitched a shutout against Carrick 38-0 Thursday night giving the Commodores their second victory of the season.
Keaten Wade: 4-Star LB, Summit (Spring Hill, TN)
Keaten sat in the back seat while his brother had one of the best games of his high school career Friday night. He had three carries for eight yards and never hooked up with Destin through the air.
His defense gave up four scores against their rivals Independence—tied for the most points they've allowed all season.
Destin Wade: 4-Star ATH, Summit (Spring Hill, TN)
Have a night, Destin Wade.
Destin's six touchdowns led Summit past Independence 48-28 in the annual Border Battle to clinch the 6A Region 7 title. He finished with a season-high 10-14 for 183 yards and two scores through the air. Destin also finished with 16 carries for 139 yards and four more touchdowns against their rivals Friday night.
"What can you say, he's pretty special," Summit coach Brian Coleman said about the future Kentucky football star. "He does it all and controls our offense."
Grant Bingham: 4-Star OT, Johnson Central (Paintsville, KY)
For the second straight game, Johnson Central finished their game with no passing yards. Behind Bingham and the rest of the Pancake Platoon, the Golden Eagles rushed for 317 yards and six touchdowns in their 41-0 shutout of Perry County Central.
Treyveon Longmire: 3-Star WR, Corbin (KY)
Longmire might have had a quiet night with one reception for 13 yards, but Corbin dominated Knox Central 56-0 Friday night.
Alex Afari: 3-Star ATH, Lakota West (West Chester, OH)
Lakota West was on their BYE this week.
Jordan Anthony: 3-Star ATH, Tylertown (MS)
Tylertown improved to 7-0 after a 56-10 effort against Franklinton Friday night. The Chiefs have outscored their opponents 114-10 in their last two games.
Nikolas Hall: 3-Star OT, Akins (Austin, TX)
Akins was dominated 76-21 Friday night against the previously winless Del Valle.
Click here for the highlight video.
Josh Kattus: 3-Star TE, Archbishop Moeller (Cincinnati, OH)
Kattus and Moeller defeated St. Ignatius in a 29-28 nail-biter. Kattus had an 11-yard reception in the final moments of regulation that set up the game-winning touchdown. He also had a touchdown reception in the first half.
Brandon White: 3-Star WR, Archbishop Moeller (Cincinnati, OH)
The recent Kentucky football commit was out for the second week with a minor injury. His team defeated St. Ignatius 29-28 Friday night.
Tomiwa Duaojaiye: 3-Star DL, Middletown (DE)
Middletown dropped their first game of the season in a 24-6 loss to St. Joseph Prep Friday night. Durojaiye and the rest of the Cavalier defense had no answer for the No. 5 ranked team from Pennsylvania, giving up the most points their defense has all season long.
DeCarlos Nicholson: 3-Star CB, Mississippi Gulf Coast Community College (Perkinson, MS)
Nicholson only composed two tackles in Thursday night's 31-13 victory over East Central Community College. He also had two pass breakups on the night.
Jackson Smith: 5-Star K/P (ProKicker.com), Boyle County (Danville, KY)
Smith made three field goals (21, 24, 27) in Boyle County's 16-10 victory over Lexington Catholic.
"I'm sure glad our kicker can kick," Boyle County coach Justin Haddix said after the Rebel victory about the future Kentucky football kicker.
2023 Kentucky Football Commits:
Kaden Moorman, 3-Star ATH, Franklin County (Frankfort, KY)
Franklin County was on their BYE week Friday night, but that didn't stop Moorman from making big news. The three-star athlete committed to Kentucky Friday afternoon on Twitter:
Ty Bryant: 3-Star ATH, Frederick Douglass (Lexington, KY)
After a COVID cancelation against Grant County last week, Bryant and Douglass were off this week once again.