Kentucky Football Recruits: How Did They Do This Weekend? — Presented by Kroger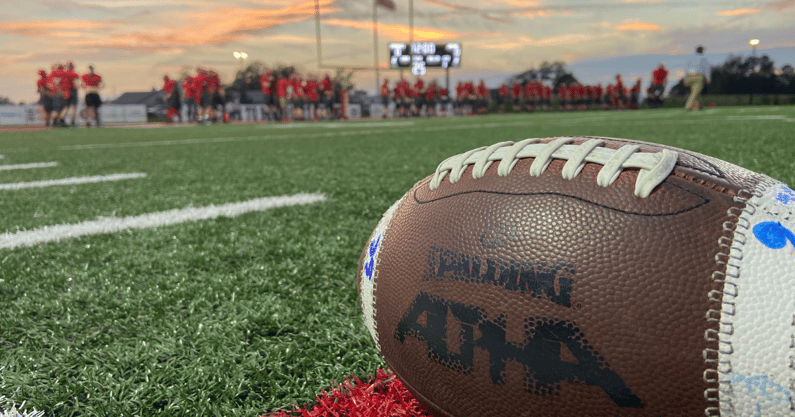 Things didn't go exactly as planned for Kentucky Football this weekend against Georgia. While Kentucky's undefeated season came to an end, several commits of the future continued theirs on the high school gridiron this past week.
Here's everything you need to know about how Kentucky's football commits fared over the weekend in their respective games:
2022 Kentucky Football Commits:
Kiyaunta Goodwin: 5-Star OT, Charlestown (IN)
Charlestown defeated Eastern 35-14 to win their eighth game in a row. As a result, their rushing attack passed 2,000 yards in the win over Eastern behind Goodwin and the rest of the offensive line.
Tyreese Fearbry: 4-Star Edge Rusher, Perry Traditional Academy (Pittsburgh, PA)
Perry Traditional Academy has lost five of their last six games after losing 51-0 against undefeated Westinghouse Friday night. The loss was the first time PTA was shutout this season.
Keaten Wade: 4-Star LB, Summit (Spring Hill, TN)
The Wade twins took a well-earned break this Friday for Summit's BYE week—however, the Spartans have two games left on their regular-season schedule.
Destin Wade: 4-Star ATH, Summit (Spring Hill, TN)
Coming off his six-score performance against Independence last Friday, the 8-0 Summit Spartans were on their BYE week before they take the field against Shelbyville Central next Friday.
Grant Bingham: 4-Star OT, Johnson Central (Paintsville, KY)
Bingham led the Johnson Central offensive line to another great performance Friday night. The Kentucky football commit paved the way for his rushing attack to score five touchdowns on the ground in addition to gaining 256 yards in their 43-6 win over Harlan County.
Treyveon Longmire: 3-Star WR, Corbin (KY)
Longmire scored on a 70-yard touchdown catch from quarterback Seth Mills. Corbin improved to 8-0 after a 42-21 victory over Lincoln County.
Alex Afari: 3-Star ATH, Lakota West (West Chester, OH)
Afari and Lakota West won their seventh-straight game Friday.
Lakota West will play for the Greater Miami district championship against rival Lakota East next week in the final game of the regular season.
Jordan Anthony: 3-Star ATH, Tylertown (MS)
Tylertown remained undefeated after a 56-0 win against Wilkinson County Friday night. Kentucky football commit Anthony and the Indians have outscored their last three opponents 170-10.
Nikolas Hall: 3-Star OT, Akins (Austin, TX)
Akins lost to the 6-1 Bowie Bulldogs 51-6 Friday.
The Eagles dropped to 4-3 on the season, losing their last two game in a row. Similarly, they've been outscored 127-27 in their two-straight losses.
Josh Kattus: 3-Star TE, Archbishop Moeller (Cincinnati, OH)
Archbishop Moeller defeated No. 1 St. Edwards in overtime Friday night. The victory was Moeller's third-straight overtime game.
Kattus hauled in 11 receptions for 116 yards in the upset victory.
Brandon White: 3-Star WR, Archbishop Moeller (Cincinnati, OH)
White was not available for the third-straight week due to injury against St. Edwards.
Read more about the Moeller overtime thriller here.
Tomiwa Durojaiye: 3-Star DL, Middletown (DE)
Kentucky football commit Tomiwa Duaojaiye didn't have a chance to take the field this weekend. Middletown's game against Salesianum was canceled after a "serious accident" took place outside the stadium less than an hour before kickoff.
Find out more about the incident here.
DeCarlos Nicholson: 3-Star CB, Mississippi Gulf Coast Community College (Perkinson, MS)
Nicholson had a season-high four tackles in MGCCC's 38-14 loss to Northwest Mississippi Community College Thursday night. In addition, Kentucky football's only JUCO commit now has 17 tackles on the season.
Jackson Smith: 5-Star K/P (ProKicker.com), Boyle County (Danville, KY)
Kentucky football's lone kicking commit, Smith and the Rebels defeated Anderson County 56-0. Smith went 6-6 on PAT's—seven of his eight kickoffs were touchbacks as well.
2023 Kentucky Football Commits:
Kaden Moorman, 3-Star ATH, Franklin County (Frankfort, KY)
Kentucky football's newest recruit, Kaden Moorman had one carry for 29 yards in Franklin County's 31-6 victory over Waggener.
Ty Bryant: 3-Star ATH, Frederick Douglass (Lexington, KY)
Bryant had three solo tackles and rushed the ball twice for five yards and a touchdown Friday night. Frederick Douglass would go on to defeat Great Crossing 38-7 to remain unbeaten on the season.
A Message from Kroger:
We're excited to tell you about something new from our friends at Kroger. Did you know Kroger is America's largest grocery chain that started over 135 years ago? They are doing something they've never done before: bringing fresh groceries right to you with a new service called Hometown Pickup. 
That's right, for those of you in Cynthiana, Midway, Eminence, Bedford, McKee, Dry Ridge, Carlisle, Eubank, Georgetown, Mt. Vernon, Jackson, Frenchburg, Irvine, Mt. Olivet, and Paris, Kentucky you can now order all your groceries online and pick them up at a central location in your hometown. No more long drives into the city to get fresh food for you and your family. Now THAT is truly Fresh for Everyone. Thanks, Kroger. 
Learn more and place your first order at Kroger.com/hometown.