Kentucky Football recruits soak in win over LSU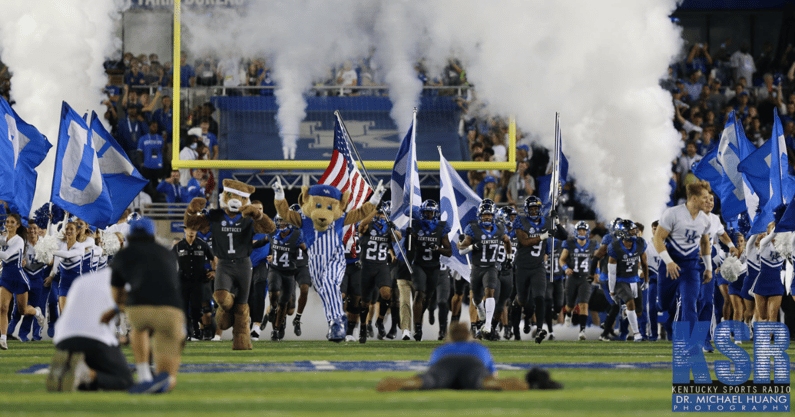 For the second consecutive weekend, Kroger Field was packed full of 61,000-plus crazed Big Blue Nation fanatics to watch another program-altering win for the Kentucky Wildcats. The crowd has played a significant impact on the outcome in both of UK's most recent wins over Florida and LSU, especially against the Gators.
But nestled in between the season-ticket holders, donors, and college students were arguably the most important people in the entire stadium: the recruits.
Kentucky continues to come away as winners both on the field and in the recruiting world this season. With every big victory is more validation that the program is making the leap to being an SEC contender year-in and year-out. That's how you land the likes of four- and five-star prospects who previously would have never considered making Lexington their next home.
Fans didn't rush the field over the weekend following Kentucky's 42-21 win over LSU, but the environment was just as loud and rowdy as it was in the win over Florida.
"It was awesome," Christopher Vizzina, a rising class of 2023 QB from Alabama, told KSR "(The) atmosphere was crazy."
Vizzina was one of the dozens (and possibly hundreds) of high school recruits in attendance at Kroger Field on Saturday. The 6-foot-4 quarterback is already being sought-after by the likes of Florida, Auburn, and Penn State, but Kentucky got its turn to impress the three-star. Thanks to Will Levis posting the best game of his college career, Vizzina had plenty to soak in watching the new and improved Kentucky offense.
From committed prospects such as Treyveon Longmire, Ty Bryant, Kiyaunta Goodwin, Brandon White, and Jackson Smith to still-undecided recruits such as four-stars Dane Key (2022 WR) and Daniel Martin (2022 LB), along with three-star Bo Edmundson (2023 QB) and many more, there was a mix of all shapes and sizes in to watch the 'Cats beat LSU.
It's been said over and over again, but the Kentucky that Mark Stoops has built is nothing like the Kentucky of the last 50 years.
"UK is a little bit different than it used to be," Jackson Smith, a five-star kicker/punter who is committed to Kentucky, told KSR. "It's like, being a UK fan now, we're expecting to win these SEC games. And they're really fun to watch.
"My dad was like 'look at all the fans' and I look around and everyone is standing up. There was a timeout and everyone was standing up."
Smith, who plays for Boyle County in Danville, has been attending Kentucky games his whole life, but he says the vibe is noticeably different now. Hayes Johnson, a 6-foot-5 up-and-coming class of 2024 OT from Taylor County, felt the difference, as well.
"I've just never seen Kroger Field like that," Johnson told KSR. "Where the fans are so into it now. I was at the Mississippi State game when Benny Snell was still here. When we were doing good everybody was cheering but not consistently the whole game like it is now."
For recruits outside of the Bluegrass State who came to watch the win over LSU, they don't know Kroger Field any differently than it was on Saturday.
"Man it was a great game," Mikel Hines, a 6-foot-3, class of 2023 DE from Alabama told KSR. "Kentucky came out playing hard and got the win, the fans shoved a lot (of) love, it was a great atmosphere. Seen a lot of new things I haven't seen before at a game. I enjoyed my visit."
For Hines, he admitted the Kroger Field atmosphere was the loudest college football game he's ever been to.
"It was extremely loud," Hines added. "I haven't been to a game that loud."
The same sentiment was shared by Tayvion Galloway, a 6-foot-6, class of 2024 TE from Ohio. The budding pass-catcher is bound to be one of the premier tight ends in all of high school football over the next couple of years, and he said that he's never experienced a football atmosphere like he did on Saturday in Lexington.
"Kentucky stands alone from as far as I've seen," Galloway told KSR about where the LSU win ranks on most exciting games he's attended.
Considering the crowd rarely–if ever–failed to let off the excitement gas pedal, it's easy to understand why the recruits enjoyed themselves. Antonio Cochran, a 6-foot-5, class of 2023 OT from Georgia and son of a seven-year NFL veteran by the same name, was so enamored with what he saw that he's already eager to make a trip back.
"The game was amazing," Cochran told KSR. "When you first get there they welcome you and make you feel at home, and I went on the field and met they coaches and chopped it up with them.
"And when the game started the crowd and the environment was crazy. It was like it wasn't just certain sections at times or half or 80 percent, the whole stadium cheered and it was just crazy, the environment and the energy really stood out…I definitely want to be back there soon."
An underlying factor of these large and intimidating crowds is the idea of one day playing under the same lights, where thousands upon thousands of fans are cheering for you. And in case you were wondering, recruits notice that and take it into account when considering their options.
"It honestly just fired me up," Galloway added. "(It) let's me know I got so much more to work on to get to that spot. Having an opportunity to play in front of that many people is a privilege many people don't get."
Kentucky will hit the road this weekend for another game that has program-altering ramifications. The No. 1 Georgia Bulldogs (6-0) will host UK in Athens in what will be the most anticipated college football game of the weekend. UGA will surely pack the house with its own batch of high-level recruits, including the likes of five-stars Mykel Williams (2022 DL) and Lebbeus Overton (2023 DL), who already have significant UK interest.
It sure would be a shame if Kentucky gave those recruits a reason to seriously consider the Wildcats over Georgia…